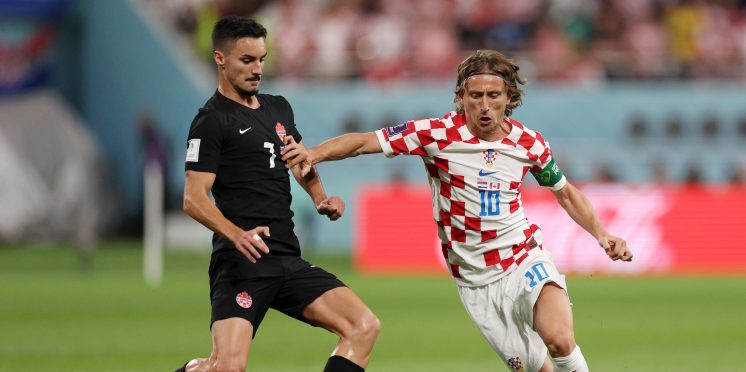 Nightingale: Canada's 2022 World Cup 'Group of Death' raised their bar for 2026 and beyond
Updated December 11
The "Group of Death" is an ever-present phenomenon in tournament football.
From the moment the draw is made for a World Cup (or a European Championship, or a Copa America, or a UEFA Champions League, or a host of other competitions), tabloid sports news outlets and fans on social media are desperate to label one of the pools of four teams as the "Group of Death", a Hunger Games of footballing juggernauts, escape from which deserves a medal or at least a complimentary pat on the back.
The problem is that sometimes, there's no obvious candidate.
For the Qatar 2022 World Cup, was it Group E, which contained two titans of global football in Spain and Germany as well as an often-impressive Japan side and the plucky CONCACAFian underdogs Costa Rica? Was it Group G, where other than clear favourites Brazil, any of Switzerland, Serbia, and Cameroon harboured justifiable and feasible hopes of progressing? Group H, with Portugal, Uruguay, Son Heung-min's South Korea, and African constants Ghana?
As we stand now, halfway through the quarter-finals, there's a reasonable argument that it was in fact Canada's Group F.
Everyone had been warning pre-tournament of Belgium, of Kevin de Bruyne, of Thibaut Courtois, of the 2018 third-placed team who (with hindsight, laughably) remained the world's number-two-ranked side heading into this winter World Cup. Then, there were 2018 runners-up Croatia, with a Ballon d'Or winner in their midst and largely the same core they had in Russia four years ago. Morocco were relegated in most people's minds to battling with Canada for third place.
Fast-forward a couple of weeks, and Canada's Group F turned out to be the only group that contained two teams who would go on to reach the quarter-finals. Belgium, still a strong team with quality in depth despite their aging shortcomings, were not one of them. Morocco, highlighted by Hakim Ziyech and Achraf Hakimi but packed full of talented and committed players spread around Europe's top leagues, were. That fact alone highlights just how stiff CanMNT's test really was.
Broadly speaking, while John Herdman's side fell to three defeats and zero points, Canada stood up solidly to that test. Let's not forget that they were simply outstanding in the first half against Belgium, outplayed the European side through 90 minutes, and would surely have earned at least a point had Alphonso Davies' penalty been better-struck or had Michy Batshuayi's finish been worse-struck.
Against Croatia, Canada conceded four in an ultimately messy display, but it's worth remembering that without Stephen Eustáquio – who is, with respect to Atiba Hutchinson, Ismaël Koné, and others, more important to CanMNT's midfield than all their other midfielders combined – they were within one goal of the 2018 finalists until the 70th minute. Alphonso Davies' historic header remains one of only three goals Croatia have conceded in Qatar so far en route to the semi-finals.
Meanwhile, once Les Rouges were already eliminated, a rotated team fought back from early catastrophe to push Morocco to the limits, registering the only goal the Atlas Lions have conceded in five games at this tournament. In the second half of that final game, Canada ended their Qatari campaign nearly as well as they had started it against Belgium.
If there's one thing we can learn from the success of Croatia and Morocco since Canada departed Doha, it's that we no longer need to talk about the need for CanMNT to test themselves against some of the world's best in the future tense. They've already begun to do that.
Morocco will not win the World Cup and Croatia doing so would be its own kind of surprise, but Belgium, Japan, Spain, Brazil, and Portugal have now fallen at the feet of either the North Africans or the Balkans. That's quite the hit list. Croatia will have no reason to feel they can't do to Argentina what they did to Brazil, and Morocco will take inspiration from the likes of Leicester City in the Premier League in 2015-16 as an example of how far momentum and confidence can carry you.
Herdman, by the way, may well have been absolutely right about Croatia's midfield when he labelled the trio of Luka Modrić, Mateo Kovacić, and Marcelo Brozović as the greatest in international football. Kevin de Bruyne is currently the best player in the Premier League. Achraf Hakimi is near the top of the list of the world's most accomplished right-backs.
Even just playing against this calibre of player was a benchmark for Canada a few months ago. In Qatar, competing with them (Eustáquio and co. shut down De Bruyne in the opener) became the new standard. Sure, there was no fairytale ending after some tragic (and tragicomic) moments of Shakespearean proportions. But Canada kicked it with some of the world's best in Qatar and faced teams and players who are already hitting the standards that CanMNT dreams of.
As we look ahead to the 2026 World Cup in North America, to Gold Cup and potential Copa América participation before then, Canada will want more chances to go toe-to-toe with nations and individuals of this quality. They've proven they can stand up to the challenge, that they can not only swim but make a splash, too. Get three more years of that under the belt, and who knows where they can be?
---