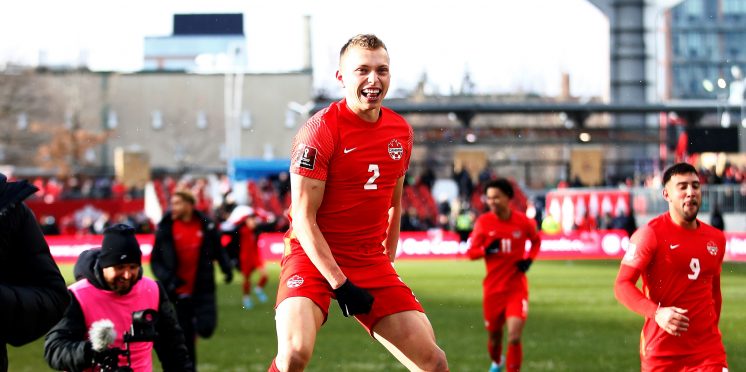 Alistair Johnston lights up first Celtic interview with story of lying to CanMNT head coach John Herdman
One thing that's becoming more and more clear every time Alistair Johnston speaks in public is that he is great value in a media briefing.
The Canadian defender spoke for the first time as a Celtic player on Monday, December 12, admitting that it was the realization of a "childhood fantasy" to join the Scottish giants.
However, the right-back (or should that be centre-back?) also endeared himself to the gathered media with a hilarious tale of how he lied to Canada men's national team manager John Herdman.
"That's a great story, actually," Johnston grinned when asked about the incident.
"John Herdman called me and he was like 'look, I think I wanna play a back three. That would require you playing outside right centre-back, Alistair, do you have any experience of that? What are your thoughts on it?'
"And I really liked that idea, I thought it would be a great fit for me and a great chance to really solidify myself a starting spot on the national team at that point. So, I did what anyone with a sane mind would do and said 'yeah, yeah, I've played a bit of right centre-back in my time, I feel comfortable out there.'
"So, of course, the next camp I went into a couple of weeks later, he had me out there and I went 'OK, now I really need to show up!' It was a complete lie, he knows it too now, but it worked out for me because it's been a role I've made my own with the Canadian national team… I'm just really happy that I lied to a national team manager."
This is a story that Johnston has admitted to before to Canadian media. But, honestly, we're delighted to see the UK press introduced to it, and it's hard to imagine ever getting tired of listening to him tell it. It's easy to imagine Herdman seeing the funny side eventually. And what a way to announce yourself in your first press conference.
As well as retelling the story of how the number of messages from Celtic fans "nearly broke my phone" when he tweeted about the move, Johnston also added that Herdman gave a big thumbs-up to his move to Celtic.
"He was one who said he wants me here, he thinks I'm a player who fits the DNA of what a Celtic player is," the 24-year-old added. "It's going to be up to me to earn some minutes."
---