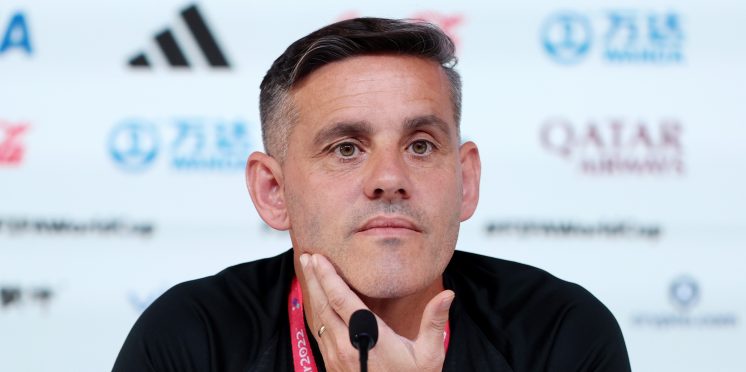 John Herdman: Canada needed better prep for 2022 World Cup, will look to entice dual nationals
The first World Cup adventure for the Canadian men's national team in four decades was a hell of a ride for everyone involved. But with every adventure comes the double-edged sword of hindsight, the blessing and the curse that comes with experiencing something for the first time (at least, the first time in a generation).
CanMNT head coach John Herdman recently joined CBC Sports' Soccer North show to discuss what the country and Canada Soccer can and should take as the lessons from the tournament in Qatar.
Asked by host Andi Petrillo if there was a "do-over" he'd like if he were going to the 2022 World Cup again, Herdman told Petrillo that he felt some more preparatory games might have been a good idea.
"Just the prep going in," he said. "We needed more games against that type of opponent just to see how they would adapt to your high pressing; when things got tough, how did we evolve in those moments collectively?"
Canada played two warm-up games in the weeks before the World Cup campaign began. One was against Bahrain, a team ranked 85th in the world by FIFA that has never reached the World Cup. The second, against a Japan side which is ranked 28th in the world and would beat Germany and Spain on their way to reaching the round of 16, was the only high-quality test Les Rouges faced before the tournament.
"That preparation to have got those extra games against big teams in Europe or South America. We have to play big nations, big games, and feel what it's like to be under the pressure of these quality players," added Herdman.
So, apart from more high-quality warm-up matches, what else does the future hold for CanMNT?
Herdman, as he has done already since the 2022 World Cup began, emphasized that part of Canada's strategy moving forward will be on enticing dual-nationals that are eligible to play for Canada to pick Canada over their other national interests.
Related read: From Yassine Bounou to Owen Hargreaves: the stars with Canadian roots who chose another country
Other nations have found this to be a tried-and-tested approach, and Herdman is confident it can only help to improve Canada's standing.
"I think there are definitely some players with dual passports who we will continue to pursue behind the scenes that we feel have got high potential," he told Petrillo. "We've got to look at developing in some of those areas.
"We need a minimum of six tier-one players, I've said it consistently, to get out of a group stage. These are the questions that need to be asked: how do we as a country collectively springboard these players into the higher echelons of football where they get the experiences that are really gonna help them at a World Cup?
"A player could be arriving on our shores with an African or European passport who is emigrating here that we've got to lock into our system. I feel like those players are falling in love with Canada."
Herdman noted that already, since Canada made a global splash by dominating – but ultimately falling to – Belgium in their Group F opener, players have expressed an interest to him.
"Already, while I was at the World Cup after the Belgium game, players that have been on the bubble [about] deciding between nationalities were reaching out, it was really interesting. That game against Belgium really did put us on people's radars.
"The reality is that as a system, we've got to really start pushing to help our talent at a younger age experience professional football, which puts them on those radars and gives them meaningful experiences to move into places like Europe."
Ismaël Koné, who put in some stand-out cameo appearances off the Canadian bench in Qatar, is a great example here.
The 20-year-old was born in the Ivory Coast but grew up in Montreal from age seven and began playing youth soccer in Quebec at the age of nine, working his way up to playing for the CF Montréal first team. His impressive performances earned him a permanent transfer to English side Watford just days after Canada's Qatari adventure ended.
"We had to qualify in 2022. We had to," concluded Herdman. "One, to raise the profile so we could get better games around the world and raise the profile of our players to ensure more of them could get access to tier-one leagues. And secondly, to bring in the sort of revenue that's required, the dollars that help to build the high-performance system to put more quality around the team."
---