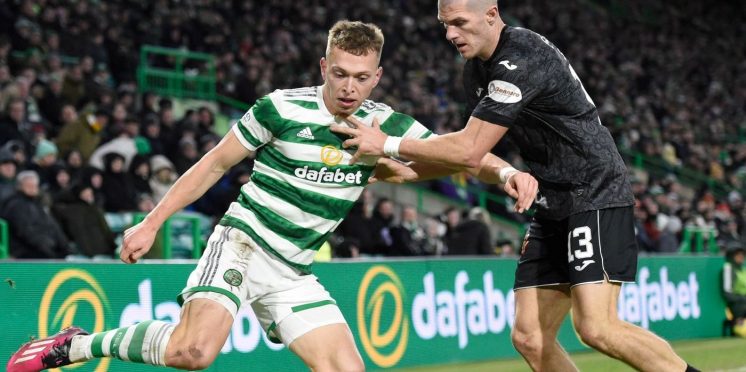 Celtic and Canada favourite Alistair Johnston says fans are biggest difference between Scotland and MLS
In December 2022, Alistair Johnston secured a move to Celtic after a spirited World Cup campaign for Canada in Qatar. He's played a handful of games for the Bhoys since joining after two seasons in Major League Soccer with CF Montréal and he's already pointing out the differences and similarities between the two leagues.
When it comes to the biggest difference, the defender noted that fans' support of their team is much more vociferous in Scotland than it is in MLS.
"Here, with the crowds and the passion you can have, it really brings an extra advantage of playing at home I think," said Johnston, during a recent press conference.
"One of the biggest things I've noticed has been a difference is that playing away from home is definitely an even more difficult task than it would be in MLS because of the passion that's there from the home crowds."
The 24-year-old certainly knows about the passion of fans in Scotland. He made his debut on the road against Celtic's arch-rivals Rangers in the Glasgow Derby and faced a lot of heat from the away fans, both during and post-game. Talk about a baptism by fire.
But Johnstons also pointed out that there are plenty of similarities between the two leagues as well, especially in terms of play.
"The Scottish league is similar to MLS in that it's quite a physically demanding league, a lot of pace," added Johnston. "But there are definitely more stylistic similarities within the Scottish league between the teams than in the MLS."
"In MLS, you get teams who try to play like Barcelona, for example, and then there are teams who completely hit the channel. There's a serious varying degree of styles of football over there versus here, it's a bit more what you would expect from Scottish football. You're going to work hard first, although there are tonnes of quality, I see it every day. There are definitely some similarities in terms of the athleticism, the physicality, the tactical knowledge."
Related read: Bagged milk, Vancouver Canucks and Zinedine Zidane: Canadian Alistair Johnston chats to Celtic fans
The Vancouver native also noted there are some cultural similarities, which is what helped him get acclimatized to his new surroundings well.
"It's been a simple transition and the whole group has been so welcoming and everyone at Lennoxtown are friendly people and it reminds me of home," he said. "The Scottish aren't too far off of the Canadians so there's a lot of hospitality which has been really nice."
Just three games into his tenure with Celtic, Johnston already looks settled at the club. He will be looking forward to making it four wins in four games with his new club when they take on Greenock Morton in the Scottish Cup on Saturday. With their last victory in the competition coming in 2020, Johnston knows that the high expectations of Celtic fans mean this weekend's clash is a must-win.
---