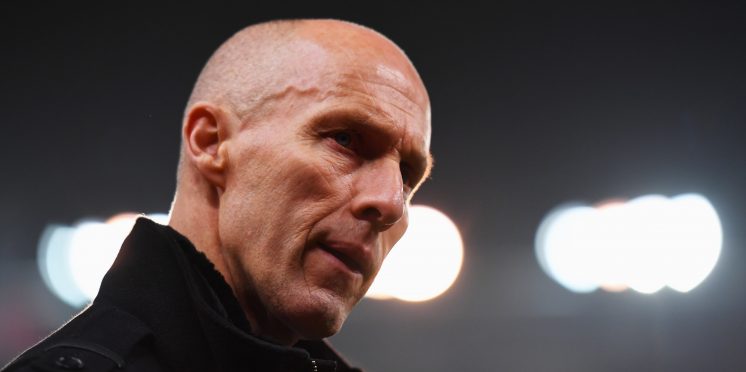 'There's not a set guy that fits the DP budget we have': Toronto FC head coach Bob Bradley
As the start of a brand new Major League Soccer season draws near, Toronto FC fans anxiously refresh their Twitter feeds to see if TFC have added to a top-heavy squad that has a lot of holes to fill this winter.
Head coach Bob Bradley insists the club have a lot of options on the table to consider.
"There's not a set guy that fits the DP budget that we have," Bradley said, speaking to the media via a virtual press conference on Wednesday, January 25.
"How we handle that slot, whether it's a young DP… those are still discussions. I don't think there's a plan at the moment … We're always considering different ways that we can do things in order to maximize salary budget and make the best roster we can."
Finding a reliable starting goalkeeper has been near the top of Toronto's priority list this offseason. Linked with United States goalkeeper Sean Johnson for weeks, Bradley said, "sometimes things just take longer than you hope but that's just part of the process."
MLS Insider Tom Bogert tweeted later that afternoon that sources had confirmed Johnson's move to Toronto FC was being finalized.
The addition of Raoul Patretta came as a surprise on Tuesday and fills a hole TFC were not expecting when Domenico Criscito announced his retirement, and then returned to his former club Genoa.
"We knew that the situation in Turkey wasn't what he was hoping for. He had a good stretch in Basel and played important matches there. His reputation at Basel was very positive, he's a well-liked guy that trains well… There were other LBs we had discussions with but then the opportunity with Raoul presented itself," Bradley said.
Asked about his right-back rotation, Bradley provided no update on Richie Laryea's loan deal from Nottingham Forest becoming permanent. That temporary deal expires at the end of June.
---