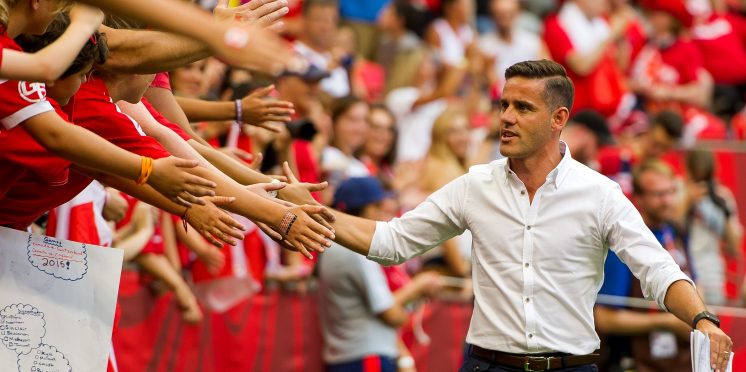 Nightingale: Copa América 2024 chance, Gold Cup plans show size of CanMNT's pre-2026 opportunity
John Herdman knows Canada needs to play top-quality opponents more often.
"We have to play big nations, big games, and feel what it's like to be under the pressure of these quality players," the Englishman said in the wake of CanMNT's World Cup exit in December. Before that tournament, his side had warmed up by playing Japan and Uruguay, yes, but also a host of lesser-quality opponents. During the tournament, although they impressed in spells and moments, the lack of experience in playing in spotlight situations against established and experienced teams cost them.
However high or low you think Herdman's coaching ceiling is, and though not all of his public comments are as measured or sensible, you can't argue he's not astute. He's spot on about this issue: Canada's World Cup trial by fire in what turned out to be arguably the tournament's "Group of Death" has raised their bar now and for the future, and Canadian men's national team soccer has a road of huge, golden opportunity laid out in front of it in 2023.
No wonder Herdman reaffirmed that he is fully committed to the program as the long, slow lead-up to co-hosting the 2026 World Cup begins in 2023. Qualifying for Qatar was the deserved reward for years of progress for the men's national team but, in truth, it should be just the start of the journey.
Key to success along the way will be playing top-tier opponents, which can be CanMNT's ticket to lasting improvement.
Compared to many of the Canadian men's national teams that have come before this generation, Canada is blessed to have much of its regular roster playing their club soccer at a high level. Not only Alphonso Davies, but Stephen Eustáquio and Tajon Buchanan are UEFA Champions League knockout stage players this season. Jonathan David is once again one of the top scorers in France's Ligue 1. Cyle Larin is already making an impact in La Liga – in fact, that's a pretty sizeable understatement! Alistair Johnston and Ismaël Koné got well-deserved winter moves to the UK.
The list goes on, and this is undoubtedly a huge boon for the CanMNT. But it's imperative, now that the 36-year World Cup drought has ended, that this calibre of challenge becomes a regular thing on the national-team stage, too.
Thankfully, it sounds like that is being recognized by the powers that be.
Since Herdman's comments on Canada's Qatar preparations – a thinly veiled call-to-arms aimed towards Canada Soccer – there has been a flurry of announcements and reports regarding Canada Soccer, CONCACAF, and international soccer in North America.
Firstly, on January 27, CONCACAF and CONMEBOL, the South American federation, jointly announced that the 2024 Copa América will be expanded to welcome the six best CONCACAF teams, as determined by their 2023-24 CONCACAF Nations League rankings.
Canada will – and should – feel it is an absolute necessity that they are one of those six.
Inclusion in and qualification for Copa América – arguably one of the two most prestigious regional international tournaments in men's soccer, along with the European Championship – would be a priceless, golden opportunity for Canada to get the kind of experience that has been largely beyond them in past years. It's the chance to test themselves against some opponents who are without hyperbole among the very best teams in international football, such as the likes of the men's World Cup's most successful nation Brazil and the 2021 defending Copa champions and 2022 World Cup winners Argentina.
Then, earlier this week, came a Mexican report that the 2025 Gold Cup, to be held the summer before the North American co-hosted World Cup, could be expanded to 24 teams and turned into a global competition featuring two teams each from CONMEBOL, UEFA, AFC (Asia), and CAF (Africa), along with 16 CONCACAF nations. At this stage, that is just a report, and it's unclear how those participating teams from other federations would be picked, but it would be another valuable opportunity for Canada to test themselves in a highly competitive and meaningful environment.
Before all this, of course, there is the standard-issue 2023 Gold Cup in the United States this July, which Canada will qualify for as long as they avoid utter disaster in their double-header of concluding CONCACAF Nations League A Group C fixtures against Curaçao and then at home – reportedly at Toronto's BMO Field – against Honduras in March.
The importance of these games against fellow CONCACAF sides should not be diminished; they are still useful, serving as practice for World Cup qualification as well as qualifiers for the Gold Cup. From the next edition, the 2023-24 Nations League, they will take on even more importance by also serving as qualifiers for the 2024 Copa América. The Nations League meaning even more can only be a good thing for the spirit and competitiveness of that tournament.
But Canada Soccer, Herdman, and CanMNT must be looking beyond that usual fare of fixtures now. With the lure of competing more frequently against some of the best teams from around the world in the 3.5 years before the men's World Cup finally comes to Canada, the Canadian national team has the kind of opportunity it has never had before. By 2026, there should be no more naivety, no more wide-eyed awe at competing on the biggest stages. CanMNT can prove they truly belong.
---