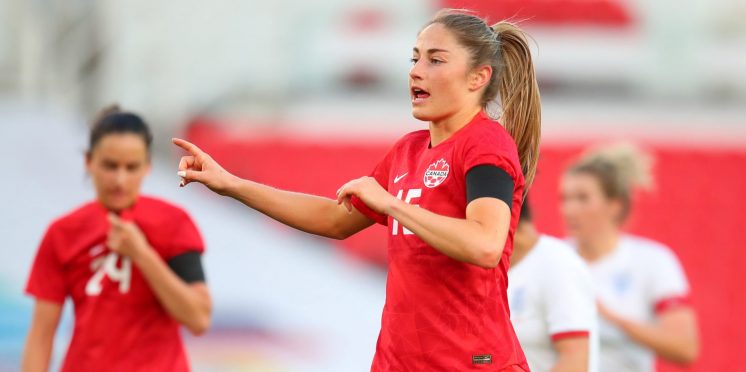 CanWNT star Janine Beckie earns 100th Canada cap
Updated: Sunday, February 19. 9 p.m. EST
Janine Beckie is one of the best Canadian players and strongest voices in the game today. And now she's a centurion.
With her start against Brazil on Sunday, February 19, in Canada's 2-0 win over Brazil at the SheBeleives Cup in Nashville, Beckie became the 19th player to earn her 100th cap for the Canadian women's national team.
There's no doubt she would've liked to have won it under different circumstances, but that does not take away from the incredible achievement.
"It's a great milestone for Janine," coach Bev Priestman said in a virtual availability Saturday evening. "Her versatility, she could probably play right back, left back, right wing, left wing, midfield, to be honest. I actually think she's played the (No.) 9 and goalkeeper."
She actually did wear the gloves at the 2015 PanAm Games, taking over for Steph Labbé who shown a red card in 5-2 win against Ecuador. Beckie scored a brace before making the switch.
"I think Janine's true football quality is what makes her so versatile," Priestman continued. "And then you go and add her athleticism. … She's not only contributing to this team on the pitch but also off the pitch. She's grown in her leadership and is just an incredible human being."
The 28-year-old has scored 36 goals and has contributed 17 assists since making her senior debut at the age of 20 in November 2014.
She joins a CanWNT centurion list that includes:
Christine Sinclair
Sophie Schmidt
Diana Matheson
Desiree Scott
Rihan Wilkinson
Andrea Neil
Brittany Baxter
Charmaine Hooper
Kadeisha Buchanan
Melissa Tancredi
Erin McLeod
Candace Chapman
Randee Hermus
Ashley Lawrence
Jessie Fleming
Karina LeBlanc
Amy Walsh
Kaylyn Kyle
"There's a long way to go for Janine, I think that's the exciting thing," Priestman added. "What is scary is that she hasn't reached her full potential yet … albeit she's had some incredible performances and been a key contributor to everything this team has done."
Beckie played 61 minutes on the left wing against Brazil before being substituted by SL Benfica standout Cloé Lacasse.
---