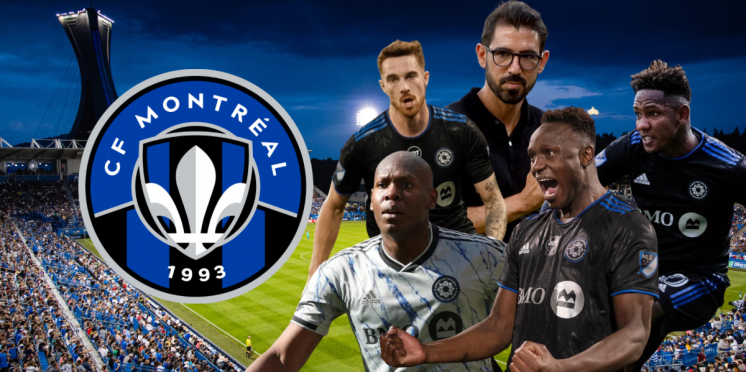 Change is the only constant: How a turbulent offseason could affect CF Montréal's 2023 MLS season
Updated February 24
They say change is the only constant. Perhaps nowhere in Major League Soccer has that been more readily apparent over the last few months than at CF Montréal.
One of the biggest offseason overhauls in MLS has happened in the 514, and it makes looking ahead to CFM's 2023 season a tough task given the number of unknowns still in play.
Montréal kick off their campaign on Saturday night with a trip south to Inter Miami in a game you can watch live for free on Apple TV, TSN, or RDS. Before that, here are some of the key things you need to know about their 2023 season, as well as some recklessly early predictions.
What happened in 2022?
2022 is a lot to live up to.
Last year, under Wilfried Nancy, the Saputo-owned team took a giant leap forward, achieving their highest-ever regular-season finish (second in the East, third overall), ending just two points behind Supporters' Shield winners LAFC, and returning to the quarter-final stage of the CONCACAF Champions League.
It was about more than just results, though. It felt like Nancy was building progress, continuity, and, so it seemed at times, something special with a young core playing aesthetically pleasing soccer. Individual and team performances were elevated and fans were generally happy – something which has certainly not always been the case in Montréal.
What's changed since 2022?
Erm, where do I start? Everything, pretty much.
Put simply, the last three months or so have been an absolute rollercoaster, often producing dizzying sickness more than an endorphin-filled thrill. A trio of core starters – Djordje Mihailovic, Ismaël Koné, Alistair Johnston – all left for Europe, and while that series of profitable sales has been great for CFM's coffers, it has precipitated significant change. Meanwhile, Kei Kamara, who contributed nine goals (second-highest on the team) and seven assists (joint-highest on the team) in 2023, brought a messy saga to an end by joining the Chicago Fire on the eve of the season.
The biggest revamp, of course, has been that MLS Coach of the Year runner-up Nancy left, uprooting the continuity he had been building. In Hernán Losada, Montréal have appointed a positive and highly competent replacement, but that does not mean things will be smooth sailing.
Losada places a focus on pedal-to-the-floor play with high-intensity pressing, a stark difference from Nancy's controlled and methodical possession approach. Nancy's ethos yielded great success last season; Losada's will result in more thrills and spills and less consistency. Such a fundamental tactical shift is a hell of a lot to mitigate from one season to the next. Much of Montréal's success will rest on whether the players can give Losada the 110 per cent he will demand.
How's the offseason gone?
Assigning a grade is tough, given the amount that's been going on. Even putting the managerial change to one side, there's been a significant personnel overhaul and a fair helping of chaos. I mean, there's not even a new home kit, for goodness sake.
Mihailovic and Joaquín Torres, who left for Philadelphia Union this offseason, missed just seven MLS games in 2022. Koné missed only one more. Johnston played in all but one. Mihailovic and Kamara contributed 18 goals and 13 assists between them last year. It's all a lot to replace.
And yet Montréal's defence is still intact, and Aaron Herrera from Real Salt Lake should be a high-quality replacement for Johnston's levels of industry and performance. George Campbell from Atlanta United is a new confident ball-playing centre-back. Ilias Iliadis and Quebec native Jules-Anthony Vilsaint offer new options in midfield and attack, respectively, and also continue CFM's youthful emphasis. Meanwhile, goalkeeper James Pantemis' presence between the posts from the start will be a big upgrade.
But the biggest off-season plus point was a case of continuity, not change. Victor Wanyama, the cornerstone of Montréal's success under Nancy, was re-signed. The Kenyan will be the vital anchor in midfield in Losada's system, breaking up play and starting attacks from deep, his imposing and composed presence allowing for the new head coach's band of merry men to run amok around him. He's also going to be more important than ever in the dressing room and on the training ground.
Who'll be the best signing?
Aside from the case for Wanyama, technically a re-signing not a signing, it's hard to look past Herrera. Brought in for just half a million USD in General Allocation Money, he provides a similar profile to his right-back predecessor Johnston, full of commitment, versatility, and energy, with a considerable crossing ability going forward.
Expect him to be an important cog in Losada's system through 2023.
Who'll be the biggest loss?
CFM weren't disastrous when Djordje Mihailovic was out injured in 2022, but they simply weren't as good without him. Can he be replaced? Matko Miljevic was seen as his understudy last season but is months away from being ready after surgery on a torn meniscus. Mason Toye and CFM's raft of wet-behind-the-ears attackers may all need to step up to share the burden.
Likely, it's mostly going to depend on getting another above-average season out of Romell Quioto, who top-scored for Montréal with 15 regular-season goals last season but turns 32 this year and has never played more than 2,000 minutes (the equivalent of 22 full games) in back-to-back seasons.
Who are the likely MVP candidates?
Last year's team MVP was Quioto, but more pressure on his shoulders in attack may not necessarily translate to a repeat performance in 2023. Meanwhile, Wanyama and Herrera will surely play leading roles and will certainly be contenders for the honour.
My left-field pick, though, is the Canadian rock at the centre of defence, Kamal Miller.
The 25-year-old from Scarborough, Ontario had a banner year in 2022, being named an MLS All-Star for the first time and then testing himself at the highest level of his career in the heart of Canada's backline at the World Cup in Qatar. He was linked with a European move this winter but remains at Montréal, and it would be no surprise to see him reach another level again in 2023.
Way-too-early prediction?
Tricky, very tricky.
There are just so many unknown factors around CFM this year, but one thing I feel confident saying for sure is that 2023 will be nothing like 2022. Nancy got Montréal overachieving last year and while Losada has the potential to do the same, nobody should be expecting it to happen immediately.
An MLS season is long and arduous and now, with the newly renovated Leagues Cup pausing domestic play for an entire month in the summer, broken into two halves. Losada's system has the potential to completely burn his players out.
For my money, they will manage to stay the course well enough to stay in contention to squeeze into the Eastern Conference's new expanded playoffs, albeit in a much lower slot than last year. If they manage it, it will be in the 6th-to-9th portion rather than any higher. For many at the club, that would likely work just fine in a huge transitional season.
---