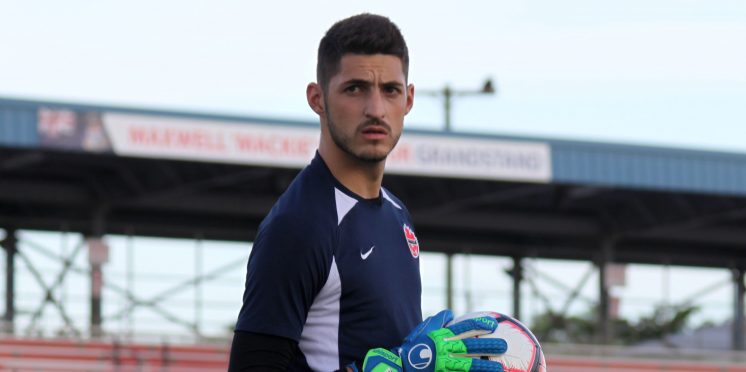 CF Montréal goalkeeper James Pantemis could miss up to 6 weeks with dislocated shoulder: report
Things certainly did not go to plan for CF Montréal and new manager Hernán Losada on the opening day of the 2023 Major League Soccer season.
Montreal were shut out in a 2-0 loss to Inter Miami but it was the loss of starting goalkeeper James Pantemis to injury which rubbed some salt in the wound.
Pantemis was injured in the final 10 minutes of Saturday's contest when he collided with an opponent and landed awkwardly on the field.
There were concerns he could be absent for a significant length of time, and the diagnosis is now in. Montreal-based journalist Jeremy Filosa indicates that CFM's keeper could miss between two and six weeks with a dislocated shoulder.
Jonathan Sirois, who has spent the past two seasons on loan at Valour FC, will likely start in goal while Pantemis takes the time to fully recover. Sirois was substituted into the match in Pantemis' place at DRV PNK Stadium, making his CF Montréal debut in the process.
The 21-year-old, who was named 2021's Canadian Premier League Goalkeeper of the Year, might now be eyeing the opportunity to overtake Pantemis in the pecking order while he is sidelined.
However, Losada also did not rule out the possibility of looking for another goalkeeper after the diagnosis, depending on Pantemis' rehabilitation.
Losada was also left without centre-back Joel Waterman in Miami, but good news arrived on Wednesday, March 1, with the Canadian international spotted jogging during Montreal's training session at the Olympic Stadium.
The defender will return to first-team action in one of Montreal's next two matches, according to Filosa.
Meanwhile, centre-back George Campbell did not participate in Wednesday's training session as he deals with an ankle ailment. He will have to wait to make his Montreal debut after being traded from Atlanta United this past offseason.
Midfielder Matko Miljevic is still recovering from surgery after tearing his meniscus in a preseason match on February 11. He will likely return to the fold sometime in April, after being given an eight- to 12-week timeframe for his recovery.
CFM travel to Texas to face Austin FC this coming Saturday.
---