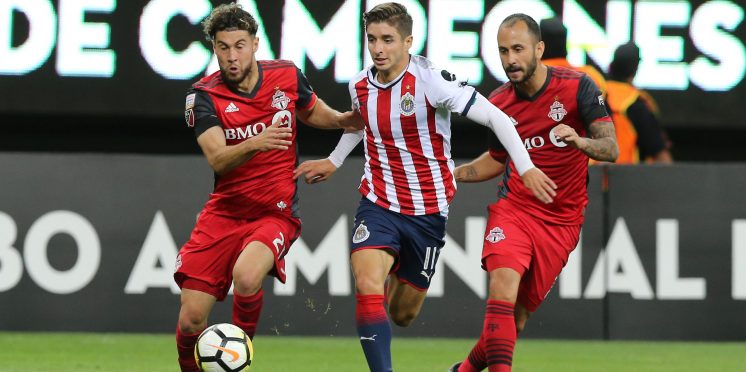 Is the brand new MLS vs. Liga MX Leagues Cup the answer to fixing 'stagnant' Mexican soccer?
The rumours have swirled for years that a merger between Major League Soccer and Mexico's Liga MX would be the best way to propel the North American leagues higher up football's food chain. But how on earth could that actually work?
We'll get a glimpse into a test-drive model this summer when MLS and Liga MX take a domestic hiatus for a completely revamped Leagues Cup, which will involve all 47 clubs (18 from Liga MX and all 29 MLS teams) in a World Cup-style tournament that will see three clubs qualify for the CONCACAF Champions League.
On paper, the Leagues Cup sounds incredibly compelling.
But talk to many MLS fans, particularly in Canada where Liga MX has far less appeal and interest than in the United States, and you'll hear the same groans and intensity of complaints that usually follow the idea of their beloved club sharing a stadium with an NFL (or in one case, CFL) team.
On Wednesday, Cruz Azul (who ousted Canadian Premier League giants Forge FC in the last 16 of the CONCACAF Champions League last year) had all the headlines in Mexico for the words of manager Ricardo "Tuca" Ferretti, who struck a chord when he told TV show Futbol Picante that Mexico's soccer status was declining because of a lack of invitations to South American competitions and limited opportunities for Mexican talent in Liga MX.
"I believe that it is stagnant and declining more, little by little," the 69-year-old Brazilian coach said. "In the competitions we had before, it raised our level a lot. When we began to go to the Copa América, Copa Libertadores, it rose."
From 1993 to 2016, Mexico played in every Copa América tournament, even finishing runners-up in 1993 and in 2001. At club level, Liga MX sides competed in the Copa Libertadores from 1998 to 2016. Three Mexican clubs reached the final, though neither Cruz Azul (2001), Chivas de Guadalajara (2010) nor Tigres (2015), lifted the trophy.
Last month, CONCACAF and CONMEBOL (South America's governing body) launched a new partnership that will see the 2024 Copa América include six CONCACAF sides, providing 2026 World Cup hosts the United States, Mexico and especially Canada, some quality opposition in the absence of having a regular World Cup qualifying cycle to prepare for the World Cup.
Though from Mexico's perspective, forever seen as the strongest federation in CONCACAF, this new partnership doesn't have the same reach compared to the 1990's and the 15 or so years that followed.
"It's complicated, because it's a confederation that's not ours," Ferretti said. It's important to note that the 69-year-old, who managed Tigres during those great battles with Toronto FC, is a Brazilian-born manager that moved to Mexico as an attacking midfielder in the late 1970s and never left. He has seen all the ups-and-downs of Mexican football, at both a national team level (where he served as interim men's head coach on three occasions) and at club level. And lately, there have been more downs than ups.
A group-stage exit at last year's World Cup haunts the federation that expects a last-16 appearance every four years. As does losing to Canada in Edmonton and finishing second overall behind CanMNT in World Cup qualifying. Finals losses to the USMNT in the 2021 Gold Cup and the inaugural CONCACAF Nations League, and failing to qualify for the 2024 Olympics and this year's U-20 World Cup are massive ego bruises. The Seattle Sounders became the first MLS side to win the CONCACAF Champions League, denying a Mexican club the routine trip to the FIFA Club World Cup. And, Mexican sides have lost three of the last four Campeones Cups to MLS opposition.
It's impossible to deny that Mexican soccer is on the decline.
For Ferretti, limited chances for Mexican players in Liga MX are a big contributor to the slide.
"We are filling up more and more with foreign players. It's being trimmed [in roster rules], but it's still not enough," the Cruz Azul manager said.
In January, Liga MX president Mikel Arriola proposed a number of changes, including decreasing the number of foreign players allowed in a squad from eight to seven. In Ferretti's eyes, it should be even lower. "Hopefully it reaches the ideal number of five," he said.
Soccer is cyclical, and for the longest time, Mexican soccer was the best in CONCACAF. American and Canadian players have improved tremendously over the last two decades and with dozens playing for top clubs in Europe, the talent pool north of the Mexican border will only get stronger. Playing against better opposition makes you stronger, and it's a major priority for John Herdman in preparing to lead CanMNT at the 2026 World Cup.
At club level, this summer's Leagues Cup provides Mexico's best domestic players the chance to compete against the best in MLS. For decades, MLS clubs and players couldn't hang with the biggest and best from Mexico. But the tide has shifted, dramatically, which is exciting for Canadian and American clubs and players.
Sure, the added fixtures further complicate the regular season for MLS head coaches. But the quality of football on display could be absolutely electric. After all, you can only play the teams that are in front of you, and for Mexican soccer that seems to be in a real crisis, this tournament matters to those 18 clubs.
The first stage of the tournament, a round-robin format, will be made up of 15 groups of three teams, with groups sorted into four geographic regions. The Vancouver Whitecaps have been slotted into 'West 3' alongside LA Galaxy and 2021 Leagues Cup winners Club Léon. Toronto FC will compete with past playoff rivals NYCFC and 2022 Leagues Cup participants Atlas FC in 'East 3.' CF Montréal has been placed into 'East 2' with Hernan Losada's former club DC United and Pumas.
The 2023 Leagues Cup will begin play on July 21, 2023, with the final scheduled for August 19. The MLS season will shut down during this cup period.
It may not elevate Mexican soccer's status from stagnant to stellar, but it will make July and August a little more exciting for MLS fans.
---