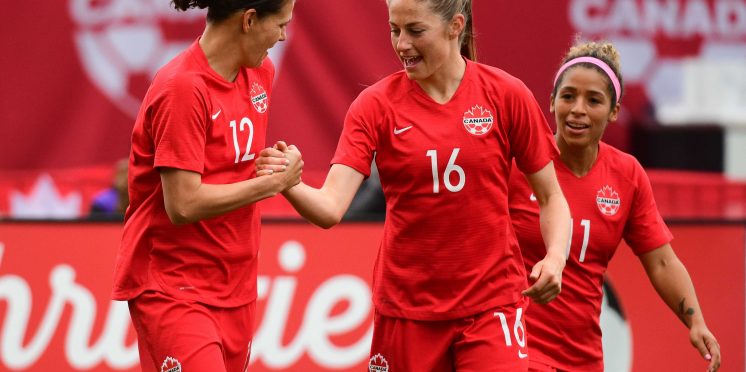 Canada Soccer and Canadian women's national team reach pay agreement for 2022
One small step for 23 players, one giant leap for Canadian soccer? Time will tell.
In a week that saw the federal government call Canada Soccer executives and national team players to speak in Ottawa, president Nick Bontis resign, and a historic appointment to replace him in Charmaine Crooks, agreeing on compensation with Canadian women's national team players for an unpaid 2022, feels like a real step forward.
Canada Soccer announced on Thursday evening they had reached an interim funding agreement with CanWNT players for the year 2022.
According to the federation's formal press release, the terms of the interim agreement mirror a similar deal reached the the men's national team that includes per-game incentives and results-based compensation.

"This is about respect, this is about dignity, and this is about equalising the competitive environment in a world that is fundamentally unequal," said Earl Cochrane, Canada Soccer's General Secretary. "We have been consistent and public about the need to have fairness and equal pay be pillars of any new agreements with our players, and we are delivering on that today. While this is an important step forward, and it signals progress, there is still more work to do to ensure both of our national programs are given the necessary resources and supports to prepare and compete."
The press release also stated:

A new overarching collective bargaining agreement with both of our National Teams is still being negotiated. Therefore, the interim funding agreement with the Women's National Team Players is subject to change on the basis of details included in the final collective bargaining agreement.

With the principle terms of agreement now in place between Canada Soccer and the Women's National Team Players, final details of the Interim Funding Agreement are being finalised by their respective legal counsel.
Earlier on Thursday, a joint statement from CanMNT and CanWNT called Bontis' removal "one necessary step" but emphasized that Canada Soccer must provide "proper, transparent, and comprehensive access" to its financial records.
Canada Soccer "needs to take immediate action to address the untenable financial constraints imposed by its agreement with Canadian Soccer Business, once and for all," part of the statement read.
The players also called for Canada Soccer to consult with the them about a permanent successor for Bontis and the path forward: "Canada Soccer's next president must share the national teams' commitment to fully capitalizing on this moment in Canadian soccer, and ensuring our national teams and youth programs have the resources and support they need to compete on the world stage for years to come."
CanWNT are scheduled to play France in a tune up friendly next month, ahead of this summer's Women's World Cup which kicks off in Australia and New Zealand July 20. Canada will face Nigeria on Friday, July 21 in Melbourne, the Republic of Ireland on Wednesday, July 26 in Perth, and co-host Australia on Monday, July 31 back in Melbourne.
---
---