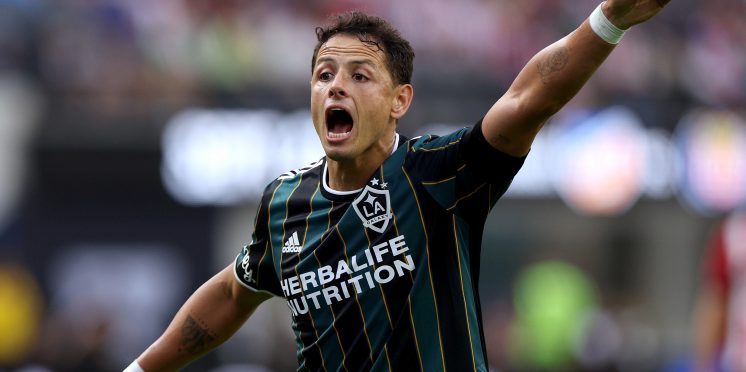 LA Galaxy head coach Greg Vanney upset with Javier Hernández revealing extent of his injury on Twitch
Social media has given professional athletes new ways to connect with fans and grow their own personal brands. It's also given them more ways to get in trouble.
LA Galaxy superstar Javier Hernández said a little more on a live Twitch stream than head coach Greg Vanney would've liked, and now the Mexican star is in the dog house before the Galaxy even kick off their 2023 MLS season.
"Am I going to play in Dallas? No, I'm still recovering from my injury. I'm going to be between 2 to 5 more weeks out because we have to be very careful with the recovery to avoid relapses," Chicharito said on Twitch.
That didn't sit well with Vanney. The former Toronto FC boss had been rather coy about the extent of Hernández's pre-season hamstring injury.
"I think at the end of the day, players sometimes get out in front of it and want to let fans and other people know how they're doing," Vanney said at a press conference. "But ultimately there is a way and a time and a place to give that, because it's also about the opposition, game management, game prep, all those kinds of things."
The Galaxy were supposed to kick off 2023 with an El Tráfico showdown against LAFC at the historic Rose Bowl in Pasadena, but severe winter weather in SoCal saw AppleTV's 'MLS is Back' headliner postponed to July 4.
"It's not earth-shattering in this situation, but in different circumstances, these things could be very important information that you give to the other team or the opposition that you don't necessarily want to be doing," Vanney said.
Hernández is the face of the franchise entering his fourth season in LA, and even at the age of 34 is one of the most important players in MLS. The Mexican icon scored 18 goals in 32 regular season games for the Galaxy last season. A MLS Cup Playoff quarter-final exit at the hands of eventual MLS Cup winners LAFC cut his season short in 2022.
Vanney updated Hernández's status, downplaying fears he could miss five weeks. The 2017 MLS Cup winning coach with TFC suggested that Chicharito will be reevaluated in 10 days, giving the Galaxy hope that their star DP could return by the end of March.
"With Javier, he's in the treatment phase, then he's gotta go through 'return to play'. I don't know exactly… 2-5 weeks is a long range. Our anticipation with the grade 1 hamstring strain is 10 days to a couple of weeks," Vanney added. "Then we'll see with return to play how long it takes him to get back into maximum fitness and do all the things he needs to do for a match performance. I don't know if that's two weeks or four weeks, right now he's still in the treatment phase."
Bottom line is, if you're going to use Twitch like Canadian superstar Alphonso Davies and play video games with your friends while engaging your fans and growing commercial interest, great. But if you're going to be a candid and honest athlete, you're going to piss somebody off and it's probably going to cost you.
---