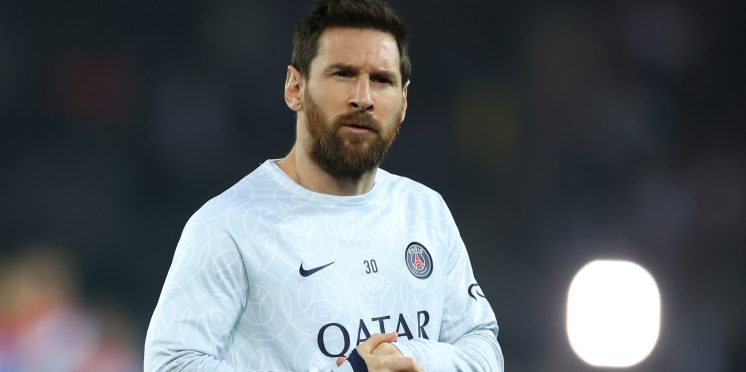 MLS willing to think 'outside the box' to make Lionel Messi Inter Miami move happen
If one of the greatest athletes of all time, recently minted with the one defining trophy that had eluded him throughout his illustrious career, wants to play in your league, you move heaven and earth to sign him. Though, there might be less litigation and legal paperwork in heaven.
In an interview with The Athletic, Major League Soccer commissioner Don Garber confirmed he would love to see Messi play his club football in the United States, with Inter Miami rumoured to be fixing a proposal for months, and would be willing to think "outside the box" to make it happen.
"You're dealing with perhaps the most special player in the history of the game," Garber said. "So when there are rumours of him connected to Miami, that's great. And if it could happen, it would be terrific for MLS, it would be terrific for Messi and his family, and like everything with us, we try to run every opportunity down. I can't give any more details than that because we don't have them."
As appealing as South Beach and "Brand Beckham" is, there will be other wealthy suitors for Messi's signature if he declines the 2023/24 season option on his Paris Saint-Germain contract, which expires in June. Already a highly paid endorser of Saudi Arabia's official tourism board, there will be interest from Saudi Pro League clubs who are still relishing in the reality that Cristiano Ronaldo plies his trade in Riyadh at Al Nassr.
Sporting Kansas City were, shockingly, the MLS side that came closest to signing Ronaldo last December, thanks to a creative bid that SKC owners framed around the model of having Kansas City Chiefs star quarterback Patrick Mahomes as the king of a small market. How Sporting KC could've competed with the reported $200 million a year Ronaldo is earning from the Al Nassr deal is in itself a billion-dollar question, but SKC were supposedly close with their total offer.
What might that have looked like? One must assume they would've had to use "outside the box" ideas to come anywhere close to a comparable offer. Has MLS learned from that experience to get it right with Messi? If I were a betting man, I would bet yes.
Few people would've wagered that Toronto FC would land freshly crowned Italian European champion Lorenzo Insigne last winter, but look what happened. MLSE put a league-high $14 million annual salary on the table and Insigne, although injured at the time, jumped at it. Messi's wage would be a lot more.
But much like MLS front offices constantly find creative ways to work around the salary cap and invent TAM and GAM rules as they go along, for Messi, you just figure it out.
"Teams have the flexibility to do unique things," Garber said. "MLS is a single entity. If you're selling something that the collective owns, the collective has to approve that. So whatever [Inter Miami owner] Jorge [Mas] decides, with [MLS executive vice president Todd Durbin's] help to structure something, if we have the opportunity to do that, it's going to be outside the box.
"Because as you all know what's going on in international football today, with [Cristiano] Ronaldo at $100 million [a year] … the transfer market is just exploding in ways that are unimaginable. We're going to have to structure a deal that's going to compensate him in ways that he and his family expect. What that is? Honestly, we don't know today, but he's probably not going to be a TAM player."
Garber has said in the past that the league would never include an option to buy an MLS expansion franchise again, after David Beckham's 2007 contract with the LA Galaxy included a $25 million expansion franchise buy-in clause. For context, Inter Miami CF kicked off in 2020. Atlanta United's expansion fee was $200 million, and they kicked off in 2017.
But, if Messi wants a team, you give him a team. If he does put pen to paper on a deal to join Becks in Miami, or any MLS club, it puts the league in an entirely new stratosphere, both on the pitch and in the business world. And if there's anything we've learned so far about the new AppleTV broadcast deal, MLS is all about that business.
The thought of Messi taking on Insigne and Federico Bernardeschi at BMO field, or jawing with Vanni Sartini along the touchline at BC Place, or taking Instagram photos with Inter Miami's social media team in historic Old Montreal, should be enough for any Canadian MLS fan to want to wish this move into existence.
But only time will tell if Messi truly wants the American soccer experience that so many on this side of the pond have fantasized about since they first washed Messi scoring magisterial goals that left Ray Hudson uncomfortably aroused while calling Barcelona games on GolTV. Those were the days, and they really don't feel that long ago.
---