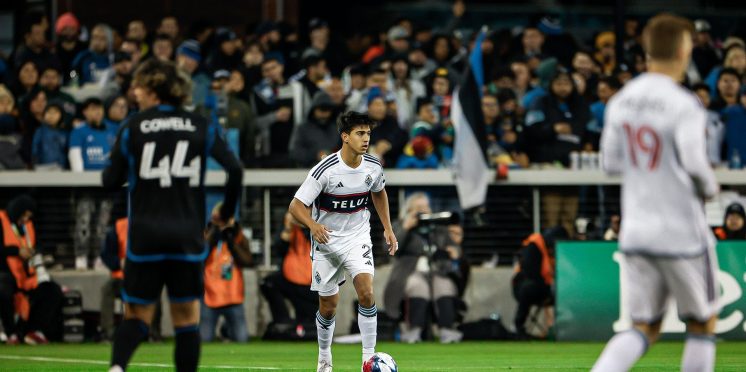 Vancouver Whitecaps collapse to late defeat for second week running
It's the hope that kills you.
For the second week running to start their 2023 MLS season, Vancouver Whitecaps took the lead midway through the first half. Also for the second week running, they then conceded twice in a short timespan midway through the second half to lose.
Two games is a small sample size, but it's nonetheless a troubling pattern for Caps fans: a start full of encouragement and some genuinely excellent play at times then descending into ugly goal concessions and eventual defeat.
Alessandro Schöpf's first goal for the club should have been the platform to push on during the game, just as Javain Brown's opener last weekend should have done.
But Vanni Sartini's side missed chances and squandered shooting opportunities again before being hamstrung by their true Achilles heel: their inability to protect a lead. San Jose Earthquakes pumped aerial balls into the box all game, and it proed a fruitful strategy against the Whitecaps defence.
"We scored a good goal to go up on the on the road and then you've got to grind out a result, but we couldn't do that again today," said midfielder Julian Gressel, who assisted Schöpf's goal. "Similar story: second phase of a set piece and then another little lapse to give up another goal."
After an impressive debut last week, Yohei Takaoka was a big player again, making four saves, but by the time the final whistle sounded, the bright spots seemed few and far between.
This is just the third time in their history that the Whitecaps have lost the first two games of an MLS season. The other two years they did were the dismal 2016 and 2019 seasons.
"I think that we deserve to tie, but… we need to be better," said Sartini. "Because if we deserve to win last (week) and we lost, if we deserve to tie today and we lost… They say three coincidences make a clue. I think let's make it two and stop it, and start making points."
Certainly, the Caps will have to pick themselves up, with games already coming thick and fast.
Next up is a return to BC Place to host Honduran outfit Real España in the CONCACAF Champions League in a game Vancouver will be unequivocally expected to win.
"We need to keep working," said Sartini. "I know that now everyone is on the down low, but we need to have the chin up and go 100 miles per hour because Wednesdays is very important."
---