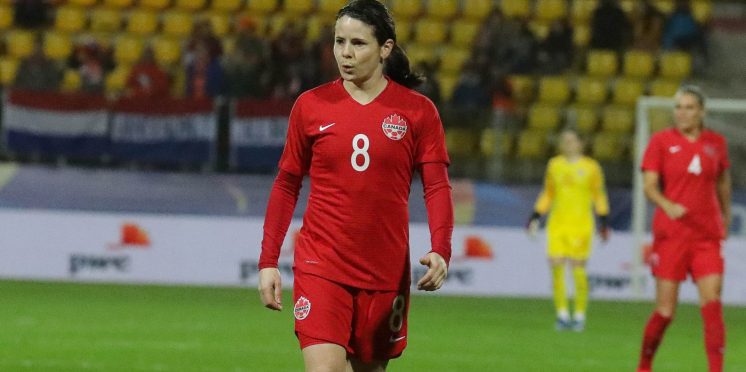 Project 8 signs up Canadian Tire as founding partner of Canadian pro women's soccer league
Monday morning brought the first major announcement on the new Canadian professional women's soccer league since Canadian women's national team legend and Project 8 Sports founder and CEO Diana Matheson unveiled the plans in December, with the news that Canadian Tire has signed on to become a founding partner.
"Every kid in Canada dreams of playing the sport they love to the highest level but unfortunately those opportunities differ for boys versus girls," said Matheson. "That's why Project 8 was created and why initiatives like this one from Canadian Tire are so important. Together we can help more girls achieve their dreams of playing sports at the professional level and on home turf. The future is bright, and we're just getting started."
Matheson has previously voiced that sponsorship will be a key revenue driver for the league. CIBC and Air Canada are already on board, and getting Canadian Tire on board is the next big step towards realizing the vision of not just her planned pro soccer league but amplifying and developing all women's sport in Canada.
"One of the real strengths of this project is it's not very hard to get people excited about it," Matheson said recently. "We've found just so many people want to help and so many people want to make this happen."
That's true both on and off the pitch.
The new league already has two founding member clubs in the Vancouver Whitecaps FC and Calgary Foothills. Those two will be joined by six other clubs over the next months and years, ahead of the league starting as an eight-team division. Project 8 has previously stated it expects the six remaining teams to be confirmed in 2023.
"We're going to spend the next seven months finding the right owners for our remaining six markets," Matheson told Canadian Soccer Daily at the time of the announcement. "We want teams across Canada; anywhere from Vancouver Island to the Maritimes. We want a team in central Canada, we want a team in Quebec, we want a team in Atlantic Canada."
In addition to its partnership with Project 8 Sports, Canadian Tire has also announced its new Women's Sport Initiative (WSI). The multi-million-dollar investment commits a minimum 50 per cent of its sponsorship dollars towards women's professional sport by 2026, and includes a dedicated media fund to increase the visibility of women's sport across top broadcast, digital and social platforms.
The WSI includes adding five new sport partnerships to its growing roster, including its new status as a Founding Partner of Project 8, Canada's first women's professional soccer league slated to launch in 2025 and led by Diana Matheson, Former Olympian and Founder and Chief Executive Officer, Project 8 Sports.
Other partnerships include Canadian Tire becoming a Supporting Partner of the WNBA Canada Game, the first-ever pre-season WNBA game to be played in Canada; a National Partner of Canadian Women & Sport's Commercial Women's Sport Initiative to help fund research demonstrating the business case for further investment in women's professional sport in Canada; a Corporate Partner of the Toronto Metropolitan University's Future of Sport Lab directing funds to support the next generation of female leaders in sport innovation; and a presenting Partner of the first espnW Summit Canada, bringing together industry leaders and trailblazers in sport.
---