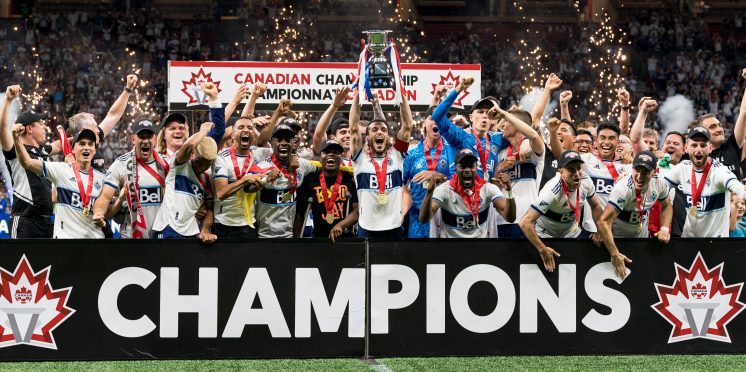 'We've built a team for this': Vancouver Whitecaps ready for CONCACAF Champions League return
The Vancouver Whitecaps return to the CONCACAF Champions League for the first time in six years on Wednesday, facing off against Honduran side Real España in the round of 16 at BC Place.
That tie is one they will be largely expected to win, but for a team who finished ninth in the West and 17th overall in MLS in 2022, missing out on the postseason, it will be a test of their mettle, their depth, and their will to compete on numerous fronts.
Head coach Vanni Sartini and Sporting Director Axel Schuster, though, are confident they have built a squad capable of a deep run after booking their spot in the continental competition thanks to their Canadian Championship triumph last year.
"We have built a team for this," Schuster told OneSoccer's Alexandre Gangué-Ruzic. "And I think it's the most exciting competition we're in, because to get in, it means you won something last season, and that's actually something we will remind everyone as we enter the Champions League, we have competed hard and done a lot to get here.
"Then, playing teams from different countries with different setups, and different cultures and playing in this unknown, it adds a special factor to those games and it's also what makes them so attractive to us. Obviously, we're not limiting our focus to just the Champions League, we want to do well in all four competitions, but it's special for us."
Sartini added that the depth the Caps have added to their roster will be vital in ensuring the club can fulfill its mandate of progress on the field in 2023.
"I think a key for us is the depth of the team," Sartini said, per OneSoccer. "The fact that we can play almost two different starting XIs, that's good. The club did a very good job of giving me a lot of players that can play and so it's going to be good to be able to rotate everyone in different competitions to try and be the best in all of them."
It's not been the greatest of starts to 2023 on the field for the Whitecaps. But, although they have collapsed to a second-half defeat in both of their opening two MLS games, there have been positive signs in much of their play, particularly on the ball and in attack in the first half of games.
The clash with Real España offers a chance to build some momentum.
The game at BC Place kicks off at 7 p.m. PT / 10 p.m. ET on Wednesday and can be watched live on OneSoccer.
---