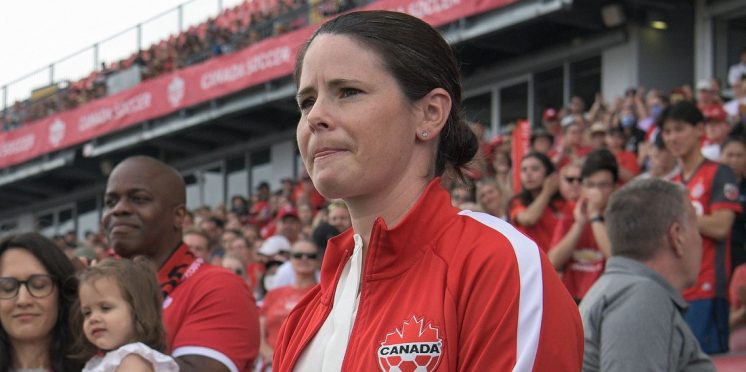 CanWNT legend Diana Matheson says there's a '99% chance' Quebec will get a pro women's soccer team
In two years' time, Canada will be on the cusp of the kickoff of a new women's professional soccer league. Where those games will be kicking off is still to be decided.
However, Canadian women's national team legend Diana Matheson, the co-founder and CEO of Project 8 Sports, the entity which is bringing the pro women's league to the country, is convinced that one of the eight teams involved will reside in Quebec.
"We have to have a team there," Matheson told La Presse's Justin Vezina. "It will be one of the best teams on the circuit from day one. The pool of female players in Quebec is enormous. There is so much talent in Quebec that we cannot miss it.
"There is both a lot of interest and enthusiasm for the province of Quebec. We absolutely want there to be at least one team in Quebec to begin with. We think Montreal is a great market and we also think Quebec could be a great destination."
Talk of Quebec having two great potential homes for a pro women's team will spark enthusiasm in La Belle Province, as well as the question of whether there could even potentially be two Quebecois clubs kicking off the league in April 2025.
Montreal's potential as a destination for a club is an interesting one given the city already has a Major League Soccer team there. CF Montréal president Gabriel Gervais has said that while the club cannot afford to pitch in to be part of any project the bring a pro women's club in the city, "if there is a professional team, whether it's here in Montreal, whether it's in Quebec City, we'll definitely reach out to them for the help."
For what it's worth, Matheson is prepared to bring pro women's soccer to Quebec with or without CFM's help.
"If I had millions of dollars, I would buy a professional women's soccer team. But if it's not the right time for CF Montréal, it's not the right time," she reflected to Vezina. "We are definitely interested in women being an integral part of ownership, whether it is an individual owner or a group of owners."
Wherever a club does end up in Quebec, it will join a nationwide venture. The league already has two founding clubs signed up: the women's soccer arms of the Vancouver Whitecaps and the Calgary Foothills, both of whom will play in a four-team Western division of the new league.
Matheson had previously vowed to Canadian Soccer Daily that Project 8 Sports would spend the coming months recruiting other clubs, and she told Vezina that she wants all eight teams to be operational by December 2023 to give clubs well over a year to get prepared for action.
Meanwhile, off the pitch, the league's sponsorship partnerships continue to grow. On Monday, Canada Tire Corporation announced it is coming on board as a founding partner, joining fellow Canadian business giants CIBC and Air Canada.
"Canadian companies leading the way!" Matheson tweeted on Monday. She hopes that eight sponsor partners will be on board on that December 2023 timeline.
"People are excited about the arrival of this women's professional league. We can testify to the fervour of Canadian companies who want to support this project, so we are not too worried about being able to obtain the other partners this year," she concluded.
Pro women's soccer in Canada is long overdue, but it's coming, and when it arrives, it's going to be a force to be reckoned with. Matheson and her partners are making sure of that.
---