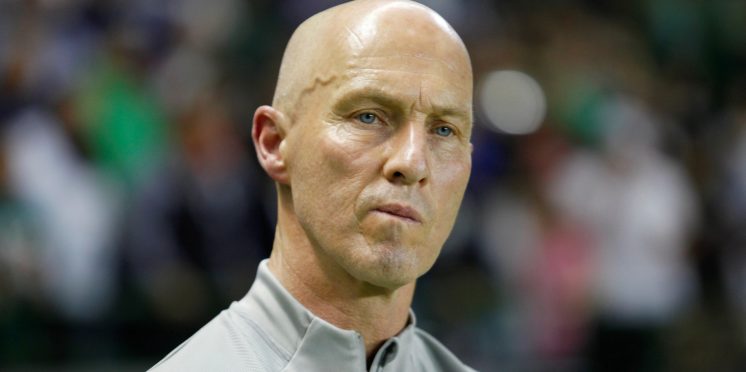 The missing piece: do Toronto FC have a problem at centre-forward?
Two games into the Major League Soccer season, Toronto FC are winless. Two matches on the road and one point to show for it: it's not bad, but it's not particularly good, either.
TFC's early-season results have come at a cost, too. Bob Bradley is already dealing with injuries to key players. Most notably, Designated Player Lorenzo Insigne had to make way in the season-opening loss at DC United, before strikers Adama Diomande and Ayo Akinola both exited the 1-1 draw in Atlanta with hamstring issues.
Thankfully, Insigne's injury is not long-term, with the Italian aiming to see the pitch in Toronto's home opener against Columbus Crew on Saturday, March 11. Given Bradley's indication that it was hamstring tightness rather than tears, Diomande and Akinola could both be available at BMO Field as well.
However, as pointed out before the 2023 MLS season kicked off, TFC are not a deep team. If important players are dealt bad hands health-wise, the club could struggle to seriously compete.
In their draw at Mercedes-Benz Stadium, the Reds gave their supporters an unwanted glimpse of what an Insigne-less TFC looks like. Diomande and Akinola were both ineffective in their limited minutes, unable to create any chemistry with Federico Bernardeschi, who seemed a frustrated figure on the night. The team registered four shots, with two of those being a long-distance strike from Brandon Servania and a Michael Bradley header off a set-piece. 'Fede' fired the other two shots, a high-quality chance on the volley in the 50th minute, and then his stellar goal in the 52nd.
Going back to last season, TFC are now eight matches without a win. Bernardeschi has scored five times during that span and is being asked to carry much of the goalscoring load. Maybe too much.
Insigne's return will undoubtedly lift Toronto's attack, giving opposing defences something to think about on both sides of the field. But the team needs more support from the starting striker. With Insigne and Bernardeschi both capable of leading the team in goals come season's end, Toronto does not need their man in the No. 9 spot to light up the scoring charts. What they do need, however, is for a centre-forward to connect well with the Italian wingers and use their positional play to get the best out of the squad's top two talents.
When Diomande was brought in on January 12, the writing was on the wall for one of Toronto's strikers from last season to pack their bags. There was no way TFC needed five first-team centre-forwards in Diomande, Akinola, Hugo Mbongue, Jordan Perruzza, and Jesús Jiménez. Jiménez made way in the end, being shipped to FC Dallas in exchange for midfielder Servania.
Diomande is certainly Bradley's "guy," having linked up with the American bench boss at three different clubs now. If available, he will likely be starting up top for the Reds in the majority of league matches in 2023. Three halves of soccer isn't a large sample size, and Diomande has thrived under Bradley's watch before, so maybe he can put his first two lacklustre TFC appearances in the rearview and become exactly what Toronto need up top.
Questions will arise, however, if Diomande continues to underwhelm, especially since Akinola hasn't been particularly productive since making his return from an ACL tear suffered in July 2021. The 23-year-old still has time to find his footing and be a solid MLS contributor, but if TFC is in win-now mode, there are certainly doubts over whether he is the ideal fit to start in-between two of the league's best players.
Jiménez and Akinola failed to deliver in 2022, combining for two league goals between July and October last season. Still on a U22 Initiative deal, Akinola is able to provide TFC with more value in a salary cap league. He will be able to hold onto the U22 tag until his contract expires in December 2024, and the club might view him as a player who has not yet reached his full potential. For that reason, he was the logical option to keep over Jiménez.
Behind Akinola in the pecking order are Mbongue, an 18-year-old Toronto native who was called upon to replace Akinola in Atlanta but is still unproven at the MLS level with a long road to becoming a starter, and Perruzza, a 220-year-old with two goals in 24 TFC appearances but who wasn't part of the matchday squad in last Saturday's contest.
If things don't go according to plan before the MLS Primary Transfer Window closes on April 24, midseason deals involving Perruzza and Akinola could allow the club to shake things up in the striking department. Perruzza might be looking for minutes, and Akinola comes with added value as a U22 Initiative signing. The club's top brass has shown a willingness to reshuffle, having recently made trades for Servania and Mark-Anthony Kaye.
All in all, with 32 league matches left to play, plus Canadian Championship and Leagues Cup duties to attend to, it might be too early to hit the panic button on the TFC attack.
Early signs haven't been positive, though, and it's vital that Bradley gets his team selection and tactics right as TFC looks to return to contention in 2023. Once Insigne returns to the picture, the pressure will be on to deliver results. The two Italian wingers will be the headline-makers in Toronto, but the play of the team's central striker will go a long way in determining how far this side can go.
---