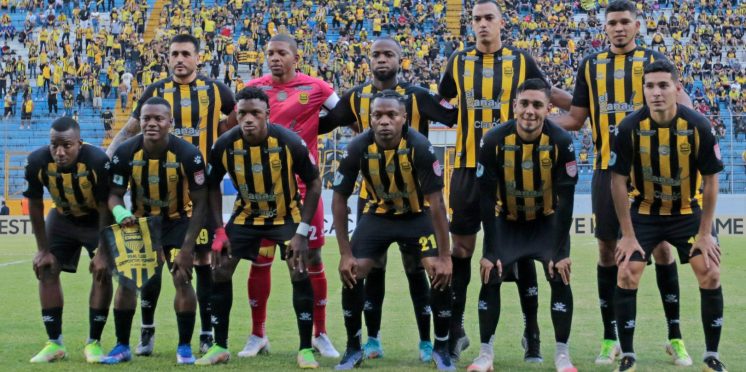 Honduran journalists give the lowdown on Vancouver Whitecaps' Champions League opponents Real España
By Kelvin Queiroz
The Vancouver Whitecaps return to the CONCACAF Champions League for the first time in seven years on Wednesday.
While the Caps themselves are looking for a lift after two consecutive disheartening defeats to open their 2023 MLS season, Honduran media outlet El Once beat writer Said Sabillón tells Canadian Soccer Daily the Whitecaps' 2023 round of 16 opponents, Real España, will enter this match with a lot at stake.
"There is no doubt that they are betting a lot on the CONCACAF Champions League," explains Sabillón. "Over the weekend, they lost 0-3 to Motagua in San Pedro Sula partly due to using several substitutes and youth players in the game. They are saving their best guys for the game against the Whitecaps."
Currently in fourth place in the Honduran National League, "La Maquina" seem to be repeating the same formula they have used in recent years, whether by circumstance or by design: leaning on the continental tournament.
"They did not plan this season correctly," Inter HN reporter Farit Córdova tells Canadian Soccer Daily. "In the end, they ended up losing or letting go of seven players and only had two acquisitions."
The Central American side have been crowned national champions 12 times but that success has waned in recent times, They are currently on a six-year title drought which they were not able to end despite reaching the past two finals. A new head coach was hired, Uruguayan Julio Rodríguez, but Real España still have a lot of question marks.
So, what about this team should Whitecaps fans fear?
Individually, their best asset is Luis López. Described as a "fortress between the posts" by Sabillón, "La Buba" López is the Honduras national team's starting goalkeeper and played against Canada last year. He also has a short stint with Los Angeles FC on his resume.
In the outfield, the creative section of their team, especially in the left part of the midfield with new signing Juan Vieyra and team's maestro Jhow Benavídez, is Real España's most remarkable threat. Córdova calls Benavídez, in particular, "the creator" and the biggest dangerman on the team.
"When Vieyra and Benavídez are involved and help to lead the team's attack, it is very likely that the offensive flow will be greater and they will become the best partners of Ramiro Rocca, a very effective striker," says Sabillón.
However, unfortunately for the Honduran side – and a lot of teams across the world – soccer is a two-way game.
"Benavídez is their most dangerous player, without a doubt. Both he and Vieyra are two very skilled athletes with the ball," Córdova points outs. "But without the ball, they suffer a lot."
And that's where Córdova sees the best chances for Vancouver coming out with the win Wednesday.
"If the Whitecaps manage to control the ball possession, Real España will struggle to perform in this game," Córdova says. "They don't have the philosophy of being aggressive with the ball and also they are not a team that can defend when they don't have it."
The reality is that the level of play that Real España can present in the Champions League is something hard to predict even for local journalists. They argue that something similar to what they witnessed last season could happen to the team, when they had a tremendous campaign in the continental scenario reaching the CONCACAF League semifinals, but ended up being eliminated early in the national competition.
"We are asking ourselves but still don't have a concrete answer," says Córdova. "When they finally managed to return to the CCL, the team decided not to invest in the squad as they should."
Despite their opponents' bad form, however, the Whitecaps cannot look at this clash against the Hondurans with disdain. Just ask Austin FC, who lost 3-0 to Haitian side Violette AC on Tuesday night.
"Expect a very focused and well-rested Real España on Wednesday," concludes Sabillón. "For sure they will not take too many risks, especially knowing that they will close the series at home."
---