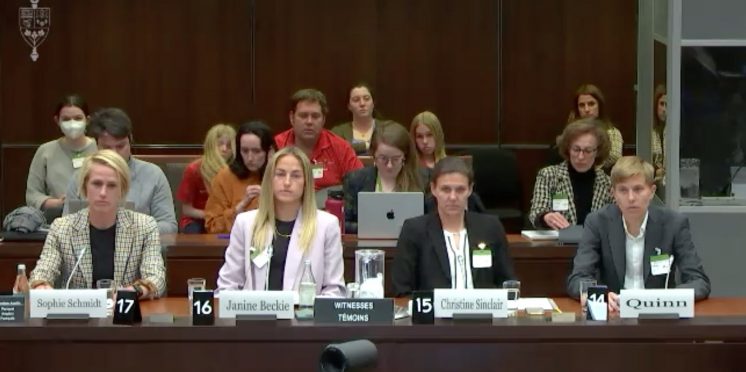 Canadian women's national team players give composed, eloquent testimony in Ottawa about Canada Soccer dispute
Speaking before the House of Commons Standing Committee on Canadian Heritage on Thursday, March 9, Canadian women's national team captain Christine Sinclair and teammates Janine Beckie, Sophie Schmidt, and Quinn, took CanWNT's fight for pay equity to Parliament Hill.
Essentially, the demands are simple: the Olympic champion women's team want the same financial support and commitment ahead of this summer's World Cup in Australia and New Zealand as the men's team got before their Qatar adventure late last year. Both teams want Canada Soccer to be transparent about their financial dealings and budget cuts.
As happens so often, Sinclair and Beckie took the lead.
After technical difficulties delayed the start of the session and Beckie was unfortunately introduced as 'Janine Beckle,' Sinclair opened with a call-to-arms.
"Our sport is at a critical moment in Canada," said international soccer's all-time leading goalscorer. "The future should be brighter than ever but our most painstaking battle has been with our own federation."
Sinclair then recounted an unsavoury story, noting that "on a personal level, I've never been more insulted than I was by Nick Bontis last year. I was tasked with outlining our compensation ask on behalf of the players. The then-president of Canada Soccer listened to what I had to say and later in the meeting referred back to it as, quote: 'What was it Christine was bitching about?'"
Ultimately, Sinclair asserted that Canada Soccer has perpetuated and reflected "a culture of secrecy and obstruction."
On the fight for equality
Much of the session's testimony and questioning revolved around the fight for equality.
Of the ongoing dispute, Beckie called it "one of those things that has genuinely just made us stronger."
"We have been successful not because of our federation but in spite of our federation, for many years," the CanWNT midfielder said. "We've been successful with less. We are so sick and tired of having to scratch and claw for transparency.
"We play on the same size field, we play for the same time, we are doing the same work as our male counterparts. In another avenue of work in the world, you sit at the same desk as your counterparts."
Beckie highlighted that financial transparency is as important to the women's national team as equal pay. She said no financial details beyond 2019 have been provided to the players.
"We need to rebuild the trust with the association. Multiple times, they've broken that trust. The number one thing we've asked for is transparency."
"We shouldn't have to be begging for finances and granular finances," added Schmidt. "It should be public for everyone to see."
Quinn added that they believe a public inquiry would be beneficial: "This isn't a singular case."
The OL Reign midfielder also added during the session that a concern was raised by Canada Soccer that Thursday's testimony might contravene FIFA's policy on government interference.
"I wouldn't say it was a threat, but a concern raised about how this might potentially be in conflict with their policy."
On Canada Soccer's deal with Canadian Soccer Business
A large topic of discussion was also the deal between Canada Soccer and Canadian Soccer Business (CSB). Under that initial 10-year partnership signed in 2019, CSB essentially markets Canada Soccer's products through broadcast and sponsorship agreements and pays Canada Soccer a set multi-million dollar amount per year. That deal could potentially last until 2037.
Beckie described the length and apparent terms of the agreement as "betting against" both the CanWNT and CanMNT, as no matter the success of the teams or the sport of soccer in general in Canada, the amount of money that can be distributed is limited.
"Either they had no idea it was a terrible deal for Canada Soccer or they knew it was a terrible deal and did it anyway."
Schmidt added that Canada Soccer "treats the women's game as an afterthought" and has "failed to put in place any structure, resources, or plan for the development and future success of the women's game in this country."
"The system of developing players is broken and women are making it to the national team by chance, not design," Schmidt said.
Both CanWNT and CanMNT players associations have raised the concern that money from the Canada Soccer-CSB deal funds the Canadian Premier League, Canada's five-year old men's professional league. As Sinclair points out: "There is nothing in place for women that is equal." This is an inherently unequal situation. As we've seen, Sinclair, Diana Matheson, Project 8, and others have felt there's no choice but to try to rectify that themselves.
On Canada Soccer's announcement
This testimony came just hours after a notably timed announcement from Canada Soccer that revealed details of the proposed collective bargaining agreements to the public for the first time and vowed to meet the players' demands around equal pay, equitable treatment, and transparency.
That CSA announcement – seemingly presented as an olive branch and in which Canada Soccer also said it and CSB are in discussions to amend the aforementioned representation agreement between the two parties – came just weeks after CanWNT were effectively strong-armed into ending strike action and playing in the SheBelieves Cup under threat of legal action from their own governing body.
The timing of the announcement was debated by the Committee, with MP Kevin Waugh describing the manner of the release as "disgusting."
On CanWNT's part, Beckie said the timing and the announcement itself were indicative of a "lack of respect" on the part of Canada Soccer. She noted the release unveiled details of negotiations between the players' association and the organization and revealed that some numbers in the release hadn't even been communicated to the players at any point. "We don't feel that it's the right place to stoop to that level," she concluded.
On Charmaine Crooks and Canada Soccer leadership
The players also reiterated their stance on Charmaine Crooks' elevation to interim president of Canada Soccer, calling her one of "the old guard." As Beckie put it: "The new leadership isn't new."
"Crooks has been part of the higher-ups of Canada Soccer for a long time and during her tenure, she has shown nothing to the women's national team that she's fighting for us," said Sinclair. "In fact, since she's been elected she hasn't reached out."
So, what happens next?
Canada Soccer officials are due to appear before the parliamentary committee on March 20. When asked who else she would like to see testify to the Heritage Committee, Sinclair suggested any Canada Soccer executives associated with the CSB deal, as well as any people who were Canada Soccer officials when the deal was signed.
MP Anthony Housefather, central to the attempts to hold Canada Soccer to account, asked Sinclair if former CSA president and current CONCACAF president and FIFA VP Victor Montagliani should be summoned before the Committee. Sinclair said, simply: "Yes."
"I'm not sure honestly where we go from here," Sinclair said. "There's a few simple things that need to be addressed by the CSA. Pay equity is actually just a little piece of the puzzle. It's about equal treatment. It's about equal opportunities, equal resources, and honestly until that happens, we're gonna be at a stalemate."
---