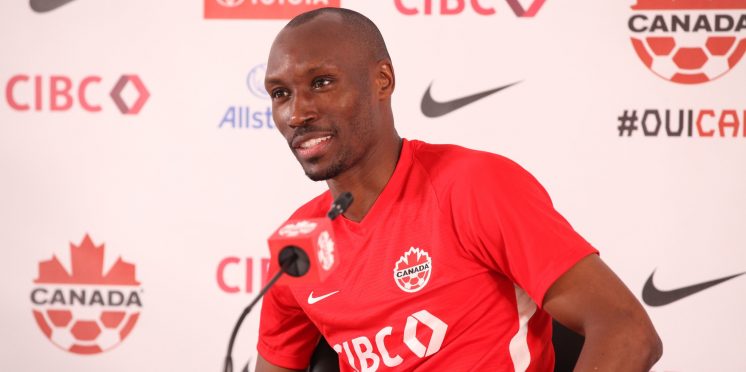 CanMNT captain Atiba Hutchinson will retire at the end of the season, say Turkish reports
One of Canadian soccer's great careers may be coming to an end.
According to reports in Turkey, Canada and Beşiktaş captain Atiba Hutchinson will retire from soccer at the end of the 2022-23 season.
Previous reports had suggested that he would have his contract terminated by mutual agreement. Though he has ultimately remained with the club, the indications are now that he will hang up his boots for good, per Turkish outlets including Habertürk.
His contract was due to expire at the end of the season and any confirmation of his retirement will come as a blow to Atlético Ottawa and their CEO Fernando López, who recently voiced his intention to offer Hutchinson a contract to play in the Canadian Premier League.
Hutchinson, the only player in the history of the Canadian men's national team to have reached the 100-cap mark, turned 40 earlier in February. Back in November, before the six-time Canadian Men's Player of the Year won his 100th Canada cap in the 2022 World Cup clash with Croatia, CanMNT head coach John Herdman described him as "just a really special man… a legend."
What this means is that CanMNT's CONCACAF Nations League clash with Honduras at BMO Field on March 28 might be the last time any Canadian supporter gets to see Hutchinson play in the red and the maple leaf of Canada. If so, what an emotional occasion that will be.
His departure from Beşiktaş will also be the end of an era for the Istanbul club. The man they call "the Octopus" has played nearly 350 times for the club in 10 years since joining from PSV Eindhoven in 2013, making him the all-team appearances leader among the club's foreign players, and has won three Süper Lig titles, one Turkish Cup, and one Turkish Super Cup. However, injuries, fitness, and competition for places have limited him to just 78 minutes across four appearances in the league this season.
If he does indeed end his playing career, some kind of leadership role in his retirement seems inevitable. His famed leadership qualities were on full show in tragic circumstances in recent weeks in the wake of the devastating earthquake in Turkey and Syria.
"It's a difficult time here in Turkey. I know these people so well and what they've done for me and my family, the hurt and tragedy that they're going through right now is really hard to see," Hutchinson said in February.
According to a report from Fanatik, Hutchinson has requested that Beşiktaş management use his salary this year to build a school in the disaster area.
"I can not accept receiving money during this struggle," Fanatik quotes him as saying. "If the opportunities allow, this money can be used for earthquake victims. Schools can be built for them and their education can be supported."
A legend and a great man, in every sense. If 2023 really is soccer's goodbye to Atiba, it's soccer's loss.
What will be next for Atiba is unclear. Some kind of leadership role post-playing seems inevitable.
---