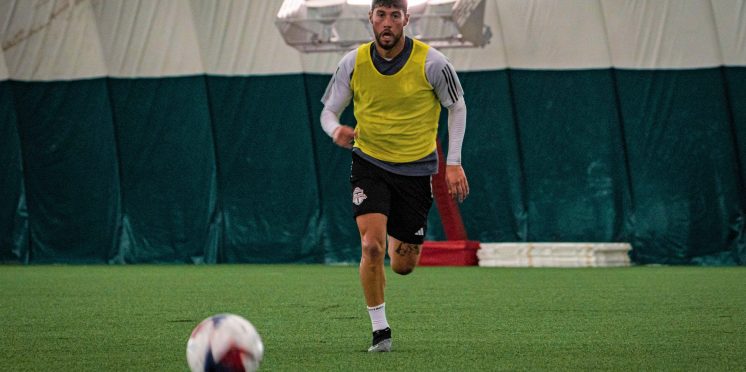 Jonathan Osorio is currently Toronto FC's third Designated Player, confirms Bob Bradley
Lorenzo Insigne, Federico Bernardeschi, and Jonathan Osorio.
Canadian international midfielder Osorio, who re-signed with Toronto FC this offseason to continue his career-long association with the club, is currently occupying TFC's third Designated Player spot alongside the star Italian duo, head coach Bob Bradley confirmed on Friday.
Bradley previously admitted earlier this winter that "there is not a set guy that fits the DP budget that we have" and had said that there was no current plan for how to fill that slot. "We're always considering different ways that we can do things in order to maximize salary budget and make the best roster we can," he explained.
On Friday, Per Michael Singh, Bradley confirmed Bill Manning's revelation that Jonathan Osorio is currently occupying the spot, and said that it shouldn't be taken as a forgone conclusion that TFC will sign a third DP.
"Potentially, we could [add] a third DP but the budget for the third DP is not at the same level [as it was for Insigne and Bernardeschi]," Bradley told Singh. "That's an MLSE [budget] decision."
Manning had explained on TSN 1050's First Up show on Thursday that Osorio taking up the third slot on a temporary basis is a way to maximize TFC's financial flexibility against MLS salary cap restrictions. A DP counts as $650,000 against the cap, so having Osorio listed as a DP effectively allows the club to save on Targeted Allocation Money (TAM) while they decide what to do with the third DP slot in the long term.
TFC fans, of course, would be hoping for a marquee signing to fill that hole, in an ideal world. However, the real world is not ideal, and the truth is the respective salaries of Insigne and Bernardeschi have TFC somewhat penned in financially.
Speaking of Insigne, Bradley said at training on Friday that he is "hopeful" that the 31-year-old will be able to return to action in TFC's home opener against the Columbus Crew on Saturday. TFC have something of a crisis in attack. While Bernadeschi has two goals from two games to start the season, Ayo Akinola and offseason signing Adama Diomande are both out of this weekend's game with hamstring injuries, meaning 20-year-old Ajax native Deandre Kerr could be in line for a start.
Meanwhile, there was also some chat about the much-debated new 2023 home kit, which The Reds (or should that be The Greyds?) will wear for the first time on Saturday.
The jersey has split opinions with fans – although not necessarily down the middle, as most seem unkeen on it – and Michael Bradley admitted that, while he likes the shirt, "I don't like that it's our home kit. For me, our home kit should be all red."
Osorio himself stressed that while it's not a red jersey – which many fans have said is incongruous with the club's foundational branding – "the thing to focus on is that it is still a really nice kit, and one of our fans designed it."
Hey, at least TFC have a new home kit. CF Montréal fans can only look on in envy.
Regardless of whether they're wearing white, red, or grey, all TFC will really care about is getting that first win on the board.
---