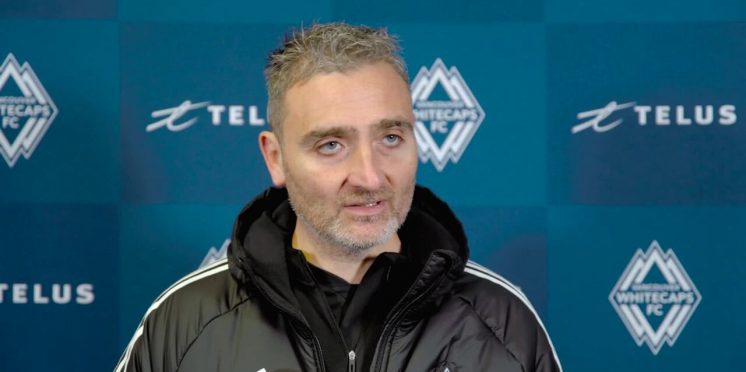 'We should be pissed': MLS quotes and notes as Vancouver Whitecaps, Toronto FC, CF Montréal remain winless
A third week of Major League Soccer action, a third week without a win for all three Canadian franchises. As starts to new seasons go, this one has been far from ideal, but it's a long way away from being time to panic.
Here are the quotes and notes from MLS around Canada this weekend.
Vancouver Whitecaps 1-1 FC Dallas
The Whitecaps flipped the script this Saturday; instead of taking a first-half lead and then letting it slip in the second half as they did in their first two games, they went behind in the opening minutes but fought back, and could and perhaps should have gone on to win.
"I think we should be pissed," head coach Vanni Sartini told reporters.
"We should be frustrated, we should be angry because if we say, 'OK we got a point', we are with the wrong mentality. We should have won. We were the best team for 75 minutes, we had a lot of chances. We played well, so there's a lot of positives to look at. The general feeling should be that we should have had five points at the moment and we have only one."
Sartini stressed that the manner in which his side conceded early – a free header in the box – was "a case of very bad positioning from our defence."
Caps fans were incensed by some of the refereeing decisions, but Sartini took a philosophical approach.
"I think that frustration can be there … The referee are humans like us, they can make mistakes. Talking like we are in a bar, I think that the management of the game can be better. You shouldn't say it's not a foul and then whistle a foul. That's what I think."
Midfielder Julian Gressel agreed with Sartini's assessment that VWFC should have scored more than one. But he's confident that the goals will come for Whitecaps strikers Brian White and new acquisition Sergio Córdova.
"The game opened up in the second half…I wish we put one away. The goals will come for those guys [White and Córdova]. It's a matter of kind of being clinical. I know those guys will score their goals this season. It will come as long as we keep being able to produce the chances… That's the pretty difficult part to do — creating chances and having good scoring opportunities. Ultimately, scoring is very difficult as well, but at least we're getting in good spots and we're able to find dangerous situations."
It's been a frustrating start to the year at BC Place, that's for sure. but, overall, the feeling is one of justified optimism.
"There's a point and we'll take it," Gressel added. "We're on the board and hopefully, we continue to roll now."
"Let's keep playing like this," concluded Sartini, "because we will win soon, and a lot of games."
Perhaps the second leg of the CONCACAF Champions League clash with Real España, a tie in which Sartini's side are 5-0 up from the first leg, can be an opportunity to refine and rebound.
Toronto FC 1-1 Columbus Crew
So far in 2023, TFC's season has been one characterized by questions over one man's fitness and an inability to close out a win.
For the third straight game, the Reds were ahead in the second half and failed to record a victory.
"By and large, I didn't think the second half was good enough," said TFC coach Bob Bradley. "Each game there's been bits and pieces of things but, no, we're not at the level that I think we can be."
For Federico Bernardeschi, not holding out for a first win of the season at the first time of asking in front of BMO Field's frozen clientele is a big regret.
"I'm very disappointed today," Bernadeschi said post-match. "I feel bad because it's the first match in our stadium, with our fans, it's cold and the people come in the stadium for us, and the people need the win, need the three points to be enthusiastic about the game.
"We expected more from this game, we need a win and we lost the chance tonight. We need to improve, we need to win. This is not what we expected from the start. Three matches with one loss and two ties is not good for my mentality…"
Nor for the fans', Fede.
In clouds, though, there are silver linings.
One of the biggest bright spots of TFC's display was the performance of Denadre Kerr, the 20-year-old striker from Ajax, Ontario who was thrust into the limelight by a series of injuries to Reds attackers. Kerr scored three goals in 26 MLS games last season as a winger; he made it one in one in 2023 on Saturday as a centre-forward.
Bradley said he told Deandre Kerr "to give us as much as you can, don't hold back." And he certainly did that, putting his side ahead with a clinical striker's goal.
"I was comfortable, I've played as a nine before," said the young goalscorer. "I was happy to get the opportunity tonight. The fans are so great and energetic, it was an amazing feeling."
Finally, what about the big question: is Lorenzo Insigne nearly ready? After a week of hopes about his fitness, the star missed out again against the Crew.
Bradley told reporters he is "hopeful" that Insigne will be back next weekend, but the Italian is still experiencing a little groin pain when reaching for the ball. His first medical scan after the groin injury on opening night in D.C. showed a very minor strain, but he may need a second scan.
"He trained during the week and we've tried to be very aware of how he felt everyday. And (on Friday) there were still some moments where he felt a little something in the groin and we just didn't want to take any chances," Bradley explained.
Caution is generally the best policy. But with TFC having dropped seven points from winning positions in just three games already this season, the day Insigne is fit to play a full 90 can't come soon enough.
Nashville SC 2-0 CF Montréal
Not to be too flippant about it, but for all the frustrations of Whitecaps and TFC fans, both clubs' fanbases may be thinking the same thing: "at least we're not Montréal."
It's been a tough old start to life in Quebec for Hernán Losada. Three games played, three defeats, zero points, zero goals scored. The statistics make for grim reading. CFM are only the fifth MLS team ever to suffer no points and no goals through the first three games of a season
While all of that will be painful for Losada, the fact that his side haven't scored after 270+ minutes of play is a tough pill to swallow.
"That hurts me," Losada admitted post-game. "I'm an attacking coach and I like my team to score goals. I believe that a streak like this has never happened in my career.
"Possession is not important. What matters is our number of expected goals, our number of expected assists, our number of shots on target, our number of crosses in the penalty area… But whether we had more than two-thirds of the possession, I don't care."
Like TFC, CFM have been bitten by the injury bug in the early weeks of the season. Canadian men's national team veteran midfielder Samuel Piette was the latest important player to miss out this weekend, and winger Lassi Lappalainen has now suffered an abductor injury.
On the other hand, there was some good news in Joel Waterman's return to the defence. The former Canadian Premier League star and CanMNT World Cup participant admitted that CFM are trying to compete with a young and inexperienced squad.
"We build from behind like last year, we keep possession like last year, but we are not able to tip the scales in the final third like last year," said Waterman after his first start of the season. "This season, we are betting a lot on young players. Last year, we had veterans we could rely on and who we knew were going to be decisive… It's certain that the addition of one or two experienced players could help us."
Ultimately, the final word from the Montréal camp was similar to that of the Whitecaps: keep calm and carry on.
"Now is not the time to panic," said defender Aaron Herrera. "I've been playing in MLS for over six years. Sometimes the ball just won't go into the net. But the tide eventually turns."
---