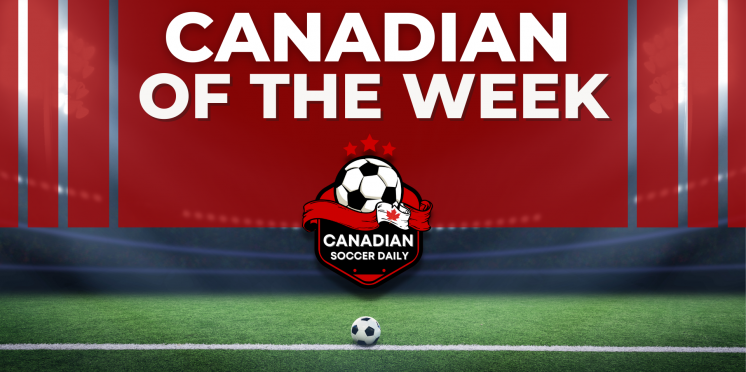 Canadian of the Week: Phonzie's run continues, David makes history, Lacasse lets loose
Choosing one Canadian to crown 'Canadian of the Week' seems to be getting harder and harder as the weeks go by … and that's a great thing for Canadian soccer!
Last week was quite eventful, and this past week was just about as good. There's plenty to go through, so let's get started with Canada's hat-trick hero!
Jonathan David
"Here's Johnny!"
Canada's star striker was certainly shining on Friday, March 10, netting all three of Lille's goals in a 3-3 draw with Olympique Lyon. David's first tally, his only from open play, was especially significant. The opening goal of the game made the Canadian Lille's standalone top-scorer of the 21st century, moving him past LOSC icon Eden Hazard, who previously held the title with 50 goals in 194 games.
David broke the record in style right after half-time, dashing between two Lyon defenders and finishing a first-time effort from Jonathan Bamba's cross. A real striker's goal.
David put his side up 2-0 with a penalty strike in the 61st minute, and then secured his hat-trick to make it 3-1 in the 79th with another clutch shot from the spot.
Lyon stormed back late to share the spoils courtesy of a brace from Alexandre Lacazette. The former Arsenal man drew the sides level at three apiece with his 89th-minute goal. David did all he could, but it wasn't enough for a win in the end.
The Ottawa native is now level with 2022 World Cup Golden Boot winner Kylian Mbappe atop the Ligue 1 goalscoring charts, each with 19 goals to their name. Friday's goalfest was just another top-shelf display from the Iceman, in what has been his best season as a pro.
David currently has 21 goals in 29 games across all competitions in 2022-23, already passing his mark of 19 goals in 48 games last season. He continues to improve year after year, and it's frightening to think that he can continue to get even better.
The CanMNT forward is quickly cementing himself as one of the best young goalscorers in all of Europe. It might not be long until we see David wearing the shirt of one of the continent's most prestigious clubs, and the 23-year-old seems to already have his eyes on the English Premier League.
A move of that magnitude could definitely come to fruition in the summer transfer window, but for now, David will aim to rack up the goals and maybe finish as the top goal scorer in Ligue 1 for 2022-23. What an achievement that would be.
Honourable mentions
Alphonso Davies will be kicking himself that he put up that sort of week and he's not earning the 'Canadian of the Week' title. If it was any other week Phonzie would be the clear winner, but hat-trick heroes are difficult to deny.
Davies featured in two matches for Bayern Munich over the past seven days, first dazzling during a 2-0 victory, eliminating Paris Saint-Germain in the Champions League, before scoring in a 5-3 Bundesliga win against FC Augsburg on Saturday, March 11.
In the midweek clash of giants, Davies commanded his left flank and shut down the threat of Moroccan sensation Achraf Hakimi to send Bayern through to the quarter-finals. Only midfielder Joshua Kimmich had more touches of the ball for Bayern than Davies, with the 22-year old contributing one shot on target, one key pass and 84 per cent pass accuracy in a textbook display from the Bavarians.
On the weekend, Davies put the icing on the cake for Bayern as they fought back to beat Augsburg and remain atop the Bundesliga table.
It was a wonderful first-time finish from the Canadian, who got on the end of a sumptuous cross from João Cancelo. Davies keeps on putting up world-class performances, and as a result, Bayern seem ready to tie the defender down to a new long-term contract.
Meanwhile, in Portugal, once again, Cloé Lacasse stole the show for Benfica this week, picking up two goals and two assists in a 5-0 win over Famalicão on Saturday. The CanWNT forward scored a backpost header for her first goal, before lifting a penalty past the opposition goalkeeper for her second of the match.
Make that 28 goals and 10 assists in 33 games for Lacasse this season. The Sudbury, Ontario native is in unmatched form as Canada heads into the 2023 Women's World Cup this summer.
Lacasse wasn't the only Canadian who turned heads over the course of the weekend in Portuguese league action though.
Caroline Kehrer scored a beauty for Braga in their 3-0 win over Vilaverdense, while on Sunday, Hamilton's Chandra Davidson notched a lovely assist for Sporting in their own 3-0 victory against Amora.
Sticking with the Iberian Peninsula, La Liga Larin was back to his best on Sunday for Real Valladolid, as Canada's all-time top scorer, Cyle Larin, found an early goal for his side in a 1-1 draw away to Elche.
The striker's fourth-minute tally would be the game's only goal until Valladolid conceded a stoppage-time equalizer.
It was a really nice strike from Larin, who had to be sharp to put away a quick cross from the left wing. After making a smart run to separate himself from a couple of defenders, the Brampton Benzema found the finish, earning his team a valuable point on the road as they fight to stay in the top flight.
Larin now has four goals in his seven appearances for Valladolid, an impressive return considering he has only made four starts since making the move to northwestern Spain. After struggling against bottom-of-the-table Elche, Valladolid will need to play better in their next match, a game at home against ninth-placed Athletic Bilbao on Friday, March 17.
Let's see if Larin can be Valladolid's saviour once again, as every match becomes more important for the White and Violets.
---