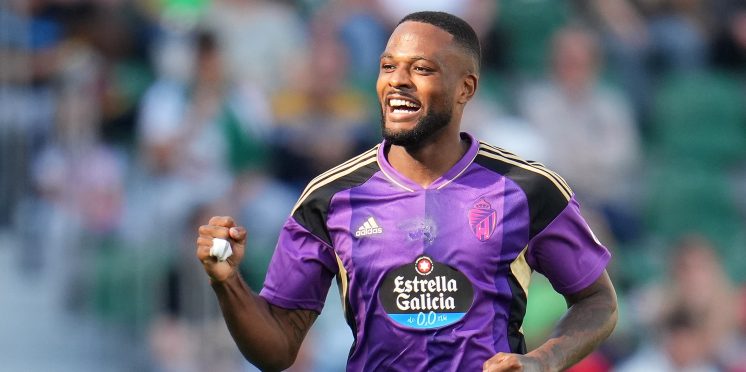 Multiple Premier League teams eyeing Canada striker Cyle Larin: report
Updated March 15
Cyle Larin hasn't been at Real Valladolid long, but he appears happy and settled.
Undoubtedly, he is in the best form of his recent career, having found an important role as the La Liga team's starting striker. The loanee from Club Brugge's return of four goals from his first seven games (just four starts in that time) gives him one of the best goals-to-games ratios in the Spanish top flight right now, and is one of the best returns from a debut slate of games in the league's history.
His performances in recent weeks were recognized with Valladolid's Player of the Month award for February.
When you're performing like that, you attract admirers.
Roberto Antolin of Spanish outlet AS reports that Larin's electric start in Spain has prompted two unnamed English Premier League teams to set their sights on the striker as a possible summer transfer target.
At the moment, that is only early interest from afar and Antolin stresses there are no firm indications that there will be an offer for the summer.
But it's understandable why lower-table Premier League clubs might want to look at Larin. Canadians have known for a long time the qualities he offers up front – he is the Canadian men's national team's all-time leading goalscorer, after all – and it turns out all he needed was regular playing time and a happy home. Who knew?
Larin is only on loan at Valladolid from Brugge right now, but it has been previously reported that Valladolid have an option to sign "that Brampton Benzema" (our nickname, yet to be trademarked) for a fee of just €1.5 million ($2.17 million CAD) this summer. That, clearly, is a bargain for a goalscoring striker in the prime of their career.
That permanent option will become mandatory if Valladolid are to survive and stay in La Liga – something which looked a mountainous task before Larin's arrival but looks eminently achievable thanks largely to his contributions. As Arturo Alvarado of Diario de Valladolid notes, Valladolid "did their homework" to ensure any success Larin may have while on loan at the club will not blow up in their face.
Larin has become a key figure – possibly Valladolid's most important player? – in the team's fight for survival. His goals – two match-winners and his team's goal in a 1-1 draw – have earned the club five extra points without which they would be not 14th in the table but second-bottom.
Even if the purchase clause does become mandatory and Larin joins Valladolid permanently this summer, there would be the potential option, should Premier League interest turn into a solid offer, for the northwestern Spanish side to sell him on immediately for far more than the fee they would pay for him. Much would likely depend on just how at home Larin feels at the club.
Meanwhile, if his goals ultimately are not enough to stop Valladolid from slipping to relegation, Club Brugge – the club that evidently didn't want him this season – would suddenly have a profitable commodity on their hands.
For now, of course, this is all just speculation, and all we want is to see Larin keep scoring in La Liga.
But should the Premier League actually come knocking this summer? Well, it would be difficult for any then-28-year-old from Brampton to turn down.
---