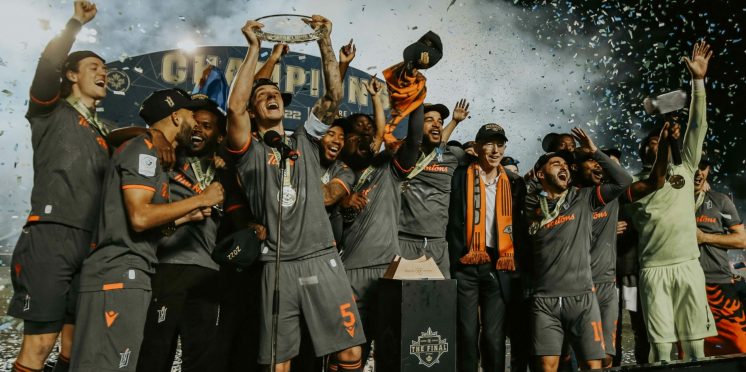 Canadian Premier League unveils new expanded playoff format
The Canadian Premier League is beefing up its post-season schedule in celebration of its fifth year.
On Wednesday, the league announced it is expanded its playoff bracket to include five teams for 2023 instead of four, continuing the pattern of changing the post-season format at the start of every new season in its history.
Essentially, the new path places added weight on regular-season standings and gives an advantage to the better teams.
The top five teams in the league standings at the end of the regular season will qualify for the 2023 postseason, leaving just three who won't. Teams' respective placing in the regular-season standings will directly affect their playoff schedule and difficulty as well as their ability to host games at home.
Four of the five playoff matches will be single-game elimination events, with the other being the battle to host the CPL final; there will be no two-legged ties. In addition, the 2023 playoffs will introduce extra time for any games tied after 90 minutes: the standard 30 minutes of extra play before a potential penalty shootout.
The playoffs will once again consist of five total matches, with each of the CPL regular season's top four teams guaranteed to host at least one post-season game.
The playoffs will begin on Wednesday, October 11, with the fourth-placed team hosting the fifth-placed team. That game's winner will advance to face the third-place team on Saturday, October 14, before the regular-season champion hosts the regular-season runner-up later that day in a battle for a CPL final spot and home-field advantage.
The other finalist will be decided in a fourth game between the loser of that first-against-second match and the winner of the match between the third-place team and the opening game's winner. That means that the favourite for the final — the winner of the semi-final contest between first and second place, and the final's host — will have a full two weeks to prepare for the big game.
"We are excited about this new format because it provides additional incentive to perform well during our regular season and makes every single playoff match essentially a final," said Mark Noonan, Commissioner of the Canadian Premier League. "Win and advance or lose and go home."
The 2023 CPL Final is scheduled to take place the weekend of October 28-29. The winner (as well as the regular-season champion) will qualify for the newly expanded CONCACAF Champions League in 2024.
---