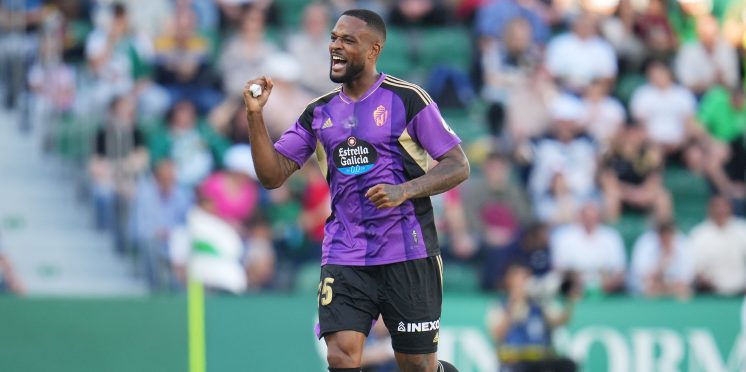 Cyle Larin says he would like to stay at Real Valladolid next season amid Premier League rumours
Cyle Larin's performances and impact in just a few weeks in La Liga with Real Valladolid have attracted plaudits and plenty of attention – from Valladolid fans, from Spanish soccer pundits, from watching Canadians, and, apparently, also from more than one English Premier League club.
After Larin scored his fourth goal in just seven games in Spain last weekend in the 1-1 draw at Elche, a report emerged that EPL sides are casting admiring glances in the direction of the Canadian men's national team's record goalscorer.
On Wednesday, after Larin was named Valladolid's player of the month for February, the on-loan striker sat down for a full-length press conference with local media.
One of the topics at hand was, unsurprisingly, his happiness in Valladolid and thoughts on his future.
Asked if he thinks his form can help him reach a higher team or a higher division, Larin, as always, responded professionally, dismissing any talk for the time being.
"Right now, I'm focused on helping the team to stay up and to keep winning the next games," the 27-year-old said. "The rest will come later. It's most important to win the next game."
Later in the press conference, the Brampton-born striker was asked whether he would like to continue at Valladolid beyond his current loan deal expiring at the end of the season.
"Yes, I would like to continue. I still have to keep working to help the team win and stay up. As long as we keep working hard and doing the right things, we will keep achieving what we want and the rest will come when the end of the season comes."
This instinctive finish gave Cyle Larin his 4th #RealValladolid goal in 7 games on Saturday in #ElcheRealValladolid

The #CanMNT man is on fire in Spain! 🔥 pic.twitter.com/HNJystl5es

— Canadian Soccer Daily (@CANSoccerDaily) March 12, 2023
It's typical of Larin to keep such a straight-laced approach to these sorts of inquiries; the striker has always been one to focus only on what he can bring to a team with hard work.
But, though he wouldn't admit it himself, the Canadian, who is on loan in Spain from Belgian side Club Brugge, has wowed fans, teammates, and observers alike with his explosive impact in northwestern Spain in just a few weeks.
After seven games (and just four starts), he is already second on the team in goals this season despite being just 22nd in minutes played. His goals have lifted Valladolid to 14th in the table with five crucial points, without which they would be second-bottom and mired in relegation trouble.
"I saw how the team played before I came and I knew where I could score goals and how I would score goals," Larin told the gathered media. "I said before I came here that I would score goals as long as I was playing… I've always watched La Liga and I know the football is enjoyable, and I have been enjoying the football on the pitch. I just want to keep scoring and keep helping the team win games and move up the table."
While Larin is only on loan at Valladolid from Brugge right now, the Spanish side have an option to sign him permanently this summer fee of just €1.5 million ($2.17 million CAD) this summer – a bargain based on his form so far. That option will become mandatory if Valladolid survive and stay in La Liga.
Even if that does happen, Valladolid could theoretically immediately sell him on to an EPL side for a big profit. But it sounds like both club and player are preparing for a long-term symbiosis.
Cyle Larin is in some pretty incredible company in Spain 🤩

Only Cristiano Ronaldo, Zlatan Ibrahimovic, and Robert Lewandowski have scored more goals in their first 7 La Liga starts than the #CanMNT striker 🤯 (via @DAZN_ES) pic.twitter.com/ns5c2twoZq

— Canadian Soccer Daily (@CANSoccerDaily) March 13, 2023
Larin emphasized that he has a "very good" relationship with his coach, Juan Rojo 'Pacheta' Martín.
"We speak as much as we can in English," Larin said. "I think that as I understand the [Spanish] language more, it will get better."
On that note, Larin revealed he is taking weekly Spanish lessons to continue to help him acclimatize to La Liga life.
"It's going well," he said of his adjustment. "It's going well with my family. I'm adapting to the team, I'm taking Spanish lessons once a week. Every day gets better, every week gets better… I've only taken three lessons so I need more! I will take more as time goes on."
Larin displays the ultimate professional attitude: block out the noise, work hard on and off the training pitch, and come up big when your team needs you. It's a level of commitment and application that any team would want.
For now, at least, Valladolid are the ones who have it.
---