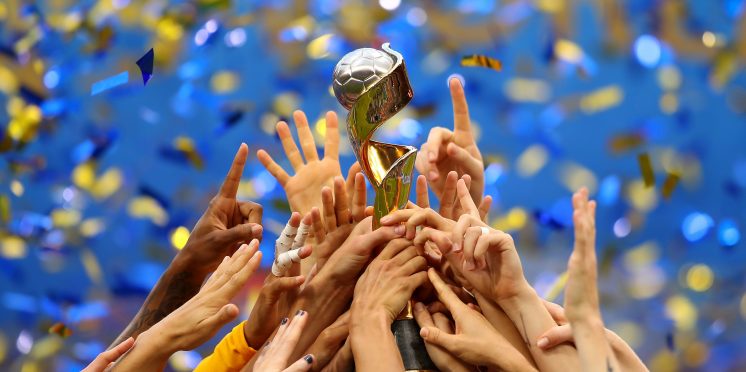 FIFA president Gianni Infantino promises 3x increase in Women's World Cup prize money, equal conditions
FIFA President Gianni Infantino was re-elected unopposed on Thursday, and in his closing remarks at the FIFA Congress, he addressed the upcoming Women's World Cup.
Infantino said that prize money for the 2023 Women's World Cup, which takes place in Australia and New Zealand this summer, will be $150 million USD, 10 times what it was in 2015 and three times the total handed out in the last edition in 2019, Infantino announced. $110 million will be specifically prize money, and $42 million will be allocated as preparation money distributed to clubs whose players participated in the tournament.
FIFA intends for the men's and women's World Cups to have equal prize money by the 2027 Women's World Cup, per Sky Sports.
He added that "for the first time ever" he plans to dedicate a specific portion of this payment to the players, per Reuters' Canadian reporter Lori Ewing. He noted that the prize money sum mainly has to go towards "football development."
"What we want to do as well… is to allocate a part of it, one part of it, to the players, and one part of it to the federation for investment in youth football, boys and girls," Infantino added.
That direct payment to players, he said, is step two of a three-step plan, the first step of which is equal conditions and services for all men and women playing at a World Cup, something which he claimed has already been established for this tournament.
"This will be a reality already for the cup in 2023: [the] same conditions as for the [men's] World Cup 2022 will be for the players and coaching staff in the Women's World Cup in '23." Those conditions will include dedicated base camps for all teams.
He added that Step Three will be the most complicated and will include a dedicated marketing strategy for the women's game.
FIFPRO released a statement on Thursday saying that it, its member unions, and the players welcome the announcement regarding conditions and prize money for the 2023 Women's World Cup. They note it follows a letter signed by FIFPRO and 150 players from 25 national teams calling for change.
"Through the voice and solidarity of players around the world over months and years of campaigning, significant progress has been made in the conditions, prize money, and prize money redistribution for the 2023 FIFA Women's World Cup," said FIFPRO.
"This ONLY happens because of the collectivism and solidarity of our incredible women's football playing community," added FIFPRO's Director of Global Policy & Strategic Relations for Women's Football Sarah Gregorius.
Later on Thursday, Infantino confirmed that FIFA has dropped its plan for the Saudi government tourist body to be a sponsor of the Women's World Cup sponsor after backlash.
"There were discussions with Visit Saudi … at the end, this discussion didn't lead to a contract."
Meanwhile, Infantino also criticized public broadcasters for offering 100 times less money for the women's World Cup than for the men's World Cup. He said they could offer women more money if broadcasters that criticize FIFA stepped up and started to pay more.
"FIFA is stepping up with actions, and not just words," he said. "Unfortunately this is not the case with everyone across the industry. Broadcasters and sponsors have to do more."
"As a father of four beautiful daughters, I know how much attention we need to give women," Infantino added.
It's worth noting that the prize money figure of $150 million is still considerably lower than the $440 that was awarded at the men's World Cup in Qatar.
FIFPRO's statement echoed the central message of the Canadian women's national team and the Canadian Soccer Players Association's fight of recent months: the work is far from done, and the pathway to full and true equality is long and "of paramount importance."
"We don't stop here," added Gregorius. "We are still on the pathway to equality but this is an important step. One letter. 25 countries. 150+ players. A catalyst for change."
---