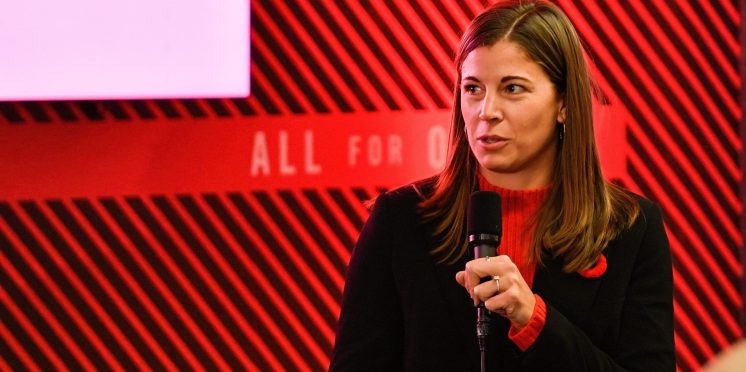 Stephanie Labbé says more ownership groups 'very close' to joining Project 8's Canadian pro women's league
The encoraging talk around Canada's upcoming first professional women's soccer league continues, as Stephanie Labbé says that a "a couple" more team ownership groups are "very close" to joining.
The former Canadian women's national team goalkeeper and Oympic gold medalist who is now the general manager of women's soccer for Vancouver Whitecaps told MLSsoccer.com's Charles Boehm that "the conversations we're having with other potential ownership groups are super exciting.
"There's a couple that are very close to joining in soon now. Clubs want to be a part of this."
Labbé, who earned 86 caps for CanWNT between 2008 and 2022 and has a NWSL winner's medal to go with her Olympic gold, is a key figure spearheading the new league alongside her former CanWNT teammates Diana Matheson and Christine Sinclair. Matheson is co-founder of Project 8, the league's founding company and organizer.
The Whitecaps, alongside Calgary Foothills, are one of the two founding clubs of the new league, and Matheson stated recently that the hope is to have all eight teams recruited by the end of 2023 ahead of the target start date of 2025.
Canadian business giants Air Canada, CIBC, and Canadian Tire have all come on board as founding sponsor partners, something which Labbé puts down to the fact the league will be great not only for Canadian soccer but the country on the whole.
"I think the more conversations we have and the more we talk about it, the more that people are really seeing the benefit of this, and that this is so much greater than just soccer," the 36-year-old continued, stressing that Project 8's intent to "keep that money right here in Canada, invest in our own youth" will have numerous positive effects.
"This is a movement. This is going to be huge for business, this isn't just helping young female soccer players. This is helping coaches, referees, business administrators, commentators – the list goes on for how great this is going to affect the whole sporting world and economy."
Ultimately, as Matheson and Co. have emphasized already, the heart of this new league will be all about representation and opportunity.
"There are so many people that unfortunately [have] lost [pro sports opportunities], not only just athletes, but people off the field as well," Labbé added. "Some incredible female coaches, referees, business administrators, people that have had to leave the country to pursue their dreams in sports. And so now, to be a part of this exciting time of bringing women's professional soccer to Canada, it's really awesome."
---