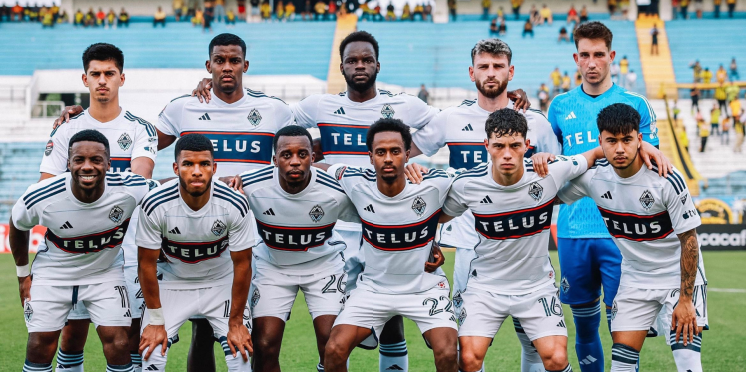 Vancouver Whitecaps to face MLS Cup winners LAFC in CONCACAF Champions League quarterfinals
Like so many Canadian teams before them, the Vancouver Whitecaps lost in San Pedro Sula Wednesday night. But thanks to a 5-0 first-leg win over Real España at BC Place last week, the Caps dumped their Honduran opposition despite a 3-2 loss at the Estadio Olímpico Metropolitano.
"I'm happy the qualification was never in discussion. We were always in the game," head coach Vanni Sartini said post-match. "And at the end, I told the guys, even if they were a little bit down, today we did not lose 3-2, we won 7-3. So we need to be happy."
It wasn't the most entertaining match for the neutral, or Caps fan for that matter, until American forward Brian White opened the scoring in the 66th minute, just five minutes after coming on to replace Cristian Dájome.
Real España heavily out-chanced the Caps, with 10 shots on-target compared to Vancouver's four. The hosts battled their way back to a 3-2 victory, thanks to goals from Getsel Montes and Ramiro Rocca.
But another Caps goal, courtesy of Simon Becher, put the game completely out of reach of the Hondurans.
With Vancouver up by five goals coming into the match, Sartini experimented with his starting 11, swapping out eight players who started in Saturday's 1-1 draw at home FC Dallas. New Designated Player signing Sergio Córdova started, and Canadian goalkeeper Thomas Hasal took back the gloves from Yohei Takaoka.
And there was a dog in attendance.
If there's not a dog in a Central American stadium, is it a true CONCACAF experience?
Sartini admitted he expected España to play aggressive and attacking football and that his team did a solid job withstanding and countering with White's opening goal.
"And then it became a little bit careless," Sartini added. "I think players were very tired at the end. And the fact that a lot of players who played 90 minutes, they never played 90 minutes before today. And the wind became a big factor in the second half.
"We need to do much better in terms of positioning, in terms of being aggressive. There are some players that they don't get the fact that if you are zonal, it doesn't mean you are a stick. We need to attack the ball."
The Caps were shown six yellow cards, something Sartini thinks can become a problem in the next round.
"I think we took too much yellow today. I think a couple of them were avoidable, a couple of them were maybe 50/50 yellow, but unfortunately we got them," he said. "We'll have everyone for at least the first leg against LAFC and then we'll see.
"It will be a nice clash against probably the best team in North America. It's going to be a great stage for us to try to go to the semifinals. So I'm really happy that we went through."
LAFC fended off Costa Rican side L.D. Alajuelense, winning 4-2 on aggregate, winning 3-0 in Costa Rica before falling 2-1 at BMO Stadium Wednesday night.
The first leg of the quarterfinal clash will be played between April 4-6, with the second leg scheduled between April 11-13.
The winner will move on to face either 2022 MLS Cup runners-up Philadelphia Union or LIGA MX side Atlas FC in the semifinals.
Elsewhere, fellow MLS side were bounced by Liga MX giants Tigres UANL, courtesy of the away goals tiebreaker that is still in use in the CCL. CONCACAF should've made an exception considering this bicycle kick goal by Ercan Kara should've counted for two!
---