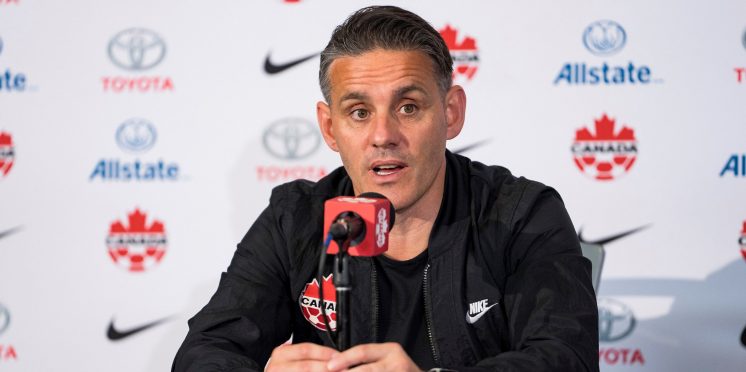 'We're the hunted now': Canada coach John Herdman talks changing attitudes, higher quality
The Canadian men's national team are entering a new era, and John Herdman knows it.
As CanMNT prepare to face Curaçao and Honduras in CONCACAF Nations League clashes over the next 12 days, Herdman acknowledged on a call with Canadian media that the land has shifted.
"We've got to ensure there isn't any complacency going into CONCACAF because there are no easy games…" said the Englishman. "We're the hunted now, not the hunters in many ways…
"We've had enough time to let the World Cup go and the excitement and the feelings from that. CONCACAF is a different beast. You're not the underdog anymore. You've got to get results in tough places where teams want to beat you."
Certainly, things will not be the same anymore.
In CONCACAF – and, arguably, beyond – Canada are a marked team these days. Post-Qatar, they are no longer competing and hoping to break through but expected to be one of the leaders in the pool. Every opponent from Curaçao to Mexico and the United States will see CanMNT as a prize scalp to take in battle in 2023 and beyond.
That change in sentiment comes at a time when, possibly unlike the start of previous new cycles, Canada has so much to play for on several fronts. There's the Nations League, yes, but performance in that competition now has a direct influence on Canada's hopes of competing strongly at not just the upcoming editions of the Gold Cup but also the 2024 Copa América.
As Herdman has said before – numerous times, in fact, for it is a point worth labouring – to compete at the level that is no longer simply aspirational but required, CanMNT need to face high-calibre opponents on a regular basis.
"Hopefully, we can get more Tier 1 games," Herdman continued. "Canada can't go into its next tournament with only one game against a Tier 1 opponent in a decade… We need those games, and hopefully some friendly matches in September and October open the door to that."
Talking to reporters, Herdman also discussed the need for Canadian players to spread out across the globe, further permeating higher-quality leagues. This winter has been a good one on that front.
As well as the leading lights such as Alphonso Davies, Jonathan David, Cyle Larin, and others continuing to take Europe by storm, they have been joined in recent months by the likes of Alistair Johnston at Celtic and burgeoning starlet Ismaël Koné at Watford. Then, there's ex-Vancouver Whitecaps man Derek Cornelius and former Canadian Premier League stars Dominick Zator and Victor Loturi now shining in Europe. The list goes on and will grow lengthier by the transfer window.
Asked about the importance of CanMNT having stars in their squad who show their qualities on the big stages such as Europe's top five leagues, Herdman noted it's a key facet of the kind of success Canada yearn for.
"You have to have players playing at that [high] level," he said. "We've got some young players in MLS who are knocking on the door and that's great. But while MLS is a great league… Champions League, Europa League, those are the leagues and experiences I want my players to have. That's the reality…
"At the highest, we may have eight Tier 1 players. The average to get out of a [World Cup] group stage – the new high this year – is 16… We're confident we may have some players tracking in Europe's top five leagues, but it takes two decades, three decades to get to where the US are now, the likes of Morocco and Japan, to have them there in those numbers."
Herdman also touched on the plan to transition to a younger team ahead of 2026, something that is inevitable with the likes of 40-year-old captain Atiba Hutchinson, 36-year-old Steven Vitória, and 35-year-old Milan Borjan highly unlikely to be on the field or in camp come the co-hosted World Cup in three years' time. "I think there is some transition expected over the next year or two," Herdman said. "I think there'll be a transition (as soon) as this year."
The conversation, Herdman's first detailed discussion in weeks, would have been incomplete and remiss without acknowledgement of the fact that all this change for CanMNT comes amid the context of the public struggle for equality and deserved recognition that the women's national team have had to endure in recent months.
CanMNT and CanWNT players have reiterated numerous times that they stand together in that battle, and Herdman admitted there is "no doubt that what's happened behind the scenes has taken an emotional toll."
As the former head coach of the women's team, he himself is close to the issue.
"It should be a really celebratory time in our football history, but it's becoming a time of provocation and change, and that's important," he added. "As a leader, you can't just ignore these things. You have to fully understand what's happening in that environment and what people are really trying to say with their actions."
Empathy, understanding, and solidarity, he knows, are vital. Not just now, but always, in all situations. That's what Canadian soccer should be all about – now, and moving into any new era.
---