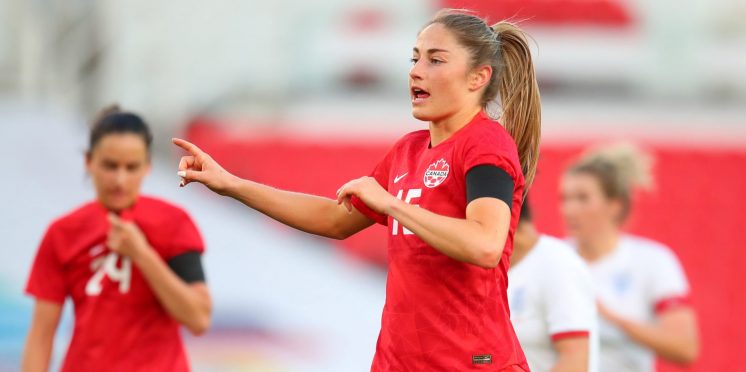 Canada star Janine Beckie to miss 2023 FIFA Women's World Cup with torn ACL
The absolute worst-case scenario for any player preparing for a World Cup has come true for Janine Beckie.
The Portland Thorns confirmed Friday evening that the Canadian superstar suffered a torn ACL in a pre-season friendly and will miss the entire 2023 NWSL season, which means Beckie won't be playing for Canada at this summer's Women's World Cup.
Beckie left the pitch on a stretcher Wednesday night in a friendly between the Thorns and the United States women's U-23 team.
The 28-year-old went down holding her knee under no challenge or contact 17 minutes into the match and was substituted off during the 19th minute. She was spotted leaving the stadium on crutches and in a brace, and naturally CanWNT Twitter tried to pinpoint the moment of injury.
Beckie, as is her nature, will work ferociously to get back to health and fitness, something well known by her national team teammates.
Beckie was Portland's projected starter at right wing and was set to be part of CanWNT's starting XI at the Women's World Cup in Australia and New Zealand this summer. To be robbed of that is almost unbearably cruel.
Beckie is a reigning Olympic gold medalist, a reigning NWSL champion, a two-time FA Cup and two-time English League Cup winner, and a Canadian centurion, having won her 100th cap for CanWNT during February's SheBelieves Cup.
At that time, Canada head coach Bev Priestman hailed her versatility and leadership.
"I think Janine's true football quality is what makes her so versatile," Priestman continued. "And then you go and add her athleticism … She's not only contributing to this team on the pitch but also off the pitch. She's grown in her leadership and is just an incredible human being. There's a long way to go for Janine, I think that's the exciting thing. What is scary is that she hasn't reached her full potential yet."
Beckie's 100-cap status gives her a three-digit total that more accurately reflects her prominent role within the team camp.
A star on the field, Beckie emerged as a leader off the pitch too, helping CanWNT veterans Christine Sinclair and Sophie Schmidt lead the fight for equality alongside fellow midfielder Quinn, as one of the strongest voices in Ottawa last week and during last month's SheBelieves Cup.
The Thorns confirmed that Beckie will have surgery in the coming weeks and will conduct her rehabilitation with Portland's sports medicine staff.
---