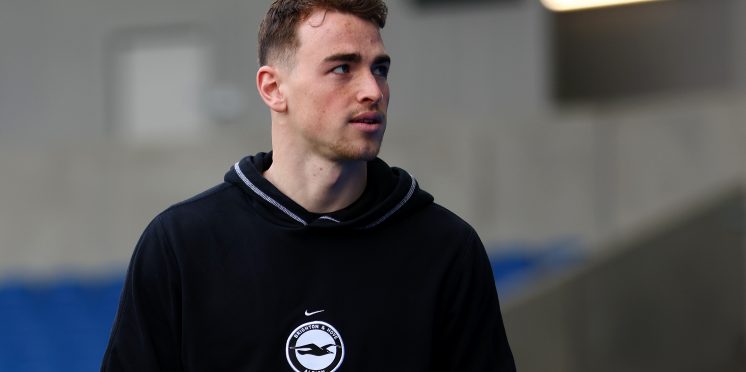 Five surprise inclusions in John Herdman's latest CanMNT squad
A major talking point leading up the release of the Canadian men's national team's March roster was who would return to the fold following the 2022 FIFA World Cup, as well as which players John Herdman may bring back or introduce to the squad for the first camp of 2023.
The likes of Alphonso Davies, Jonathan David, Alistair Johnston, and Milan Borjan all retained their places in the group, while Canadian Premier League alumni Dominick Zator and Victor Loturi were indeed named to the squad, confirming OneSoccer's report one day before the official roster release.
In addition, a handful of players who fans would have not had on their radars for this specific window were named to the squad. Whether it be a Bellville native playing for Brighton & Hove Albion's U21 side, or an out-of-form Toronto FC striker who is still battling a lingering injury, some of Herdman's selections may have been deemed a surprise.
So, here are five names from Herdman's 23-man squad that you may have not expected to see on Les Rouges' latest roster.
Tom McGill
It is safe to say that nobody saw this one coming. Born in Bellville, Ontario, Tom McGill moved to England at a young age and signed for Brighton's academy at the age of 14.
Now 22, McGill features sporadically for Brighton's U21 side in the Premier League 2. So far this season, he has made four appearances, three of which ended in victory for his side. With that, what may have prompted an unexpected CanMNT call-up?
To start, the goalkeeper is only 22, and is training and playing alongside Premier League reserves, which in itself is no easy feat. Given the opportunity he now has to work alongside esteemed Canadian shot stoppers Milan Borjan and Dayne St. Clair, as well as train with some of the CanMNT's European-based forwards, McGill is all but set to gain invaluable experience during the upcoming camp.
Having represented England's U17s, it looks as though a commitment to the CanMNT could be on the cards for the young goalkeeper following his inclusion.
Scott Kennedy
Scott Kennedy made five appearances in Canada's Octagonal campaign on the road to Qatar, but a shoulder injury just weeks before the tournament ruled him out of contention to make Herdman's final 26-man squad.
Since then, the Calgary-born defender has played a total of 22 minutes in the 2. Bundesliga, partly due to the fact that he was sent off in his first game back from injury.
With the 25-year-old only now returning to action and having not completed a full 90 minutes since October 2022, Kennedy's inclusion is somewhat surprising, especially given the fact that Joel Waterman and Lukas MacNaughton are both fit and were involved in Canada's Middle Eastern adventure last winter.
In spite of Kennedy's lack of form and match fitness, Herdman may have included the defender to give him a much-needed change of scenery and reunite him with his compatriots in a bid to boost the Calgarian's morale.
Atiba Hutchinson
The jury may be out on this one, but given Atiba Hutchinson's uncertain future and lack of game time at Beşiktaş, this call-up may come as a surprise to some Canadian soccer fans.
Hutchinson's last competitive appearance was on January 27th, 2023, where he came off the bench for five minutes in a 3-0 Beşiktaş victory over Alanyaspor. Since then, reports in Turkey have suggested that the CanMNT's all-time leader in appearances will hang up his boots at the end of the 2022-23 season.
Herdman has previously stressed the importance of Canada's upcoming Nations League games, so Hutchinson's inclusion is surprising due solely to the fact that he has not played significant minutes since the World Cup.
His presence in the locker room is arguably second to none amongst the group, but with several others on the outside looking in, there may be an inclination to believe that Canada's captain may not see as much game time as he saw in Qatar when Les Rouges return to Nations League action.
Moreover, could this window be Hutchinson's grand farewell to the men's national team ahead of the squad's return to BMO Field on March 28? For now, Canadian soccer fans will have to wait and see.
Ayo Akinola
He may have set Toronto alight after scoring nine goals in 15 MLS appearances back in 2020, but since recovering from the ACL injury he sustained during the 2021 Gold Cup, Ayo Akinola has failed to replicate the form which saw him earn a place in Herdman's squad almost two years ago.
A frustrating 2022 season saw Akinola score four times in 30 games in all competitions. So far this season, he has yet to find the back of the net and is currently on Toronto FC's injury report with a lower-body issue. With all that in mind, has Akinola warranted a CanMNT call-up over the likes of Jacob Shaffelburg, Liam Millar, and Iké Ugbo?
Akinola's fitness will surely come into question before Canada jet off to Willemstad, Curaçao ahead of their clash with the island nation on March 25, but seeing as his last competitive goal came back in October 2022, CanMNT supporters can only trust that Herdman knows what he is doing with regards to bringing Akinola back into national team contention.
Charles-Andreas Brym
Currently on loan at FC Eindhoven from Sparta Rotterdam, Charles-Andreas Brym was included in just one of Herdman's squads during the Octagonal. Of late, Brym has gone on to feature just once for Les Rouges, playing 30 minutes in the 2-0 friendly victory over Qatar in October 2022.
As of March 16, 2023, the French-born forward has scored two goals in eight league games for Eindhoven. He is indeed in good form for his club and is still only 24, but Brym has been a peripheral figure amongst the CanMNT for the last couple of years.
In spite of the possibility that he was selected over usual regulars Millar and Ugbo, Brym's inclusion may lean more towards fascinating rather than surprising. Yet, if he is to see game time this month, all eyes will be on the forward to see what exactly he can bring to the men's national team on a consistent basis.
---