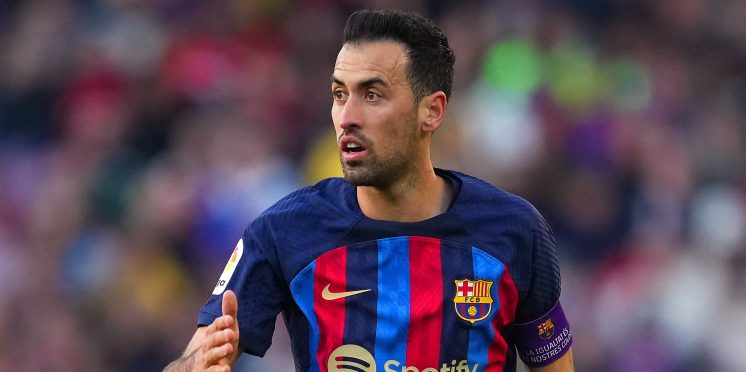 Toronto FC make contract offer to Barcelona midfielder Sergio Busquets: report
Not sure how this would fit into the third Designated Player budget.
According to Spanish outlet Mundo Deportivo, Toronto FC are one of several clubs that have presented an offer to Spain and Barcelona legend Sergio Busquets.
The 34-year-old defensive midfielder, who has won virtually all there is to win at the highest level of European club and international soccer, reportedly has offers from TFC, Inter Miami, and three clubs in Saudi Arabia. Busquets contract with Barcelona, the team he has been with for 18 years, expires in the summer.
He has not yet decided on his future, with a renewal from Barcelona on the table. The report notes that while Busquets is thought to have "several suitors" in MLS, Miami is the most attractive destination for him if he decides to move stateside in the summer. Miami have been pursuing him for a long time, Mundo Deportivo report, and they want to pair him with his former Camp Nou mate Lionel Messi.
Meanwhile, in Saudi Arabia, the best offer has come from (you guessed it) Cristiano Ronaldo's team Al-Nassr. CR7's club have reportedly offered Busquets a net salary of €36 million for two seasons. Al-Nassr's great Riyadh rivals Al-Hilal are also interested.
One thing Busquets won't do is move to another European club, as he does not want to be a rival of Barça.
Another thing he won't do, if we're being realistic, is move to TFC. To be frank, we can take this rumour with not so much a pinch but a fistful of salt. Even if the World Cup winner found the proposition of Lakeshore soccer more appealing than Miami life or the Middle Eastern sun, there is surely no way MLSE and the TFC top brass could make the numbers work. It seems highly unlikely they have offered him a deal.
Head coach Bob Bradley said earlier this winter that "there is not a set guy that fits the DP budget that we have" and had said that there was no current plan for how to fill that slot. "We're always considering different ways that we can do things in order to maximize salary budget and make the best roster we can," he explained.
To that end, Jonathan Osorio is currently filling the third slot, with Lorenzo Insigne and Federico Bernardeschi's salaries not leaving room for much else.
"Potentially, we could [add] a third DP but the budget for the third DP is not at the same level [as it was for Insigne and Bernardeschi]," Bradley told Michael Singh last week. "That's an MLSE [budget] decision."
Throw in the fact that AS reports that Busquets feels he still has an important role to play for Barcelona under former teammate Xavi's management, and the fact he has played in 32 out of 39 games for the club this season, and it seems that's already the end of the idea of seeing Busquets at BMO Field.
Still, a team can dream, and a rumour mill can keep turning. Perhaps Busquets' former La Masia teammate Víctor Vázquez can speak to his mate and get him to agree to some kind of pared-down TAM-friendly deal? Then again, perhaps not.
---