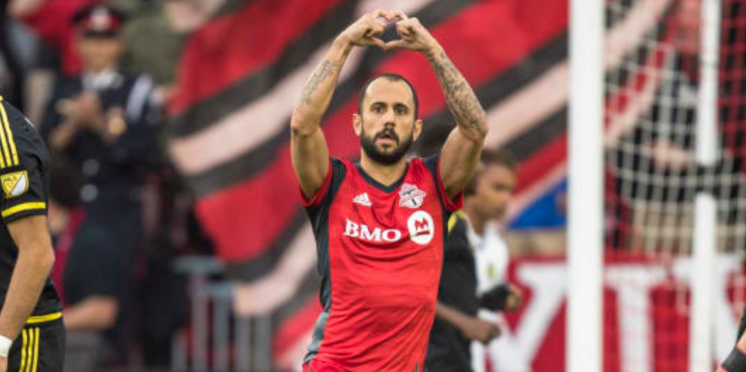 'I want to retire here': TFC's Víctor Vázquez feels deep connection to Toronto after MLS Cup triumph
There are few people that made as big of a contribution to turning Toronto FC into a winning organization than Víctor Vázquez.
After helping lead TFC to a historic MLS Cup triumph in 2017, the Spaniard has returned to dawn the Red and Onyx again after four years away in Qatar, Belgium and with former TFC manager Greg Vanney at LA Galaxy.
Now that the fan favourite has returned, it's clear Toronto is where Vázquez would like to eventually finish his playing career, thanks in large part to that treble-winning season of 2017.
"It was happiness," Vázquez told Michael Singh of Room 4-4-2. "I'm happy to be back, happy to feel again the supporters, the feeling from the people of Toronto. We had amazing times here and for me to be on this pitch again, in that environment, was a very special moment for me in my career, even at 36 years old. It's always something that I'm going to take forever with me because we had so many good memories here with me in the past. … It's always good to be back where you feel like you are at home."
Vázquez's appearance in last Saturday's 1-1 draw against the Columbus Crew came 1,617 after his last TFC appearance, October 6, 2018, against fellow Canadian MLS side the Vancouver Whitecaps.
The Spaniard admitted if it were any other MLS club that had picked up his rights in the MLS Re-Entry Draft from the Galaxy, he would have returned to play in Spain instead.
"I just wanted to be here because it's Toronto FC," Vázquez said. "What I told Bob [Bradley] and what I told Bill [Manning], I would like to retire here."
He was quick to point out he has no immediate plans to retire and will play out the rest of this 2023 season and potentially 2024. But there's no guarantee that final contract year, should he play, will be in Toronto. But he'd like it to be.
"I feel happy," he said. "That's why I came back to Toronto also because in this city I feel home."
Toronto FC host David Beckham's Inter Miami Saturday night in the second home game at BMO Field of this brand new 2023 MLS season.
---