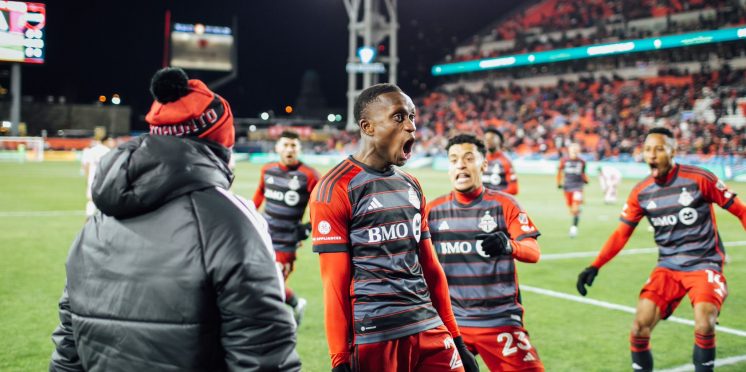 Toronto FC get hot in the cold to earn first win of 2023
There's nothing like winning to take away the sting of standing in the cold for 90 minutes.
The brave Toronto FC fans that withstood -14°C temperatures were rewarded with three points as Toronto FC blanked Inter Miami 2-0, thanks to goals from Canadian men's national team midfielders Jonathan Osorio and Mark-Anthony Kaye.
"Obviously, we have the best right-back in the league, and so when he overlaps like that, it's dangerous for our team and it just takes runners being aggressive in the box. And for me, I feel like it's one of my strengths," said Osorio, clearly appreciative of the perfect pass from Laryea.
The victory snapped a nine-game winless run dating back to last season, as well as a five-game losing streak to Inter Miami. It's hard not to think that the temperatures played a factor in the lack of fight Miami showed after conceding the opening goal.
"Today was a cold one. After the home opener I'm thinking maybe [we'll get] a little bit better weather, but no it was worse – but that's Toronto, and to be honest, I love it either way," Osorio said.
"We deserved it. We grinded. It was a cold night but the fans were out in full force and we did our thing," said Johnson, who made three saves to keep his first clean sheet since joining TFC this winter.
In front of Johnson, Matt Hedges and Sigurd Rosted seem to be developing a real chemistry that should make Toronto FC a much more difficult side to score against than they were last season. Johnson's clean sheet was TFC's first since July 23 against Charlotte FC – the famous Insigne and Bernardeschi debut game. It was also 22 matches ago, which is a streak Bob Bradley will be happy has been snapped.
"It's an important win. … Most of all the players needed to feel a good win. They needed to feel a team effort where everybody comes in at the end of the game and everybody knows that all the guys around have contributed," Bradley said post-match.
Fans of both Toronto FC and the U.S. men's national team have gotten used to watching Bob Bradley marshal along the touchline while son Michael controls the midfield. Saturday night, as opposing manager Phil Neville walked up and down the BMO Field touchline, his son Harvey was bombing forward as Inter Miami's right-back. It was the first time that two MLS managers had their sons out on the pitch in the same match.
With a win under their belt, Toronto FC will hope to keep the momentum going as they fly west to visit the San Jose Earthquakes on Saturday, March 25.
---