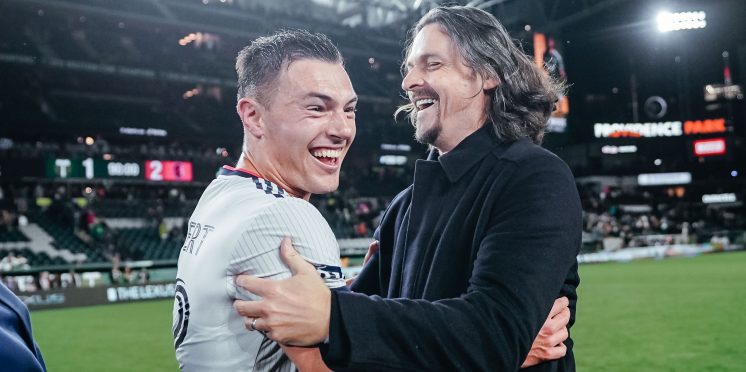 Standout St. Louis City centre-back Kyle Hiebert earns first Canada call-up
St. Louis City defender Kyle Hiebert said playing for Canada would be a "dream come true." Now, the Winnipeg native will get to live that dream.
Less than 10 days after telling OneSoccer's Josh Deming about his dream to wear the red and white, the 25-year-old has been called up for the Canadian men's national team's upcoming Nations League games against Curaçao and Honduras after CF Montréal centre-back Kamal Miller dropped out due to injury.
Hiebert's form is worthy of the call, as he has been at the heart of an excellent start for St. Louis' debut MLS season. Despite making his professional debut just a month ago, he has been a rock at the back for the club, who have won all four of their games so far – the first expansion side ever to go four-for-four to start their first season.
When St. Louis took on the Portland Timbers earlier in March, Hiebert scored the game-winning goal for his team and walked away with his first Man of the Match honour.
The Manitoba native solidified his chances for a call-up after helping his team record their first clean sheet of the season against the San Jose Earthquakes last time out on March 18.
These performances clearly didn't go unnoticed, and now Hiebert has a chance to prove he can provide quality at a position where CanMNT needs a little depth, particularly with Miller out.
Miller has been playing through calf pain in recent weeks and though he started CFM's last fixture, the dramatic 3-2 win over Philadelphia Union at Olympic Stadium, he was unable to complete the game. Herdman had initially said he hoped the 25-year-old would be able to join partway through camp, but the decision has now been taken to let him rest.
The Englishman will be eager to solve what is something of a centre-back dilemma and find the perfect long-term replacement for long-time defender Steven Vitória, who is 36 now. Hiebert will likely find himself battling the likes of Derek Cornelius, Doneil Henry, and Joel Waterman for that spot.
Following Hiebert's addition to John Herdman's first CanMNT squad since the World Cup, the Canadian roster now features four uncapped players, after hopeful debutants Victor Loturi, Dominick Zator, and Tom McGill were all called up as well.
---