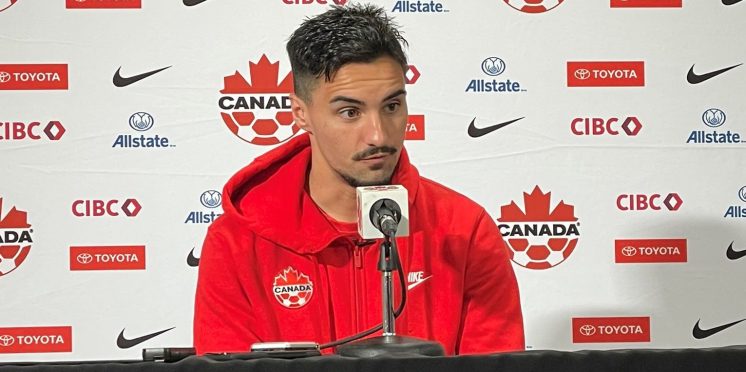 'If we don't win trophies, it's not worth it': Stephen Eustáquio, Alistair Johnston redefining CanMNT success
It's been a banner year for the Canadian men's national team, but the unanimous noises around the team's camp are that they are just getting started.
Filled with the successes and confidence of playing at high levels across Europe and now riding on the experience of contesting with some of the world's best in Qatar, CanMNT are here to cement themselves as a big player within the global game.
Next stop: filling the trophy cabinet.
"If we end our careers and don't have trophies, it's not worth it," Stephen Eustáquio told Canadian media on Monday at Toronto FC's BMO Field, the site of Canada's Nations League showdown with Honduras on Tuesday. "We have to win."
Piggybacking off of the must-win attitude Eustáquio was preaching, Alistair Johnston also spoke on the progress he and his compatriots have made since their journey to qualifying for the 2022 FIFA World Cup.
"We're much further along now we've climbed that mountain [of qualifying for the World Cup]," Johnston said.
"It's so easy to kinda get stuck up there enjoying the view but now we realize we just climb back down the mountain and we've got to go again… There are constantly other levels we're striving to get to. We still feel like we have so many ways we want to push and grow as a group."
"We're getting a little more battle-hardened. We felt the rush of competing on the big stage and now we want more of that. Hopefully, over the next couple of years, we're going to show we belong and get to play against some of the best teams in the world… Those top teams, at the end of the day, we can play with them. We showed that."
Part of the team's growth over the last year has been the array of success several players have had at the club level. Johnston earned himself a move to Scottish giants Celtic, while Eustáquio is continuing to establish in Portugal's Primeira Liga with FC Porto.
The Leamington-born midfielder has his own personal goals – "I want to reach 10 goals and 10 assists this season [for Porto]," he told the gathered reporters – and he's also got lofty plans for Canada. The task now is working out how to get to those heights, and executing the plans.
Asked how high CanMNT's ceiling is, Eustáquio says it depends on how much help Canada gets from dual nationals, referencing how tough it is to keep up with Mexico and the USA because of their recruitment.
Johnston also expressed his sentiments regarding the importance of players garnering experience abroad.
"It's so important for us as we continue to get more and more guys overseas playing for big clubs in big leagues that we do well, because that sets the foundation for those European clubs to understand that there are footballers here, you can come and get players that can really raise the level of your club…"
"Once you understand there isn't a huge divide between yourself and the top players in other countries, it does fill you with confidence… You want to play at the highest level, you want to be under pressure… It's addicting, you can't really get enough of it."
Ahead of their upcoming battle on the pitch, there is still a fight to be fought off it with regards to the ongoing debacle between the national teams and Canada Soccer/Canadian Soccer Business. On that, Johnston knows just how important this off-field battle is for the future of all national team programs and the sport in Canada.
"It's not just about our national teams, it's about all of Canadian soccer, the youth programs too. We know that if we don't act on it, we could potentially miss an opportunity here to really change the framework and the structure that have unfortunately hindered the men's and women's side and all the youth teams because of some deals were made that we don't totally agree on."
It has certainly been an action-packed last year for Canadian soccer on all fronts, and with two pieces of silverware at stake for the CanMNT in 2023, the journey is only just beginning for this enthralling group of players who are hungry for success.
---