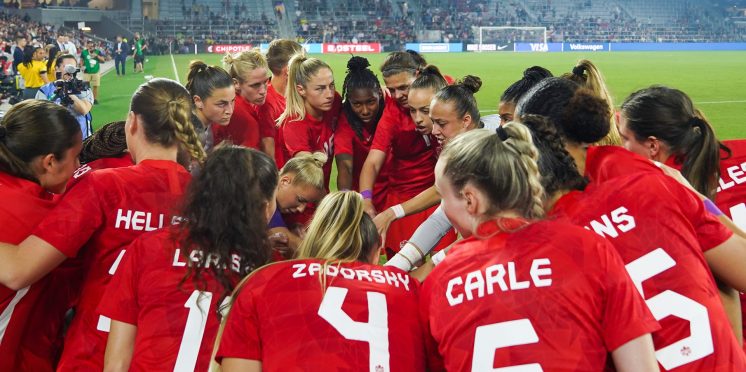 Bev Priestman's CanWNT squad for April friendly vs. France announced
With the SheBelieves Cup well in the rearview mirror, the Canadian women's national team is focused on the next international window and a great technical test against one of the European favourites at this summer's Women's World Cup.
That doesn't mean the off-the-field issues are in the rearview mirror, but from a preparation standpoint, this is a key tune-up. It's not lost on head coach Bev Priestman how important this short window is, and how difficult it will be to limit her squad to just 23 players for the flight to Australia.
"With the World Cup around the corner, this camp is pivotal," said Priestman. "We will get to do some real good work as a group, both tactically but also culturally. I'm excited to get the group together after a very difficult February window."
With the NWSL-based players now in season, the competition and fitness levels will be more measurable for Priestman and her staff.
"We purposely targeted a one-game window, where we will rehearse a true Women's World Cup lead-in and the associated processes," added Priestman. "This camp is the last opportunity to see players in our environment before I have the difficult task of picking a 23-player World Cup squad in June."
It will be just the 16th time the CanWNT has played France. The Europeans have won the last two meetings, both 1-0 finishes in France.
Regulars Deanne Rose, Nichelle Prince, and Desiree Scott, are recovering from injury and were not named to the squad, nor was Janine Beckie who suffered a devastating season-ending injury in pre-season with the Portland Thorns.
GK- Sabrina D'Angelo | ENG / Arsenal FC
GK- Lysianne Proulx | POR / SCU Torreense
GK- Kailen Sheridan | USA / San Diego Wave FC
CB- Kadeisha Buchanan | ENG / Chelsea FC
CB- Vanessa Gilles | FRA / FCF Olympique Lyonnais
CB/FB- Sydney Collins | USA / NC Courage
CB/FB- Jade Rose | USA / Harvard University
CB/FB- Sura Yekka | FRA / Le Havre AC 
FB- Allysha Chapman | USA / Houston Dash
FB- Gabrielle Carle | USA / Washington Spirit
FB- Ashley Lawrence | FRA / Paris Saint-Germain
FB- Jayde Riviere | ENG / Manchester United FC
FB- Bianca St-Georges | USA / Chicago Red Stars
M- Quinn | USA / OL Reign
M- Simi Awujo | USA / University of Southern California
M- Jessie Fleming | ENG / Chelsea FC
M- Julia Grosso | ITA / Juventus FC
M- Sophie Schmidt | USA / Houston Dash
F- Amanda Allen | CAN / NDC-CDN Ontario
F- Jordyn Huitema | USA / OL Reign
F- Cloé Lacasse | POR / SL Benfica
F- Clarissa Larisey | SWE / BK Häcken FF
F- Christine Sinclair | USA / Portland Thorns FC
F- Adriana Leon | ENG / Manchester United FC
F- Evelyne Viens | SWE / Kristianstads DFF
---