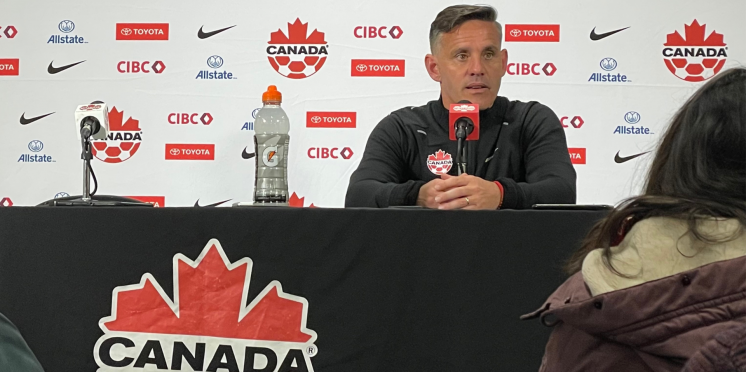 'I hope a lot of fans book time off and turn up in Vegas': John Herdman wants Canada fans to paint Sin City red
The saying "what happens in Vegas, stays in Vegas" will not apply to the Canadian men's national team this June.
If Canada can win their CONCACAF Nations League semi-final against Panama, and a final against either the United States or Mexico to lift the first Canadian men's trophy since winning the Gold Cup in 2000, it will be impossible for anyone to stay quiet about it.
"I hope a lot of fans book the time off and turn up in Vegas," Canada head coach John Herdman said in his post-match press conference. "That's the next thing for this team … we'd love to see the fans come over the border and fill half of that stadium."
Gone are the days when Canada would play host to a CONCACAF nation with a large immigrant population within driving distance and the stadium feel like an away match. While just a little more than 13,000 were in attendance on a cold CONCACAF Nations League Tuesday night, a far cry from the packed house that celebrated Canada's World Cup qualification 366 days ago, they were treated to a dominant Canadian performance, which is becoming the new normal.
"The step they've taken tonight, it's a level of performance that should give us a lot of hope and belief that we can win those finals," Herdman said, before knowing CanMNT's June 15 semi-final opponent would be Panama, who defeated Costa Rica Tuesday night to secure their spot in the Nations League Final Four.
"We're ready to reach that next level now. That means going into these tournaments with the mindset of winning these trophies," said Jonathan Osorio, who scored Canada's fourth goal.
Winning trophies had been a regularly expressed theme amongst Herdman and his players, even before Canada turned up in Toronto to play their first game on home soil since beating Jamaica on a freezing cold day in March of last year to clinch World Cup qualification. Another theme that Herdman has driven home since Canada were defeated by all three 2022 World Cup opponents is the need to play better opposition, from outside of CONCACAF.
"If this team is not playing tier-one games, we're wasting our time. They have to get those experiences," Herdman said, while referencing that Croatia outplayed CanMNT and exploited their inexperience on matchday 2 of the World Cup group stage.
"That's what the players want (to play strong World Cup calibre opponents). We've built a reputation now that teams want to play us," he added. "These next three years, if they're going to play matches like this week in and week out, it's not helping them."
Safe to assume that Mexico nor the United States will feel particularly confident about potentially facing Canada in the Nations League final. And if they're truly being honest, Honduras could hardly feel offended by Herdman's belief that Canada have played themselves out of Honduras' league.
"When you've got [Cyle Larin and Jonathan David] in a front two … there are not many teams that can live with us," Herdman said, emphasizing that Larin's recent success in Spain has only made him a stronger player and a more lethal finisher. "Cyle Larin is a guy that could help us win a Nations League final."
Canada will face Panama on June 15 in Las Vegas in the semi-final round, which could set up a dream final against either the United States or Mexico three days later.
---