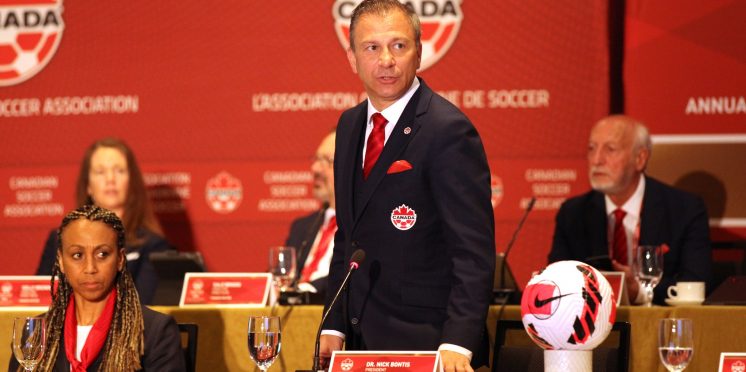 Ex-Canada Soccer presidents Nick Bontis, Victor Montagliani face MPs' questions on CanWNT, CSB deal
Thursday brought the turn of Canada Soccer presidents Nick Bontis and Victor Montagliani to testify in front of the Standing Committee on Canadian Heritage, and the duo, along with Canada Soccer Chief Financial Officer Sean Heffernan, were questioned by MPs on a number of topics.
Bontis, who resigned as president of Canada Soccer on February 27 amid mounting internal and external pressure and a declaration of no-confidence in his leadership, appeared via video link in front of the Heritage Committee on Thursday, as did current CONCACAF president and FIFA vice-president Montagliani and Heffernan.
What was learned? To be frank, not much, other than a two-hour session (reduced to under 90 minutes by a delayed start and an early end) is nowhere near enough to get to the root of so many serious issues. While some lines of questioning were strong, long-winded answers and continued changes of focus meant that the level of scrutiny many observers would have been hoping to see never materialized.
The committee session was the third held this month concerning issues such as Canada Soccer's financial dealings and transparency and its relationship with its national team players and their representative groups. The trio had been formally summoned at the last session, when Canada Soccer general secretary Earl Cochrane and two CSA directors were grilled by MPs.
Here's a whistle-stop tour of what was discussed.
Bontis on feeling "terrible" about Christine Sinclair comments
In his formal opening remarks on Thursday, Bontis addressed head-on the suggestion from Canadian soccer icon Christine Sinclair that he once referred to her campaigning for equality as "bitching" in front of a hearing.
"While I do not recall using the language she referenced, I don't dispute it, and my exact choice of words is not the point," Bontis said. "What matters is that she felt I treated her concerns disrespectfully. I feel terrible about making her feel this way and I have since communicated with Christine and her agent to apologize personally. It was a mistake, I take responsibility for it, and I regret it."
Bontis would have been making those remarks last week were it not for the fact that he did not attend the previous session alongside Cochrane and co. due to personal reasons. He was alleged to be in an unfit state of mind after a person accused of harassing him over the past year unexpectedly died in the days leading up to the session.
On Thursday, Bontis, visibly emotional, thanked the committee chair and members for allowing him to miss the last session and told of the stress that the situation had placed on his family. "I work with a panic button under my desk in my office here at McMaster (University) … every day I worried about the safety of my wife and kids," he told the MPs, noting that he and his family received hundreds of messages and threats from the harasser.
Meanwhile, in his own opening comments, Montagliani placed a focus on referencing what he suggested was a lack of domestic media involvement and support for soccer in Canada in past years, noting that "[Canada Soccer's] expenditures over a decade allowed our fans to catch 95 percent of Christine Sinclair's goals and 100 percent of Dwayne De Rosario's goals, which would not have been the case [otherwise]."
Bontis on his resignation
After the opening round of statements, Conservative MP Kevin Waugh asked the first question, quizzing Bontis why he stepped down from the CSA, which Bontis confirmed was due to the provincial associations' demand for him to resign. Bontis added he wrote his resignation while in Guatemala supporting the Canada men's national Under-17 team after hearing the associations wanted him to resign.
Pressed further for why exactly he believes the provincial associations wanted his resignation, Bontis said he didn't know.
"I don't know. I asked them for an explanation," he responded. "I made an explicit request to set up a Zoom call." In the days leading up to the letter from the provincial associations, Canada Soccer had been presented with a list of grievances by the Canadian Soccer Players Association, the official representation for CanWNT.
Bontis and Montagliani refuse to divulge salaries
In his own first line of questioning, Liberal MP Anthony Housefather directly asked both Montagliani and Bontis for a "ballpark" figure of much they earned in the last year. He did not get any information.
First, Montagliani gave a lengthy roundabout answer that led nowhere before time ran out, despite Housefather's numerous requests for a succinct answer. Bontis was more direct in his reply, in a manner, saying he was not comfortable disclosing that info due for privacy reasons, although he mentioned it's a stipend from CONCACAF. Housefather cited media reports claiming that Montagliani is paid $2 million per year for his work with CONCACAF and FIFA and Bontis earns more than $125,000 from CONCACAF.
NDP MP Peter Julian later added that he was "disturbed" by the fact that Housefather's direct upfront questions had not been answered.
Bontis and Montagliani on the lack of a professional Canadian women's league
Bloc Québécois MP Sebastien Lemire asked Bontis why Canada Soccer didn't push for the creation of a pro women's league at the same time as it did the men's Canadian Premier League.
Bontis called it "an issue of sequencing" and noted that Canada Soccer subsidized the salaries of CanWNT players who played in the US-based National Women's Soccer League for years before the CPL was formed. The two things, some readers may suggest, are separate and independent issues.
Montagliani added that the issue of creating a women's league "was never not discussed; in fact it was important, and we had committed significant resources [towards it]." He reaffirmed that Canada Soccer's financial contributions towards NWSL salaries showed they had committed to women playing in top leagues and noted that the plans for a league in Canada to be run by Project 8 will "hopefully" bring Canadian pro women's soccer to fruition.
Bontis on pay equity
Meanwhile, Bontis reaffirmed his commitment to pay equity numerous times in the committee session, noting it's something he has always supported.
"The big fundamental difference between CanWNT and CanMNT upon my arrival as president was that CanWNT already had a collective bargaining agreement in place," he said. "The men did not, they negotiated based on camps. To promise pay equity complicates the negotiation because all three parties have to come together for an agreement." Bontis noted that CanMNT only formed an official representation group in late summer 2022, "which allowed us as Canada Soccer to be able to negotiate. In good spirit, all three parties have continued the communications."
Bontis emphasized Canada Soccer's recently divulged plans to ensure World Cup prize money facilitates dollar-for-dollar pay equality, something that was featured in the CBA negotiations that Canada Soccer made public for the first time quite literally on the eve of the women's team's initial Heritage Committee session a few weeks ago.
A salient point there is that Sinclair and her fellow CanWNT reps have repeatedly emphasized that pay equity is just one piece of the puzzle, as they see it. What they are really after is equal opportunities and equal treatment to the men's team.
On that point, Bontis categorically denied that CanWNT had been flying economy while CSA officials flew business class. "The women flew business class to competitions in Australia, and in November to competitions in Brazil," Bontis added. This retort overlooked the fact that a recent report suggested that it was not Canada Soccer who paid for CanWNT to travel to Brazil for their training camp and games in November, but a private donor.
Bontis on the Canadian Soccer Business deal
As in every session so far, another point of discussion was Canada Soccer's deal with Canadian Soccer Business.
That agreement has been strongly criticized by many for seemingly signing away Canada Soccer's own negotiating power and increase revenue based on the performances of the national teams, as well as for its length, which could reach up to 20 years until 2037.
Bontis posited that the reason a 20-year deal was signed is that a long runway is needed to support a men's professional league.
Conservative MP Rachael Thomas said that the deal "smells fishy" and "just doesn't make sense." Answering a question, Heffernan revealed the CSB deal was signed after Canada Soccer's analysis of sponsorship in 2019 and suggested that any increases in the teams' valuations as products "exceed my expertise as I am not a certified business evaluator on anticipating future growth," a comment which appears to say that potential improvements in national team's performances either were not considered or were discounted.
Thomas asked both Bontis and Heffernan whether the deal was signed as a favour to the founders of CSB, and whether they as individuals gained in any way personally or professionally from signing the deal, the responses to which were a resounding no.
What's next?
This third session, in truth, brought few meaningful revelations. The scrutiny will continue; whether current interim Canada Soccer president and longtime board member Charmaine Crooks will be called to testify remains to be seen.
Meanwhile, against this backdrop, CanWNT are gearing up to play France in 12 days' time. They are thought to now be in a legal strike position, and the team's player reps have said they will consider action if they feel their voices have been ignored and their demands have not been met.
---