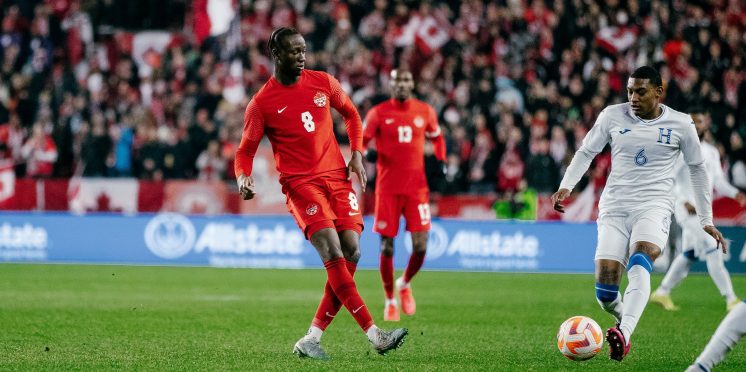 Ismaël Koné hailed by Canada teammates and CanMNT head coach John Herdman as 'the future'
At 20 years of age, Ismaël Koné is already beginning to prove that he is ready to be CanMNT's engine in midfield for years to come.
In only his fourth start for Canada, Koné's performance during the 4-1 win against Honduras not only impressed his head coach John Herdman but also drew the highest of public praise from the Englishman.
"Probably one of the best midfield performances I've ever seen in the time I've been here. That was a real breakout performance for Canada," said Herdman about Koné, as quoted by the Canadian Press.
He can go "wherever he wants to … if he can keep his feet on the ground," said Herdman, as quoted by Toronto Star. "The kid is young, but he has an old head on his shoulders. He always seems like he wants to learn. I don't want to get high on people because at that young age, they tend to have those purple patches. But with him, he has the right temperament to push on."
Along with the manager's backing, Koné also has the vote of confidence from his teammates.
CanMNT icon Atiba Hutchinson, a Canadian midfield legend who is almost literally twice Koné's age, hailed the Watford youngster for a maturity that belies his youth. With a century of national team appearances under his belt, Hutchinson knows a thing or two about high ceilings, and he sees a great future ahead for his young teammate.
"The ceiling is very, very high for him," said Hutchinson. "He plays with a lot of maturity, you can see that not a lot fazes him. He's out there playing like he's playing in his backyard. He's got a great career ahead of him and I'm happy I get to witness it being his teammate."
Many observers have already expressed the opinion that Koné is the heir in midfield to Hutchinson, who is now 40. And, with the Brampton native giving his seal of approval, the 20-year-old will be eager to fill that void in midfield for years to come.
Koné's midfield partners on Tuesday were also impressed. The former CF Montréal man lined up alongside Stephen Eustáquio and Jonathan Osorio in the centre of the field, and the FC Porto and Toronto FC stars lavished praise on their young counterpart.
"With the physicality he has, he's so intense," said Eustáquio, whose technique was perfectly complemented in the midfield by Koné's physicality and composure.
Before Canada kicked off against Honduras, Koné was presented with Canada Soccer's 2022 Young Player of the Year award, recognizing his remarkable journey over the last 13 months or so. From playing 25 games for CFM in 2022 to featuring as a substitute in all three games for Canada in Qatar, to now being a solid midfielder for CanMNT and in the EFL Championship, it's all too easy to forget that Koné only made his pro debut a little over a year ago.
"Amazing, right?" said Osorio of Koné's progress. "I was talking to him about the way he's come up and how it happened really fast; it's an amazing story. This is a young player that's playing with a lot of confidence, and he has a bright future. He's just scratching the surface of what he can accomplish right now, and that's very exciting for the program."
Exciting it certainly is, for everyone involved with CanMNT. This team will see a lot of turnover and growth over the next few years, and Koné already looks certain to have a prominent role in whatever comes next.
---