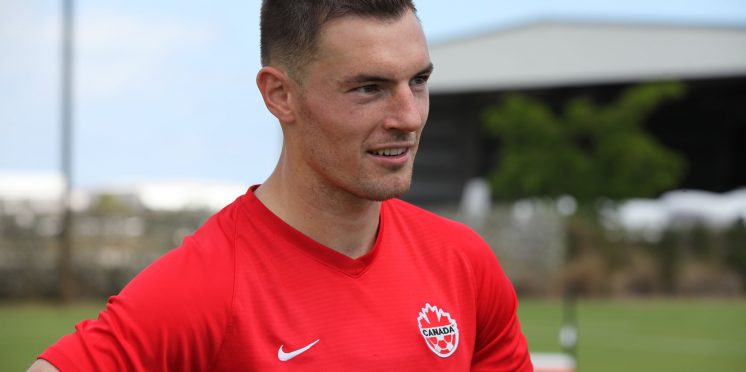 Kyle Hiebert is a shining example of CanMNT's post-World Cup evolution
You never forget your first.
It's true in every avenue in life, really. But for professional soccer players, particularly on this side of the pond where betting on yourself requires a unique level of creativity and luck to pave your own pathway, it can carry a bit more meaning.
There was no doubt when Kyle Hiebert stood at the halfway line Tuesday night at BMO Field, seeing his No. 6 go up on the substitutes board as he stepped onto the pitch alongside Richie Laryea, Sam Adekugbe, and the legend himself Atiba Hutchinson, that he was fulfilling a lifelong dream. He was finally a Canadian international.
"I always hoped that this opportunity would come with Canada, and it was just amazing to experience that today," Hiebert told reporters in the mix zone after CanMNT's 4-1 demolition of Honduras in the CONCACAF Nations League.
There are some people that really light up a room with their smile. Anyone else that stood in his presence on Tuesday will tell you that Hiebert is one of those people. And this 2023 season, his first as an MLS pro with expansion side St. Louis CITY, has given the 25-year-old plenty of reasons to smile.
His club's perfect start to life in Major League Soccer is one of the most incredible stories of the expansion era. Four solid performances, including a match-winning goal against the Portland Timbers, and some good fortune in being available when the injury bug strikes, earned the Winnipeg native his first international cap.
"To come in and contribute to a big win that puts us through to the Nations League semi-finals is something I'll never forget," Hiebert said. "I wasn't sure [if he was going to see action Tuesday night] but I was prepared to be ready to go in and was just excited to get the opportunity, especially here at home. My wife was here, my mom and sister, and some cousins and friends. It was amazing."
Hiebert got the phone call from head coach John Herdman to join the team in camp after CF Montréal centre-back Kamal Miller was forced to drop out with an injury. After starter Scott Kennedy went down with an injury just before the hour mark, Herdman looked down the dugout to call on Hiebert to go in.
"He put a shift in this week," Herdman said post-match. "That's just a solid performance. He looked a little bit nervous but he settled in … and he's all in. Kyle brought maximum intensity and he's got quite a personality. He's a good guy. The universe turned and he got his moment tonight and I think it's one that will live with him forever."
Like Herdman, Hiebert has a club sporting director that has his back and recognizes how special this year is quickly becoming.
Side note: Has anyone ever seen Lutz Pfannenstiel and Cavalry FC head coach Tommy Wheeldon Jr. in the same room? Absolutely magnificent hair. And they both have a real knack for motivating and inspiring their players.
Back to the matter at hand and what is inspiring for Canadian men's national team fans is that Hiebert is just one example of how much deeper the pipeline can be, and should be for years to come.
Centre-back had been a real concern for Canada heading to Qatar. With Kennedy and Doneil Henry's injuries leaving Herdman to rely heavily on 36-year-old Steven Vitória and Miller, it was hard to see where a successor might come from in this next World Cup cycle. Few people would've looked at MLS Next Pro.
But there Hiebert was, working on his craft as St. Louis CITY prepared for their first season in MLS, developing into a player and a professional that national team success can breed. Ismaël Koné is another example of that, as a guy that knew there was an opportunity to play at a World Cup and elevated his game, and accelerated his trajectory, in time to put himself in a position to be on that plane.
Hiebert admitted when I asked him what he would've said if someone had told him a month ago that his club side would get off to a perfect start and he'd make his international debut at home that it would have been a "dream come true." Not unbelievable from him, though it may have felt like a canned answer from many others. The rise of the men's team and the successes of qualifying for the World Cup, and now reaching a continental semi-final, is inspiring a new crop of Canadian players to push on to that next level.
"This [national team] is not the [one] of 10 years ago. It's a new team, it's a new style. You just see the quality all over the pitch," Hiebert said.
It's too early to tell whether Hiebert can make himself a regular in this national team set-up. But he certainly didn't look out of place in Herdman's eyes, and if he continues to turn heads in MLS, we could see the Winnipeg native marshalling Canada's back-line when the World Cup is here in three years. Hiebert has the right mindset when it comes to looking forward.
"It just seems to be getting better and better, so who knows what's around the corner next?"
---