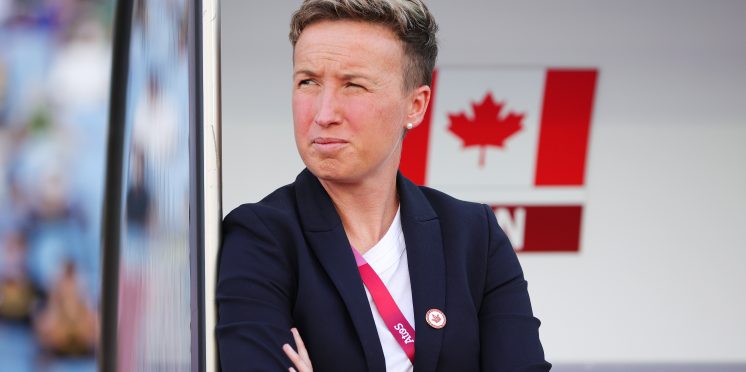 'This camp is pivotal': Bev Priestman understands value of CanWNT pre-World Cup window
The 2023 Women's World Cup is right around the corner, and the Canadian women's national team will have their sights firmly set on building upon their Olympic gold medal-winning campaign.
Ahead of the festivities in Australia and New Zealand, the CanWNT will play France in a friendly on April 11, with head coach Bev Priestman having just named the 25 players who will take part in the upcoming camp.
"With the World Cup around the corner, this camp is pivotal," said Priestman.
"We will get to do some real good work as a group, both tactically but also culturally. I'm excited to get the group together after a very difficult February window."
Amid the ongoing dispute with Canada Soccer and frustration about the Canadian Soccer Business (CSB) deal, the players will look to end their preparations on a high in what Priestman says will likely be the CanWNT's final tune-up game before the World Cup.
With that, the reigning Olympic champions will not play on home soil until after the 2023 edition of FIFA's quadrennial showpiece.
"I don't think that's going to happen," Priestman said on a potential June friendly. "It's not likely with the NWSL schedule. The window to have a home game was probably the April window."
Priestman also spoke on the upcoming window itself, and its importance prior to the tournament in July.
"We purposely targeted a one-game window, where we will rehearse a true Women's World Cup lead-in and the associated processes," said Priestman.
"This camp is the last opportunity to see players in our environment before I have the difficult task of picking a 23-player World Cup squad in June."
Priestman has got some tough decisions to make before officially announcing her 23-player squad. Unfortunately, a handful of players remain doubts to make the trip to the World Cup.
Desiree Scott, Deanne Rose, and Nichelle Prince's World Cup hopes remain up in the air.
"It's going to be tight," Priestman said on whether the trio will be ready to go for the World Cup.
One player who will definitely not be on a plane to Australia is Janine Beckie, who suffered a season-ending ACL injury during a preseason match for the Portland Thorns against the US Under-23 women's national team. 
Priestman said she "took a big gulp" after hearing the news, and that the former Manchester City forward's versatility will be missed.
The next few months are set to be quite eventful for the CanWNT, especially given the fight to be fought off the pitch. On the pitch though, the focus will now turn to the upcoming friendly against France, which looks set to be the last time we see Priestman's side in action before returning to the world stage.
---