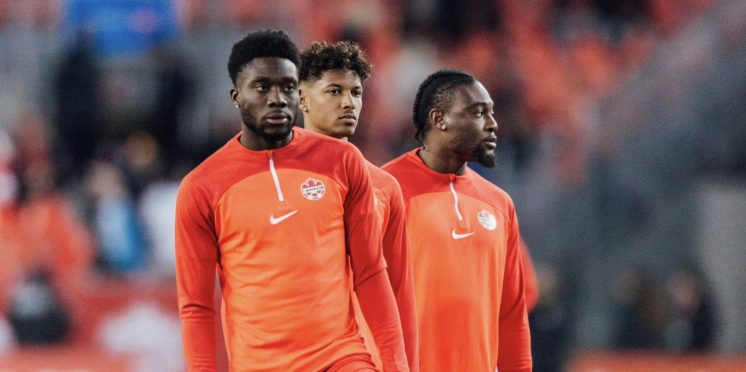 Which 'tier one' nations could CanMNT potentially play in 2023?
Now that we've been reminded what it's like to watch the Canadian men's national team play on home soil, when will we see them again and more importantly, who will they play?
Les Rouges showed out for their supporters in Toronto, crushing Honduras 4-1 in CONCACAF Nations League play in their first match on home soil since qualifying for the 2022 World Cup in Qatar.
It was a fun, high-scoring homecoming for a team that captured the nation's attention around this time last year. Tuesday's win guaranteed Canada's place in the Nations League Finals in June, where John Herdman will look to guide CanMNT to their first piece of silverware since 2000.
It was a celebratory evening no doubt, but Herdman's post-match comments somewhat shifted the atmosphere, bringing the reality of the team's unique situation back into the spotlight.
"If we're serious about really competing at a World Cup, as an organization, as a country, we got to get after it. We have to take control of our destiny," Herdman expressed.
"If this team's not playing tier one games, getting tier one matches consistently, we are wasting our time. [These players] have to get those experiences."
This isn't the first time Herdman has echoed this sentiment either. Following the group stage exit in Qatar, Canada's gaffer told CBC Sports' Andi Petrillo that the pre-tournament preparation should've been better.
"That preparation to have got those extra games against big teams in Europe or South America. We have to play big nations, big games, and feel what it's like to be under the pressure of these quality players," Herdman said back in December 2022.
Looking ahead to the 2026 World Cup which will feature matches in Toronto and Vancouver, CanMNT will hope to produce a first-ever World Cup win and improve upon their performances in Qatar.
As World Cup hosts, Herdman and his team will have ample opportunity to organize friendly matches during the buildup to the tournament. But which teams could Canada possibly face… and when could they do so?
Let's try to find some friendlies!
June 12-20, 2023
Canada won't be able to schedule any friendlies during this next international window because they will yet again be busy with the CONCACAF Nations League. Alphonso Davies and company will need to dispatch Panama before facing either Mexico or the United States in the final, in lovely Las Vegas. It's worth noting that CanMNT has not played in a tournament final since the 2000 Gold Cup triumph.
June 26 – July 16, 2023
Canada will spend this mid-summer window competing in the 2023 Gold Cup, which the team qualified for after beating Curaçao 2-0 last week. As a Pot 1 team, the Red and White will avoid drawing Mexico, the United States, or Costa Rica in the group stage. The tournament draw is set for April 14.
In their last Gold Cup showing, Canada bowed out in the semi-finals after a heartbreaking 2-1 loss to Mexico back in July 2021.
September 4-12, 2023
The next update of the FIFA World Rankings will confirm Canada's place in the 2023-24 Nations League quarter-finals, meaning the team will avoid having to play in the tournament's group stage which is scheduled for this September and October.
That means that CanMNT is free to use the September and October windows to find a couple of friendlies, something Herdman alluded to during a virtual press conference on March 16.
But who might Canada play during this September international break?
We can rule out a South American nation as they are all scheduled to take part in 2026 World Cup qualifying. African countries will be completing their 2023 Africa Cup of Nations qualifying during this window, but will be able to schedule one official friendly in September as well. It seems rather unlikely that any of the African powerhouses would travel to face Canada, or that Canada would travel to the continent for the first time since playing two friendlies in Morocco back in October 2016.
The top teams of the Asian Football Confederation should be available for friendlies in September, with countries like Japan, South Korea and Australia not having yet announced any fixtures for the window. Canada met Japan in their final pre-World Cup friendly last year; another match against the Blue Samurai in Europe could be helpful for the Reds.
Looking at potential European opposition, options are limited because of the Euro 2024 qualifying, but some big names could still be in the cards. As hosts of the 2024 tournament, Germany is not taking part in qualifying but is instead scheduling friendlies. Rumours in January speculated that Die Mannschaft could travel to North America sometime this fall to face Mexico and the United States. With nothing yet announced, maybe the CSA could hijack that plan and face Hansi Flick's team somewhere stateside or better yet, here at home.
Over in Europe, the likes of France, Wales, Austria and Turkey all play just one qualifying match in September and will be looking for another friendly to round out their window. With CanWNT having already penned an April meeting against the French, perhaps that connection can help CanMNT get their own match against Les Bleus?
Also worth noting, CanMNT have played six friendlies in Austria since the turn of the century, most recently going up against Qatar in Vienna in September 2022. Ralf Rangnick's Austria could be open to a friendly in early September before they travel to Sweden for a September 12 qualifying clash.
Prediction: Austria vs. Canada in Vienna (September 9), France vs. Canada in Paris (September 12)
October 9-17, 2023
October will provide Canada two more opportunities to play some of the world's tier one teams.
In Europe, France should again be available, with only a October 13th date with the Netherlands scheduled during this time. Worth another shout, if Germany fly out to face Canada's regional rivals in September, they should be available for a meeting on European soil in October.
Sweden and Scotland will each have an opening in their schedule, with each team only playing one qualifier in October.
As mentioned above, South American teams will again not be available for October friendlies, but Herdman could look to either Africa or Asia for some other strong options. Teams like Morocco, Senegal, South Korea, Japan and Australia seem to have their calendars free. Australia will be in England to play the Three Lions on October 13, so a meeting with the Aussies could be a decent option for Herdman to consider.
Prediction: Germany vs. Canada in Munich (October 12), Australia vs. Canada in London (October 17).
November 13-21, 2023
Rounding out the calendar year, Canada will play both legs of its 2023-24 Nations League quarter-final tie against an opponent that has yet to be determined. If Canada advances from that matchup they will earn a spot in both the Nations League Finals and the 2024 Copa América.
If the squad is upset in the quarters, they will have a second chance to qualify for Copa América via the Play-In. CONMEBOL's signature tournament will be another opportunity for Herdman's group to test themselves against some of the world's best.
---