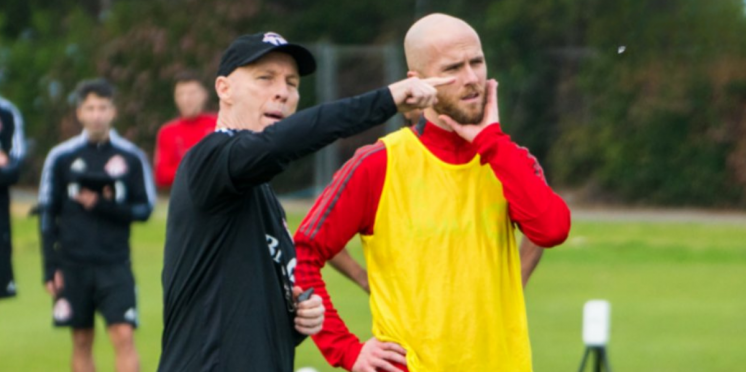 Ex-Toronto FC DP Julian de Guzman and TSN analyst Kevin Kilbane critical of Bob and Michael Bradley's father-son dynamic
There are some conversations that are just too difficult to have with your parents. For most people, those really uncomfortable chats can often be avoided or deflected to others. But what happens when that dynamic is unavoidable at work?
Toronto FC head coach Bob Bradley has managed his son Michael at all stages of their professional journeys. From the New York MetroStars in Major League Soccer before Michael departed for the Bundesliga, to the United States national team at the World Cup, and now at Toronto FC, in the later stages of their careers.
Playing for dad is just normal for Michael. But, while they happen to be one of three father-son combos in MLS this season — Phil and Harvey Neville at Inter Miami, and Josh and Owen Wolff at Austin FC being the others — the truth is it is not normal.
"That dynamic in itself is very strange in my eyes [to see] at the highest levels," said former Canadian men's national team legend Julian de Guzman during the TSN pre-game show Saturday night, before TFC's 2-2 draw with Charlotte FC.
"Toronto FC is the top club in our country. There is an example that needs to be set in terms of what is an actual professional environment like for pro players to be in. And that for me is not what pro players are comfortable walking into, in a locker room like that."
De Guzman's comments followed former English Premier League winger and Ireland international Kevin Kilbane's pre-match analysis that Michael Bradley's vulnerabilities on the pitch have really shown in 2023 and that the club simply can't rely on Captain Bradley the way they used to.
"At times when I've been watching him, I feel that he's a little bit slow to react," Kilbane said. "He can't cover the ground, and it's not necessarily the long running, that's something that I feel he could easily do. It's the little three- and four-yard runs where I feel he might just struggle to make up that ground that he needs to."
Bradley scored TFC's second goal of the game, which is the universal way to silence any critic. But Kilbane backed up his pre-match thoughts on SportsCentre with Glenn Schiiler after the game, inferring that Bradley's slow reactions contributed to several of Charlotte's second-half chances, with Ben Bender's opening goal being an example of how Bradley allows large gaps for the opposition to exploit.
There were signs of Michael's decline before he took a pay cut at the end of the 2019 season, rescinding his Designated Player title and salary to stick around and give the club a better chance to build a winning side for him to lead.
And when the club was winning in the pandemic-affected 2020 season, there were few questions asked. But after two underperforming seasons, and now that TFC have won just one of their first six games to start Bob's second year in charge, the TSN duo are wondering which Bradley will acknowledge that a change in the middle of the park is needed sooner rather than later.
"I don't want this to feel like it's a character assassination of Michael Bradley because it certainly isn't that. But, the father-son relationship… does Bob Bradley really want to tell his son that 'you're not neccessarily up to speed and you're actually leaving us a little bit exposed?' I don't believe that he would want to have that conversation with his son," Kilbane said.
"Well no, it's a hard conversation to have. Such an interesting and unique situation to be in as a teammate of Michael Bradley because players might want to talk about that, but you can't talk about that in the change room, and for obvious reasons," De Guzman replied.
They are not the first analysts to question how other players must feel playing for Bob and next to Michael. Bob's appointment before the start of the 2022 season as both head coach and sporting director begged the question whether Pops' arrival would bring with it a permanent shift from defensive midfielder to centre-back for Michael, or fast-track his transition into management. Several dominant defensive midfielders made successful transitions to the backline in their later years. Javier Mascherano made it look so easy, as did Javi Martinez. There's something about guys named Javi…
The Bradleys are used to nepotism critiques and may not be phased by the latest doubters. But with key offensive injuries that will limit Toronto FC's ability to score themselves out of bad situations, that level of criticism and pressure will only increase if TFC doesn't put W's in the win column and play to the level expected of a team with the highest payroll in the league.
---