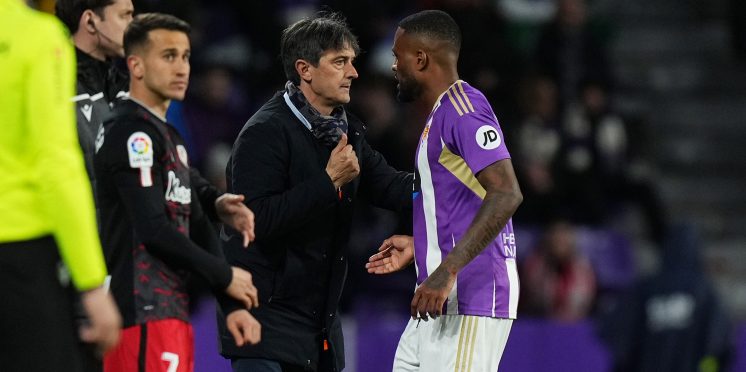 Cyle Larin's Real Valladolid fire manager Pacheta after Real Madrid thrashing, hire La Liga newbie
Updated April 4
We learned two things in La Liga this weekend. One: if you drop Cyle Larin, your team suffers for it. Two: if you drop Cyle Larin, you put your job at risk.
José Rojo Martín found that out the hard way.
On Monday, less than 24 hours after a Larin-less Real Valladolid were thrashed 6-0 by Real Madrid, the Ronaldo-owned Spanish club fired their manager, who goes by the name Pacheta, hitting him with the notorious "comunicado official" on social media.
The dismissal may seem harsh, given that Valladolid are hardly in crisis – even after Sunday's result, they are 15th in La Liga and have three wins, two draws, and four defeats from their last nine games. But it's not just Premier League clubs gripped by the fear of falling through the trapdoor.
In a club statement, the blanquivioleta said they recognize the role Pacheta has played with the team but noted that with a sole focus on surviving in La Liga, they had to make "a difficult decision."
Pacheta, who led Valladolid to be promoted back to La Liga at the first time of asking after their relegation, led with a "passion and dedication that will always be remembered and valued," said the club.
The head coach "built a sporting and loving relationship with the province of Valladolid that will remain forever as part of history," concluded the statement. "The club wants to thank Pacheta for his performance as a blanquivioleta, while wishing him the best of luck in his new personal and professional stage."
Larin will likely be saddened by the news, given that Pacheta is the man who brought him to Spain and reignited his career after a stagnant few months in Belgium with Club Brugge.
The Bramptonian striker has stated more than once in press conferences that he has a "very good" relationship with the coach.
"We speak as much as we can in English," the 27-year-old said last month, and he noted that one of the reasons he has been taking weekly Spanish lessons since his arrival in January is to strengthen that relationship even further.
Larin's performances, attitude, and goal return had won over Pacheta, earning him a locked-in starting place in attack until this weekend's trip to Bernabeu. Larin had said he was excited to test himself against the raft of the world's best who wear the white of Real Madrid, but he never got the chance; perhaps being rested by an overly-cautious manager after his international exploits for Canada, Larin didn't see a single minute at the famous stadium.
The Canadian has reiterated that he sees his current loan spell at Valladolid as a long-term marriage — "I like the idea of staying here, I feel comfortable with the staff, the fans, and the people," he said this week — but he will now to have to adapt to life under a new manager. An interesting footnote here is that both of Larin's teams' managers have now been sacked in the last few weeks, after Scott Parker was given the boot at his parent club Brugge.
Fortunately, Larin has already proven himself to be very resilient player. You have to be, to get over the nightmare of his time in Brugge and establish yourself as one of the most prolific strikers in La Liga.
For Canadian onlookers, Valladolid's next move is interesting viewing.
Ronaldo has gone for familiarity, turning to Cruzeiro, the other club in which he owns the controlling stage. On April 4, Valladolid announced they have appointed Paulo Pezzolano, who led Cruzeiro to promotion to the Brazilian Serie A last season, on a contract until the end of the 2023-24 season. The 39-year-old has never managed in the Spanish top flight before, and his previous gigs include time spent at Pachuca in Liga MX.
It's a gamble, no doubt about it.
---