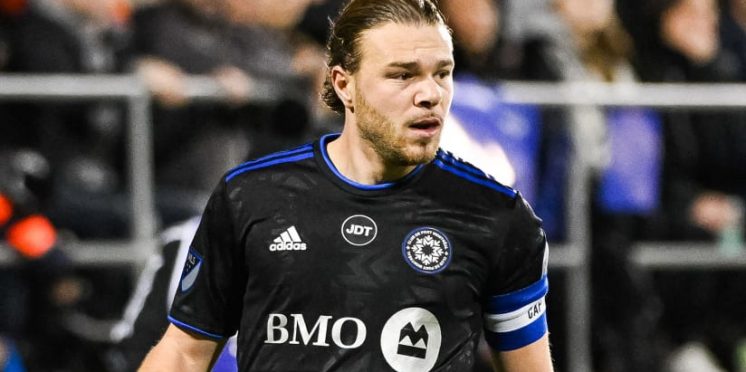 CF Montréal captain Samuel Piette to miss 6-8 weeks with groin injury
When you're shit out of luck, you're shit out of luck.
CF Montréal fans, whose team have been downtrodden on the pitch and beleaguered with injuries for much of 2023 so far, got some awful news on Thursday, as head coach Hernán Losada revealed that the prognosis is that captain Samuel Piette will be out for six to eight weeks of action.
During the galling 5-0 defeat on the artificial turf of Vancouver Whitecaps' BC Place last weekend, under no contact from an opponent, Piette aggravated the groin injury which had already kept him sidelined for two games. He will now miss many more.
"Even though the injury is in the same area of ​​the body, it's not the same thing that bothered him after the game against Austin," Losada said, per Radio-Canada's Jean-Francois Chabot. "He won't be able to play for maybe six or eight weeks."
With that timeline, his participation in CanMNT's CONCACAF Nations League finals action in just over two months is also surely in doubt.
The 28-year-old Canada men's national team midfielder is CFM's leader on the training ground and on the pitch, and his absence will be immeasurable. Without him for nearly 85 minutes after his early injury, Losada's side were cut apart at will by the Whitecaps, with no anchor or leadership in the centre of the park.
Now, at a time when they need him most, the aftermath of their lowest moment so far in a low 2023, they will have to try to kickstart their season without him.
All that might be possible were Piette the only major injury, but his name joins those of George Campbell, Matko Miljevic, Jojea Kwizera, Jules-Anthony Vilsaint, Lassi Lappalainen, goalkeeper James Pantemis. Pantemis is at least working on his recovery, but in addition to those players, Aaron Herrera and Kamal Miller have been playing through discomfort in recent games.
Montréal are the walking wounded, both figuratively and literally. In the wake of humiliating defeat and crushing news about their captain, they travel to face New England Revolution on Saturday. Piette will be watching on wishing he was out there. So will the fans.
---