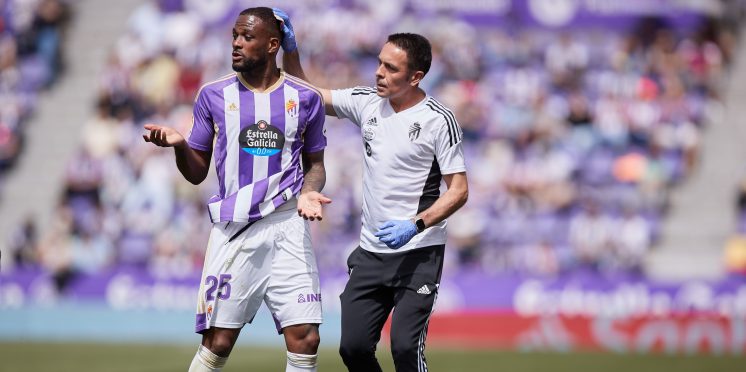 Cyle Larin says he is being targeted by rough La Liga defences after goalscoring spree
Cyle Larin has put the world on notice since debuting in La Liga in January. Goalscoring exploits like his five goals in nine games make observers sit up and pay attention — particularly opposition defences.
Speaking to Spanish media after winning Real Valladolid's Player of the Month award for a second consecutive month, Larin said he now feels he is being particularly targeted by opponents. Against RCD Mallorca last weekend, the 27-year-old found himself double-marked and was on the end of some rough treatment from those markers.
"I felt like I was in a boxing match. It was a difficult game," the Bramptonian said. "There were always two guys on me wherever I went, and I got hit a lot… Some games will be like this, but it's to help the team."
It's a compliment, of course. Only the most dangerous strikers get this kind of close attention.
Larin, the ultimate team player, says that while he loves scoring goals himself, Valladolid can take advantage of the focus on him.
"I love scoring but sometimes, I'm going to have to assist because there will always be two defenders on me now, I think," he said after he registered his first assists in Valladolid purple. "There will be other players open."
Certainly, Larin is feeling the love from both his Valladolid teammates and external observers. It's unsurprising that five goals and an assist in 600 minutes of soccer in La Liga gets him more acclaim than one goal in just 192 minutes of Belgian league time for Club Brugge across five months.
Criminally underused in Brugge, he has found his feet and his confidence again.
"La Liga is one of the best leagues with more top players and big teams, so yeah, people do notice more," he added. "The more I do well, the more people will notice."
But even great runs of individual form like this have their hiccups.
Larin's latest turmoil came early last week when José Rojo 'Pacheta' Martín, the manager who brought Larin to Valladolid and with whom the Canadian said he was striking up a rapport despite a language barrier, was fired after the 6-0 thrashing by Real Madrid.
In his place, Brazilian icon and Valladolid majority owner Ronaldo recruited Paulo Pezzolano from the other club he owns, Brazilian side Cruzeiro. Pezzolano has never managed in Spain before, but Larin is already noticing a useful trait in his new boss, calling the Uruguayan very detail-oriented and noting that early training sessions have been intense.
Speaking of that Madrid game that heralded the end of Pacheta's time in charge, Larin harbours some ill feelings.
Having spoken in the lead-up to the clash at the Bernabeu of how he was looking forward to testing himself against Spain and Europe's best, Larin couldn't help but be disappointed to not play a single minute of the match.
"I would have loved to play in that stadium against Real Madrid," he admitted to reporters. "It's always nice to play in those games. Unfortunately, I didn't get to play. At a certain point, the score was difficult to come back [from] and the next game was very important so it was the coach's decision."
Well, that coach has since been given the axe, and Larin has since won a second straight monthly award. I doubt Pezzolano will be benching him anytime soon.
---