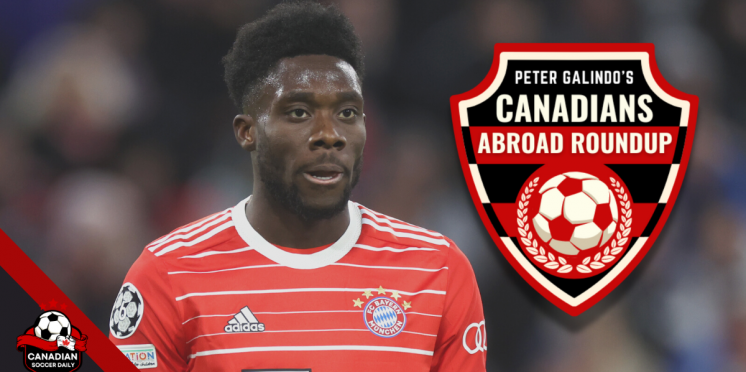 Canadians Abroad Roundup: The Davies discourse, David hits 20 goals, Larin the playmaker and more
Before every Northern Fútbol Podcast recording, we send out a tweet asking for listener questions – a staple of our show.
Normally, the questions all filter in over a 24-hour period. However, last week saw one late submission from one of our loyal listeners, known as Rude Trude.
The timing was perfect. Alphonso Davies and Bayern Munich were in the middle of a lambasting from Manchester City in the Champions League quarter-finals, Davies was struggling to contain Bernardo Silva in one-on-one duels and multiple Twitter users were quick to point it out.
The question is fair, too. Davies has been in Canadian soccer's conscious for seven years, he's been a starter at Bayern for four seasons and he's the poster boy of the men's program. It's fair to ask since the Bavarians usually have a such an easy time domestically, so these European nights become the barometer.
Myself and Alexandre Gangue-Ruzic answered the question as honestly as we could. The analysis starts at 55:08 in the most recent episode. I also dove into the issue with Josh Deming on OneSoccer.
In short, Davies has improved. He was otherworldly under Julian Nagelsmann in the final third. Just examine the shot-creating actions and other attacking metrics compared to other full-backs in the top-five leagues.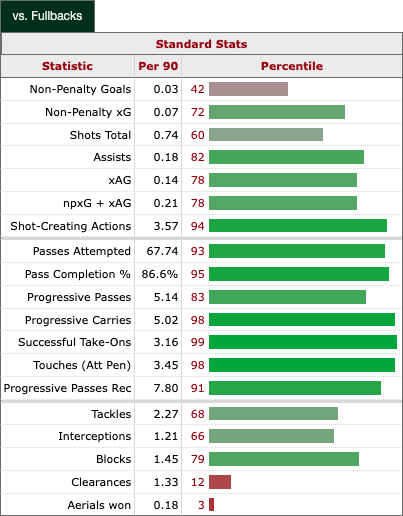 Defensively, Davies has definitely grown as well. Compare the radar from this current season with his breakthrough 2019/20 campaign and it's pretty apparent.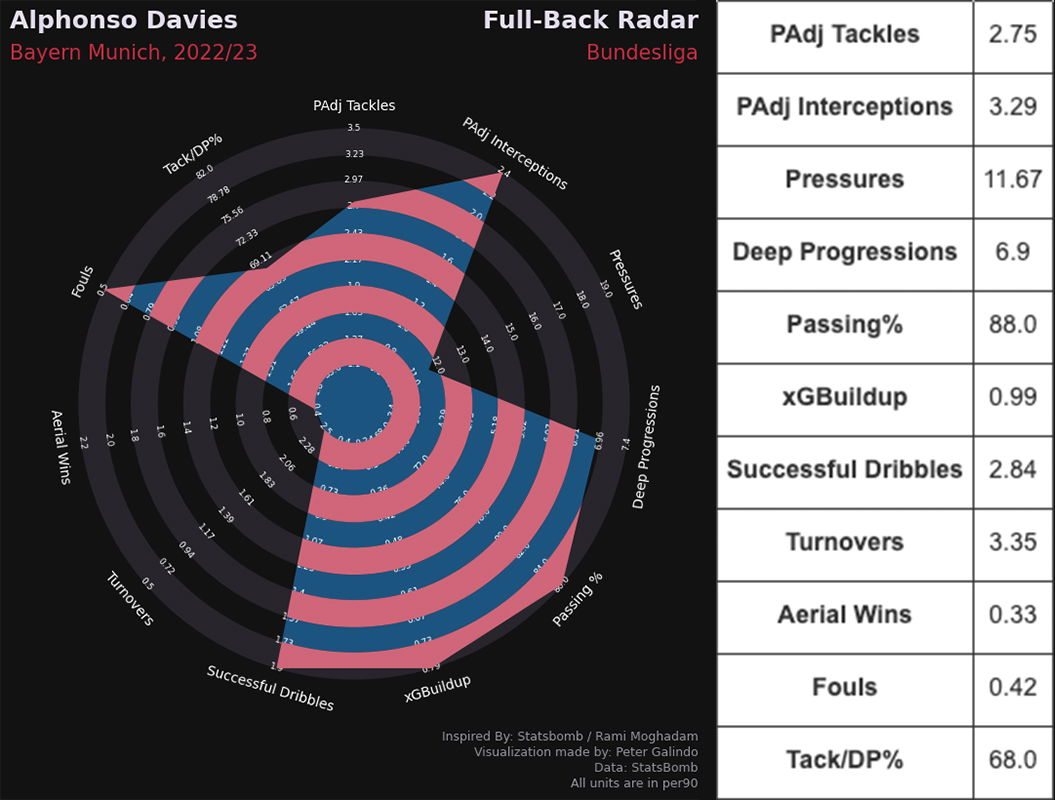 It hasn't been a stable time for Bayern under Thomas Tuchel. They've been dumped out of the DFB Pokal, they're on the brink of elimination in the Champions League and their lead atop the Bundesliga is only two points.
But if we dive further into that Champions League showing, it's apparent that the players and coaching staff aren't on the same wavelength.
It's true that Davies was burned several times by Silva, and that's on the player. Chalk it down as one of those days. But there was very little tracking of "off-the-ball runs" from Bayern players, which needs to happen regardless of how the left-back fares one-on-one.
Watch Rodri's opener and there's acres of space for Kevin De Bruyne and Rodri to exploit without a challenge.
On the second goal, Benjamin Pavard is standing in Manchester City's cover shadow. That meant Dayot Upamecano didn't have an outlet, so he was forced to dribble forward and City were aware that Upamecano likes to carry the ball and honed in on it.
You can see Jack Grealish turn his head towards Pavard as the ball rolled to Upamecano to see where the right-back was positioned in order for Grealish to cordon off the passing angles.
These are just two of many examples of Bayern players not executing basic principles. Chalk it down to the coaching change, the tactical tweaks, City executing their plan to perfection or a combination of all three. But that doesn't mean Davies has stagnated.
The fact that Davies has experienced some adversity over the past four months might help him grow as a player. Yes, he's had injuries and myocarditis, but the 22-year-old has been rotated in and out of the side, went through a downturn in form after the World Cup and recovered strongly. Plus, there was that penalty at the World Cup.
The City loss might be another lesson for Davies.
OTHER NOTABLE UPDATES AND ANALYSIS
• It's another milestone for Jonathan David. Having scored in Lille's 2-1 win over Montpellier, David has reached 20 league goals in a season for the first time in his career.
In other news, Florian Plettenberg of Sky Germany reported that Lille have slapped a €65-million ($95.4-million) price tag on David ahead of a possible summer move. That would smash his own record as the most expensive Canadian transfer.
• It's worth noting that Cyle Larin was one of Canada's top chance creators during the March window against Curaçao and Honduras. That's seemingly translated into his club form recently.
Larin picked up his first assist for Real Valladolid last week and added to his tally in a huge 2-1 victory over Villarreal on Saturday.
Last week's assist was relatively straightforward: a simple set-up pass that was smashed in first-time. Saturday's was more intricate, and an example of Larin's growing confidence. Over the past couple months for club and country, the 27-year-old has thrived by playing these quick, intricate passing sequences to unlock space in the box.
It worked to a tee for the early goal.
• Our condolences go out to Stephen Eustáquio and his family following the loss of his mother over the weekend. Eustaquio was withdrawn from Porto's win against Santa Clara in the 57th minute as a result.
• Ismaël Koné was a jack of all trades against Bristol City. He entered the match as a No. 8 but finished as a right winger. He even spent some time as a second striker.
Wherever he was, though, the on-ball quality remained.
• This was clearly a selfless weekend for Canadians because Alistair Johnston also logged an assist to help Celtic beat Kilmarnock 4-1.
As I touched on last week, it's a miracle that Johnston doesn't have more than two assists based on the quality of crosses and passes into the box he's recorded since joining the club.
• It's time for our weekly Victor Loturi appreciation compilation, from his defensive tracking to the sublime distribution.
For Loturi's sake, let's hope Ross County stay in the Scottish Premiership. Not only would it aid his development and keep him settled, he'd surely get a small break after playing nonstop soccer since last April.
• Harry Paton has now earned three appearances in a row off the bench since signing with Motherwell. He's been reunited with former coach Stuart Kettlewell and might do enough to stick around next season.
This is Paton's first contract since leaving Ross County last May amid allegations of abuse towards his former partner.
• After dissecting Derek Cornelius' start to life in Sweden, Scott Kennedy got his first start for Jahn Regensburg in six months. A combination of injuries and declining form led to the long layoff, but it was a confident showing from the 26-year-old.
Defensively, Kennedy was alert and tended to come out on top in his duels.
Although, there was a mishap when Kennedy failed to close down an attacker quickly.
But Kennedy made up for it with his distribution, which was quite calm under pressure.
Long may it continue.
• The MLS season reaching the quarter mark provides a large enough sample size to statistically analyze players. One of the most fascinating Canadians to watch so far has been Mo Farsi, but does the eye test match up with the underlying numbers?
Turns out it does.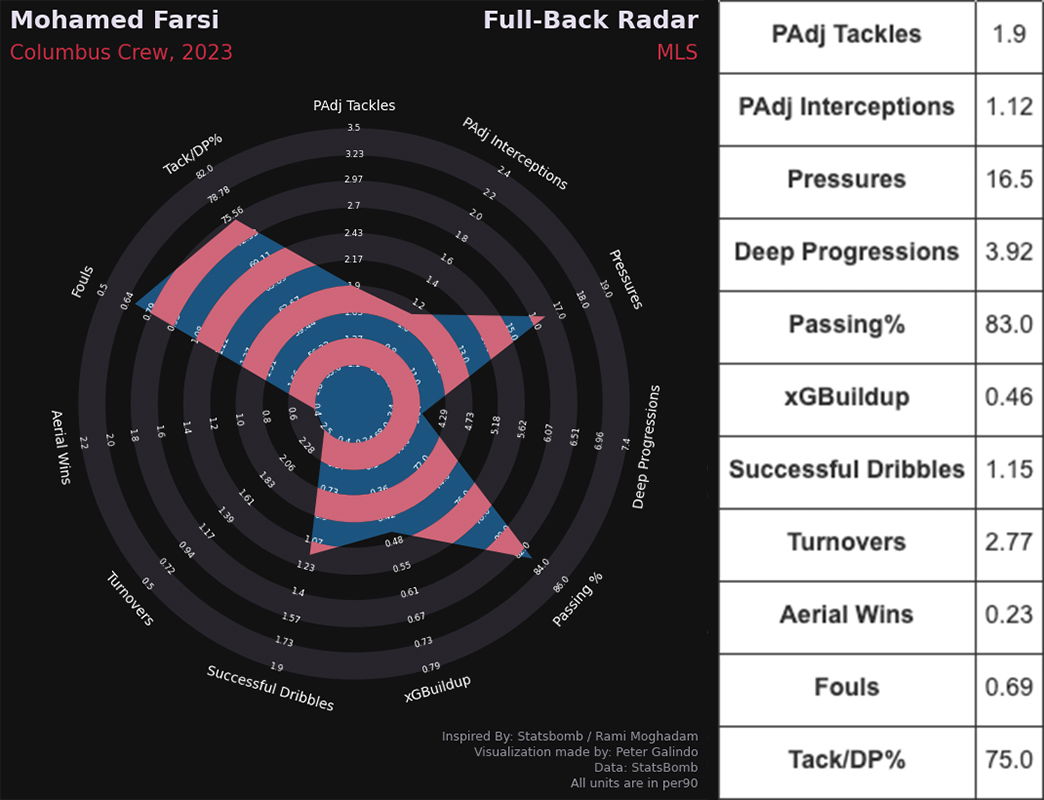 The only area of improvement for Farsi would be logging more deep progressions. He has the pace, dribbling and vision to accumulate a much higher number, although he did pick up 10 in the draw with New England over the weekend.
Still, that's a very solid start to the season, especially defensively.
• Kyle Hiebert also hit the minimum minutes requirement. Here's how he's fared in his first MLS campaign.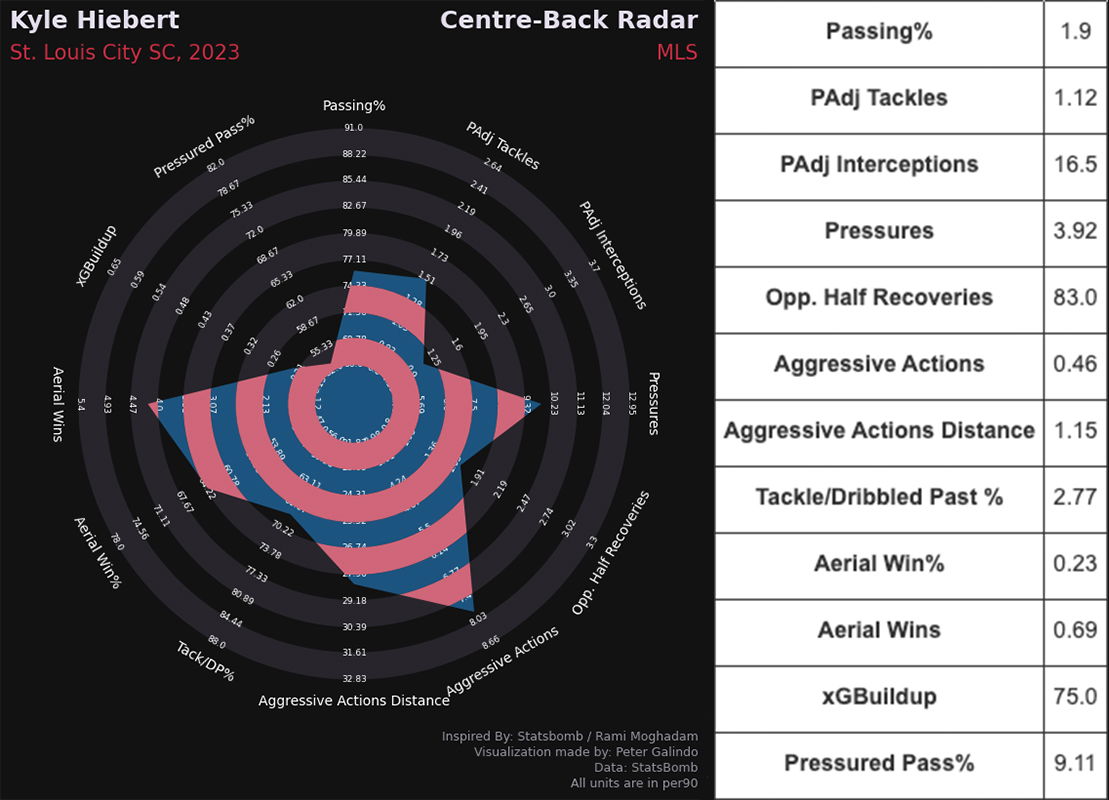 This perfectly describes Hiebert's game: solid defensively, good in the air but lacking in some areas in possession. His passing accuracy under pressure (Pressured Pass%) is very low compared to other centre-backs in StatsBomb's database, while the xGBuildup leaves a lot to be desired as well.
To Hiebert's credit, he's slowly improving on the ball, so perhaps we'll see an increase by the summer. He's developed a knack for scoring goals which certainly makes him a fan favourite in St. Louis.
• To close out the centre-back chatter, Dominick Zator had another start for Korona Kielce – albeit in his usual centre-back/right-back hybrid role. That didn't stop him from grabbing his first goal and assist in Saturday's 2-1 win.
There's no doubting Zator's attributes in the air or on the ball. Perhaps his most glaring weakness is his struggle against shiftier attackers in one-on-one duels, and one instance on Saturday exploited that.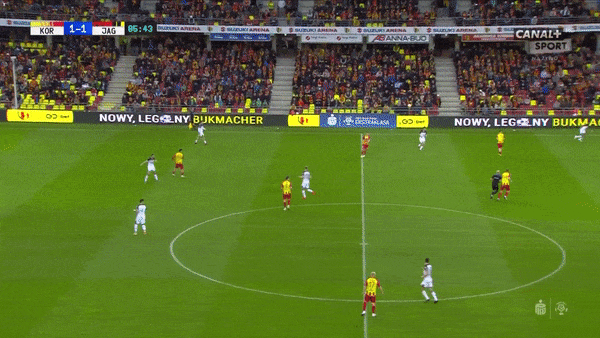 You can see Zator isn't sure-footed and is knocked off balance by how quickly the opposing forward is driving at him. This might only be one situation but it's been a common factor whenever he's faced more technically gifted players.
The likelihood of facing those forwards obviously increases at the international level, so that's definitely one area where Zator can improve.
• Charles-Andreas Brym stayed hot with another assist for FC Eindhoven. Make that 12 goals and seven assists for the 24-year-old in the Eerste Divisie this season.
---